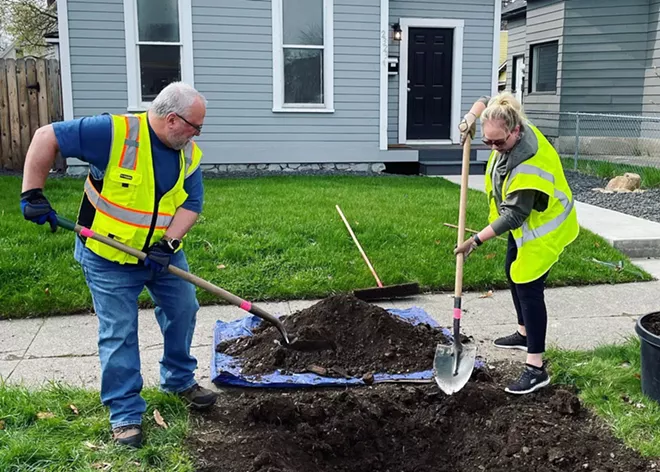 Spokane is set to get a lot greener and cooler with help from two $6 million grants awarded to the city of Spokane and the Spokane Conservation District for urban and community forestry projects.
The grant money is part of more than $42 million awarded in Washington state through the U.S. Department of Agriculture as part of the Inflation Reduction Act. Nationwide, more than $1 billion was awarded for urban and community forestry projects, including nearly $6.5 million for projects in Idaho (all in the southern part of the state).
One of the $6 million grants is going to the Tree Equity Spokane project, which is part of the city's Spocanopy partnership with the Lands Council. The goal of that work is to get 30 percent canopy coverage throughout the city by 2030.
Spocanopy volunteers and city staff have helped plant 579 trees in disadvantaged parts of the city over the last few years (about 100 per year), and the grant could help the city plant thousands more, says Katie Kosanke, the city's urban forester.
"We plan to do street tree programs where people want them and are willing to care for them — that's especially including watering," Kosanke says. "In the past, we've done seedling giveaways for people to plant on their own properties as well. ... We want to establish both public and private tree canopy, but most of our plantings will be in the public right-of-way."
Homeowners are responsible for caring for city trees near their property, but that doesn't always happen. The grant will also help the city provide tree care, such as pruning and dead tree removal, to help keep existing trees healthy.
"There is a financial cost to maintaining those trees," Kosanke says. "We'll be able to assist in taking care of any urgent need and invest in what we have so it lives longer and provides benefits for longer."
The city's grant will focus on federally recognized disadvantaged neighborhoods that may be overburdened with pollution. The federal maps align with areas the city has already identified as in need of trees, which are also the places that a Gonzaga University heat study found were up to 13 degrees hotter than parts of the city with adequate tree cover, Kosanke says.
"The Gonzaga heat study told us what we already knew: Neighborhoods that lack canopy cover are much hotter," Kosanke says. "That cooling benefit is fantastic."
Some of the focus neighborhoods include the lower South Hill, downtown, and all of northeast Spokane.
Native trees such as ponderosa pine and Douglas fir grow to be massive, so they're not the best for planting in medians, Kosanke says. Instead the city is planting a variety of species such as linden, ginkgo, sunshine elm and yellowwood.
The $6 million going to the Spokane Conservation District will help pay for hands-on forestry education. That could include summer programs for high school students, with environmental education in the classroom and restoration work in the field. The goal is to expand forestry career opportunities.
"We are really excited about the opportunity this opens up for our future stewards of the land," Garth Davis, Spokane Conservation District forestry manager says in a press release. "It becomes a matter of bringing up a new generation of people who care for the land and teaching them the delicate balance of our natural resources and human interaction." ♦