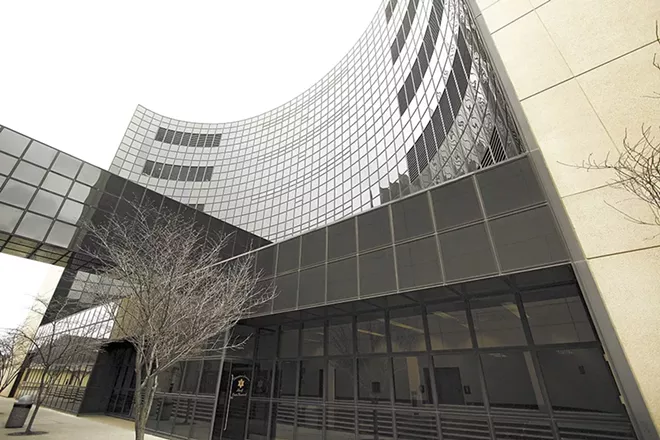 S
pokane County disproportionately incarcerates people of color
for longer stints and predominantly books inmates for misdemeanor charges and non-violent felonies, according to a new consultant analysis.
The analysis, which was produced by the JFA Institute — a think tank brought in by Spokane County to quantitatively analyze the burgeoning inmate population at both the overcrowded downtown jail and Geiger Correctional Center — used inmate data provided by Spokane County Detention Services going back to 2014.
Financed by the
$1.9 million
that Spokane County received from the MacArthur Foundation to implement criminal justice reform projects and reduce overcrowding in the local jail system, the JFA Institute is also working on inmate population projections under a variety of circumstances as county leaders
consider pursuing a potential new jail facility
, according to Spokane County Law and Justice Administrator Maggie Yates.
On average, black inmates were locked up for 27 days, while white inmates were only incarcerated for 15.

tweet this
Here's
what they found
: Roughly 70 percent of inmates on any given day — the average daily inmate population hovers around 930 people — are held pre-trial, meaning that they aren't serving a sentence and are waiting for the case to move forward. An estimated 10 percent are federal inmates detained on temporary holds and 17 percent are sentenced. Of the total inmate population, 89 percent were booked on misdemeanors, temporary holds, or non-violent felonies, meaning that the inmate population is largely accused of committing low-level and non-violent crimes.
Specifically, as of April 30 2019, inmates held on felony drug-related charges — including possession — consisted of 21 percent of the jail population, while 24 percent faced other non-violent felony charges. An estimated 15 percent were held on gross misdemeanor charges, while serious violent felonies accounted for only eight percent.
Wendy Ware, vice president of the JFA Institute, tells the
Inlander
that the proportion of drug charges, misdemeanors, and bookings for failures to appear in court, were the findings that jumped out of the analysis.
"The most notable ones were the drug possession cases that were incarcerated for almost a month, the number of gross misdemeanors, and the [failures to appear] that are incarcerated," she says. "Those are the big ones."
Ware adds that Spokane County is an outlier compared to other county jails around the country in this regard.
"It's both the length of stay for those crimes and just the fact that they are a sizable part of the confined population," she says. "We'll see large numbers of [inmates charged with] drug possession flow through jails in other jurisdictions for short time frames. But to have it be a sizable portion of people sitting in the jail on a daily basis is an outlier."
A majority of pretrial inmates are also detained with bail bonds, per the analysis. As of April 30, 2019, 40 percent of the inmate population had a bond of $10,000 or more, while 10 percent had bonds of $10,000 to $5,001. Another 17 percent had bail set between $1,001 to $5,000, and 10 percent were held on bail of $1,000 or less.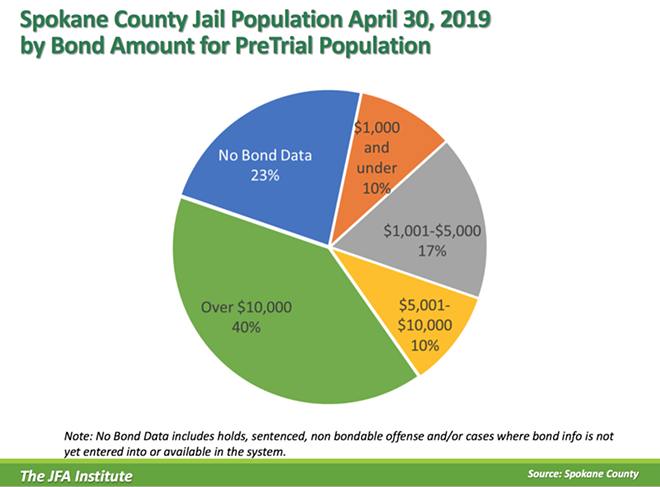 Generally, bail bond companies charge a 10 percent fee to finance a given bond, meaning that inmates held on $1,000 only have to come up with $100. However, between May 2018 and April 2019, inmates with bonds of $1,000 or less still spent almost seven days in jail on average. Those with bonds of $10,000 or more were locked up for an average of 55 days. Both
regionally
and
nationally
, the cash bail system has come under fire for unfairly
keeping poor defendants behind bars
.
Ware notes that the proportion of people locked up in Spokane County on bonds isn't necessarily abnormal relative to other jurisdictions. But the findings are illuminating for local leaders when considering how to lower the inmate population overall.
"There a lot of jurisdictions that are eliminating cash bail completely," she says, noting California, where lawmakers
abolished cash bail through changes to state law
.
Additionally, people of color are locked up at significantly higher rates than whites. The analysis found that while whites were jailed at a rate of 165 per 100,000 people in the county population, Hispanic people were incarcerated at a rate that is 1.5 times higher. Similarly, Native American people are locked up at a rate 6.5 higher than whites, while blacks are jailed 13 times higher the rate of whites. The average length of stay is also significantly higher for inmates of color. On average, black inmates were locked up for 27 days, while white inmates were only incarcerated for 15.
And these disparities have been increasing over time, the analysis shows: "The proportion of people in color in jail is going up. In the last three years alone," Ware said at a July 31 presentation of the analysis to the Spokane Justice Task Force — a collection of local criminal justice stakeholders convened to develop recommendations for the Spokane County Board of Commissioners regarding a theoretical new jail.
The number of charges that many inmates face is also an
anomaly
, Ware said. Inmates in Spokane County facilities have, on average, roughly four charges, with 29 percent of the total population facing five or more.

"This is high," Ware said at the July 31 meeting. "We usually see an average of about 2.5 [charges] in jails."


But, in a conversation with the
Inlander,
she clarifies
that these findings are a little muddy because bookings for failing to appear in court are listed as "charges" in the data they worked with.
However, the findings overall still raise questions about local prosecutorial practices. The Spokane County Prosecuting Attorney's Office — currently under the leadership of Larry Haskell — has drawn headlines for its
aggressive filing practices
. Since 2011, the county has logged the highest rate of felony drug possession charges among Washington state's five most populous counties, per the
Spokesman-Review
. Spokane County's overall felony filing rate has been reported to be higher than its counterparts.
Spokane City Councilmember Breean Beggs, a left-leaning criminal justice reform advocate and member of the Spokane Justice Task Force who was present during the July 31 presentation, tells the
Inlander
that he wasn't surprised by the findings. (He's long advocated for releasing more inmates and boosting funding for local pretrial supervision services.)
"I think most people who have been following this closely for the last few years know what the situation is," he says. "
Having hundreds of people locked up who aren't really a danger to society seems like a poor use of that limited jail space that we have."


Al French, a Spokane County Commissioner and longtime proponent of building a new jail facility — he helped kick off the effort to explore pursuing a new facility earlier this year — did not respond to the
Inlander's
request for comment. Spokane County Sheriff Ozzie Knezovich, another supporter of building a new jail, also could not be reached.
Beggs adds that it is helpful to have all of the stakeholders digesting the data together in one room, especially since a variety of factors drive jail populations, ranging from police arrest trends to prosecutor's filing practices.
"That's really been the challenge in Spokane. There's so many ways you can fill up the jail: it might be the county, the city, a particular judge, a particular prosecutor," he says. "Any one of those people — and most of them are elected — can fill up the jail."
You can read the full JFA Institute presentation on the Spokane County inmate population here:
This article has been updated to correct statistics regarding the breakdown of charges faced by the Spokane County inmate population.