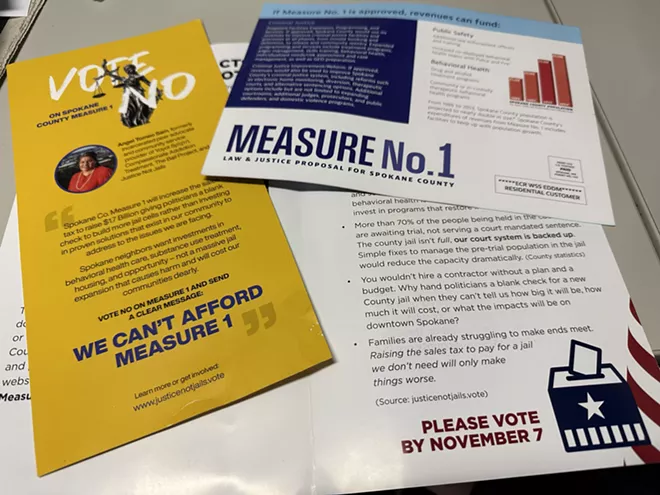 S
ome voters in Spokane saw both a "Proposition 1" and a "Measure 1"
on their ballots, but the two issues saw vastly different levels of success on election night.
PROPOSITION 1: PASS
In Spokane city limits, the vast majority of voters supported
Proposition 1
, which seeks to expand the city's camping ban to include areas within 1,000 feet of schools, parks, playgrounds and child care centers.
In the early tally released Tuesday night, Nov. 7 (with more ballots left to be counted throughout this week), more than 75% of voters approved Proposition 1.
Opponents of the measure are still waiting on a ruling from the state Court of Appeals, which heard oral arguments on the legality of the initiative in late October. A lawyer for the opponents argued that the camping policy of the city is administrative in nature and can't be decided by voters. If the judges agree with that argument, city code could remain the same, or there could be more arguments in court.
If the judges decide that voters are allowed to change that part of city code through initiative, there could still be a legal battle over the change, which could run afoul of case law that prevents cities from citing homeless people for existing outside when there isn't sufficient shelter space available. A lawyer for the proponents of Proposition 1 is confident it could stand up to that legal scrutiny.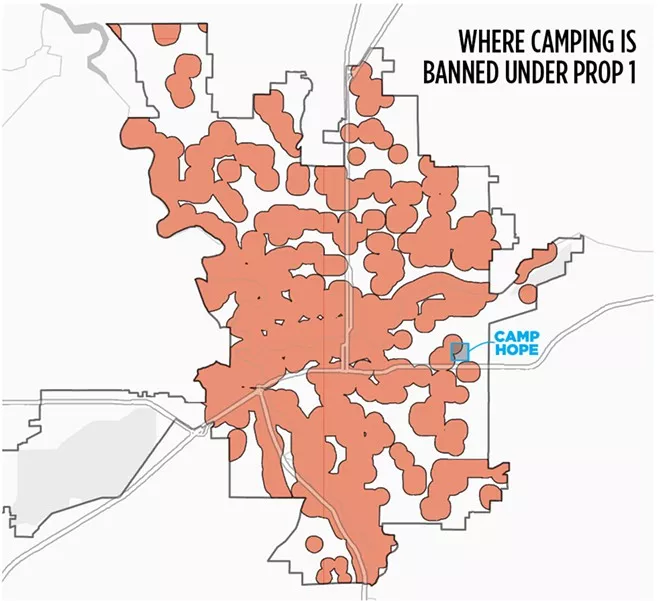 MEASURE 1: FAIL
Meanwhile, voters countywide were asked on
Measure 1
whether they supported raising the local sales tax by 0.2% (or 20 cents on every $100 purchase) in order to pay for criminal justice, public safety and behavioral health.
The Spokane County Commission pitched the sales tax increase to build a new jail downtown that could help ease crowding in the current downtown facility, which was built to house 462 people but often holds hundreds more than that.
Spokane County would have received 60% of the estimated $1.7 billion the tax would have brought in over the next 30 years, while towns and cities in the county would get a share of the other 40% based on their population. The county planned to use about $540 million of its share to pay for multiple new jail buildings, but it was unclear exactly how the rest of the money would have been spent, other than in the three public safety categories outlined in state law.
Nearly 63% of voters in the early vote tally opposed the measure.
Opponents had heavily criticized the lack of a plan for the remaining $1.1 billion and said the county was asking for a "blank check." Proponents argued the county is in dire need of new facilities and that additional programs to reduce recidivism could be offered there.