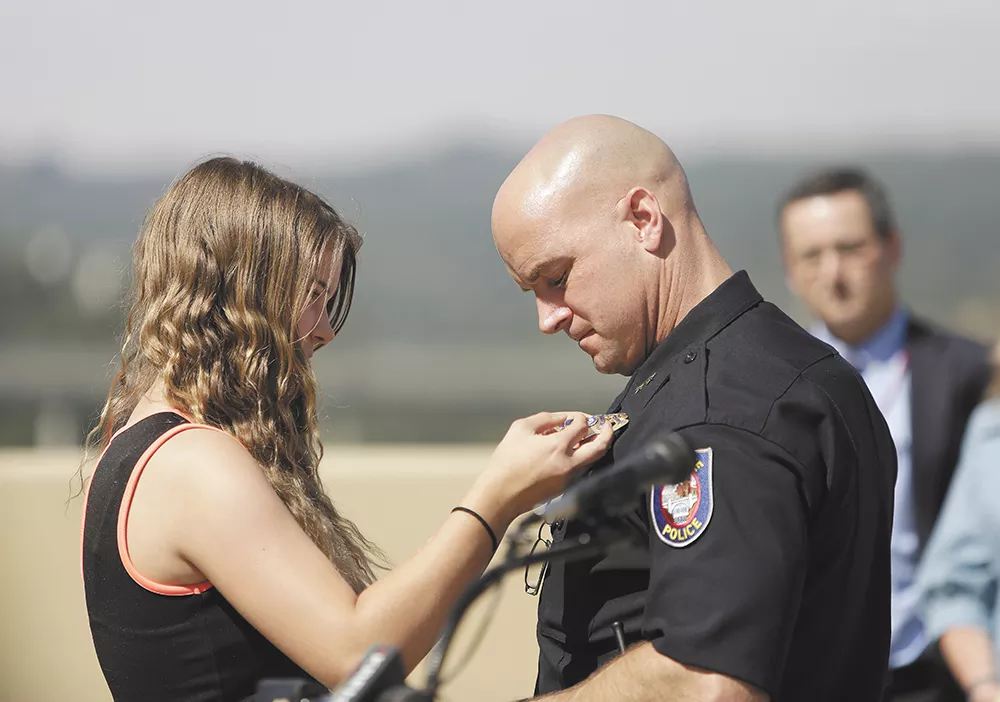 Craig Meidl didn't want to be Spokane's next police chief. And why would he? Police officers nationwide face intense scrutiny as video evidence of cops beating, choking and shooting citizens cast them as an occupying force. In a matter of seconds, a new incident beams across America; with it, another wave of outrage follows. The brutal murders of officers in Dallas and Baton Rouge, Louisiana, meanwhile, have only served to put police further on edge.
Then, of course, there's the issue of local politics and the personal baggage Meidl would bring to the Spokane job.
After disgraced local cop Karl Thompson was convicted of using excessive force in the 2006 death of developmentally disabled janitor Otto Zehm and lying to cover it up, Meidl sent an email to about 80 other officers saying the "system failed," and "an innocent man was found guilty."
Indeed, as Thompson was led away by U.S. Marshals, Spokane officers — including Meidl — stood and saluted their discredited colleague.
Still, it was Meidl whom Mayor David Condon tapped to become Spokane's chief of police last week. Condon has been trying to stabilize the department since he forced out former Chief Frank Straub last September, and in the end, the mayor bypassed two finalists for the job in favor of an inside hire.
"Sometimes you have to look far and wide to discover what you're looking for has been in the department the entire time," Condon said when announcing Meidl as chief on Aug. 1.
In doing so, Condon discarded the work of an expensive recruiting firm and input from scores of citizens to appoint a man who had publicly stated he did not want the job.
In the week since the mayor's announcement, prompted by news reporters, Meidl has offered an apology for saluting Thompson. (He says he previously met in private with the Zehm family.) He's pledged honesty, transparency and humility, and has asked for approval from the city council. A vote is set for Aug. 22.
Meidl nevertheless has a daunting task ahead. The Spokane Police Department is still unwinding the mess left by Straub — a tenure plagued by infighting, deception and obscene tirades. That's just for starters. Over the course of two dozen interviews, we collected input on the biggest challenges facing Meidl. Those are outlined in more detail below, but the two issues repeated most often were the trust of the community and Meidl himself.
1. Overcome political turmoil, gain approval from the city council
David Condon took a page out of Chicago Mayor Rahm Emanuel's playbook. Facing intense pressure in the aftermath of a deadly police shooting, the Chicago mayor ignored three candidates submitted by the Chicago Police Board, instead appointing a 27-year veteran of the department as interim superintendent.
Condon's decision to discard two outside candidates and promote from within followed an elaborate show of transparency and inclusiveness. First there were recommendations from a committee tasked with establishing qualifications for the next chief. Then came a nationwide recruiting effort by an outside firm and input from a selection committee comprised of nine city leaders and community members. The final two candidates participated in public interviews and answered questions from panels consisting of more than 40 stakeholders.
Sandy Williams, publisher of Spokane's Black Lens newspaper, says she was active throughout the process. She says she staked her reputation on convincing others in the community that "the mayor really wants your input."
"I thought we were going through a process, and then he did an end-around," Williams says. "It feels fishy to me. The mayor basically thumbed his nose at the community and the process, and I'm not OK with that."
Condon was further criticized when he announced he would not immediately seek approval from the city council, as required by the city's code.
City Councilwoman Lori Kinnear then submitted a resolution to bring Meidl's appointment to a vote. First, two public forums will take place. The first is set for Thursday, Aug. 11, from 6 to 8 pm at the West Central Community Center. The second is Wednesday, Aug. 17, from 6 to 8 pm at the East Central Community Center.
"We've been through this too many times where it feels like a dog and pony show," Williams says. "If Craig Meidl goes through the appropriate process, and people feel comfortable with him, then I'm fine with that, but how are we supposed to trust this administration when they don't seem to care what the community wants?"
2. Mend rocky relationships within the department
Even before Chief Straub, there were disagreements among Spokane's top brass.
"It's a divided house, uniquely so," says former Spokane Police Chief Anne Kirkpatrick, who served from 2006 to 2012. "Their fractures internally are more pronounced than any other agency I've ever seen."
She points to a physical divide — detectives are literally in a different building than patrol officers — and possible backlash after Meidl was selected over Capt. Brad Arleth, who was the only internal candidate to apply.
Straub's divide-and-conquer tactics exacerbated existing tensions, according to several members within the department. His abrupt dismissal appears to have created some of the miscommunication that culminated in what is now mockingly referred to as "furniture gate."
Last year, Meidl accused Arleth of insubordination when the downtown precinct leader moved furniture from the old precinct to the new location at the Intermodal Center despite (somewhat confusing) orders not to do so.
Arleth had shared with downtown business owners his concerns about the move. He suggested that crime would increase if the precinct were relocated from its home near the Spokane Transit Authority Plaza.
In his interview with internal affairs, Meidl says he did not think it was appropriate for Arleth to talk publicly about those concerns.
Upset that he was being scolded for speaking against the "company line," Arleth said he was not going to be a "cheerleader for somebody's bullshit."
Arleth was given a letter of reprimand, which he is currently appealing.
"I would just say there are difficulties regarding relationships within the department and the association," says Lt. Dave McCabe, president of the Spokane Police Lieutenants and Captains Association. "And something dramatically shifted while Straub was here, and it's something we all need to work to try to make better."
McCabe adds: "Craig needs to foster an atmosphere where teamwork, camaraderie and integrity are foremost in dealing in our interpersonal relationships."
Meidl, for his part, says he fosters no "heartburn" toward anyone in the department.
"Words have meaning," he says. "And when we in positions of authority say something, people put a lot of weight on what we say. So you have to be careful that your words are not creating an issue that may not actually occur."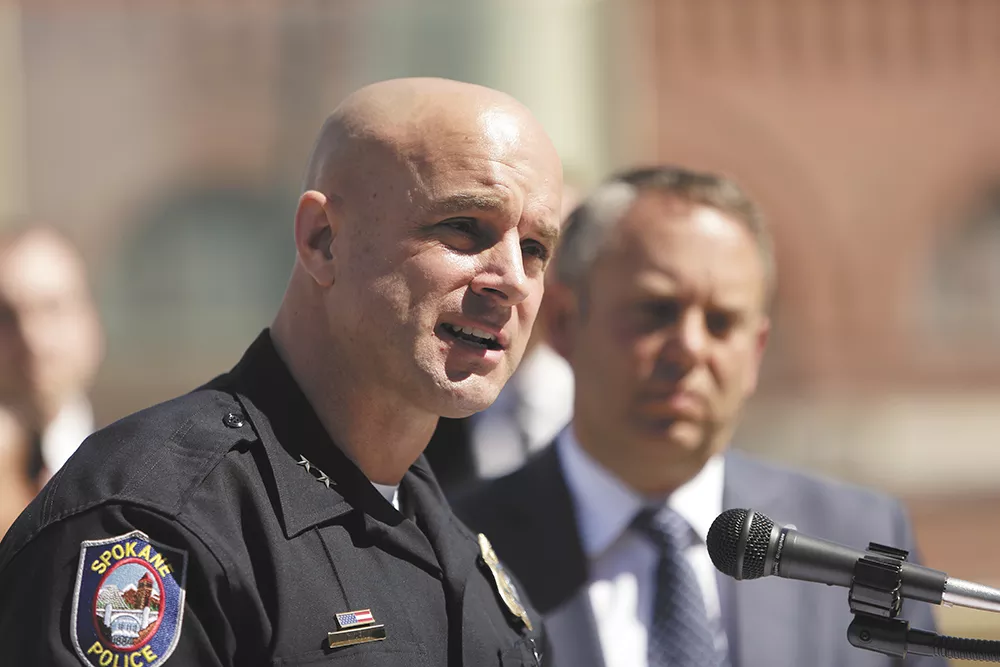 3. Repair his relationship with the community
One of the biggest challenges facing Craig Meidl is Craig Meidl.
By nominating a man whose reputation is closely linked to the division created after the death of Otto Zehm at the hands of Spokane officers, Mayor Condon is forcing a question: How much longer can Meidl and the department be tarred for Zehm?
Meidl, when questioned by reporters, offered an apology "for the hurt and the pain" while maintaining that his salute was intended to honor Thompson's years as an officer — not to discount the crime. He says he also spoke with members of Zehm's family, some of whom were in the courtroom that day in 2011.
The incident is burned into the memories of some as symbolic of law enforcement's dismissive view of citizens. Still, others are ready to forgive.
"I know there's history. I get that, but we cannot become hypocritical in saying we want to support legislation like 'ban the box' that give convicted felons a second chance and not give another individual a chance to rise above past mistakes," says Phil Tyler, president of the Spokane NAACP. "He's shown he's willing to be humble, admit what he doesn't know, willing to learn and willing to participate in things that are trying to make this community a better place."
"He's contrite," says Councilwoman Lori Kinnear, who chairs the Public Safety Committee. "What more do we want him to do? At some point we have to say, 'Thank you for apologizing. Now let's move on.'"
"Trust is easily lost and slowly gained," Meidl says. "My executive staff and I will be making an effort to get out into the community as much as possible, hear their concerns, let them have unfettered access to us and just be honest about how we got here."
4. Construct a leadership team
As he walked out the door, Jim McDevitt, the former U.S. Attorney who ran the department for four months before Meidl's nomination, promoted Meidl's wife, Tracie Meidl, to captain in charge of investigations, along with other promotions.
As assistant chief at the time, Craig Meidl says he removed himself from that selection process. He now must make final decisions on whether to keep that command structure. Meidl expects it will take a month before any decisions are finalized, but Tracie Meidl's eligibility for one of those spots complicates things.
"I don't want my wife to get any preferential treatment because of where I'm at," Meidl says. "But I also don't want her to be punished for the rest of her career because her husband is the chief."
The logistics are still being worked out, but Meidl will remove himself from any decisions involving his wife, and delegate those to a panel of officers. City policy bars Meidl from directly supervising his wife.
5. Support civilian oversight
The city has been without a permanent ombudsman for more than a year and a half. Meanwhile, interim ombudsman Bart Logue is working to establish the type of civilian oversight demanded by Spokane voters. At times, that has meant pushing up against the parameters of what the ordinance says he can and can't do and questioning his role where city law is silent.
For example, Spokane's ombudsman is specifically disallowed from making any disciplinary recommendations, though Logue has given informal suggestions, either in passing or in a letter, for more training and review.
Logue is also questioning how to comply with the city charter, which grants him the authority to conduct independent investigations. The city's municipal code, however, is silent on a definition for such an investigation, and the ombudsman does not have the authority to compel officers to answer questions outside of an police internal affairs investigation.
Community activists are searching for ways to alter the ordinance. Some have suggested removing the ombudsman's right to ask questions during internal affairs investigations, which would counter the union's argument that the ombudsman is impacting working conditions.
Asked if he would support granting the ombudsman authority to compel officers to answer questions, Meidl says he's not against it as long as it's agreed to in the labor contract with the Spokane Police Guild.
"I think one thing that the Guild is understandably concerned about is if you get an ombudsman who has greater aspirations of moving to a bigger city, higher in politics, are they coming in with a different angle than truly providing a complete, fair and unbiased interview," he says.
Logue, for his part, says that for every case he's sent back with concerns, Meidl has agreed to take another look.
"We're going to have to get to independent investigations to get us into compliance with the charter," Logue says. "The community wants that. It was voted for and now we need to figure out how to get there. The department will accept forms of civilian oversight as the police chief will accept or embrace it."
6. Establish the body camera policy
All Spokane police officers are wearing body cameras, but the department has yet to establish an official policy telling them how and when to use them.
Over and over, the country is reminded of the importance of video evidence, whether from cellphones, surveillance cameras or dashboard and body-worn cameras. Although body cameras are not a panacea for police accountability, the footage has opened the eyes of the nation to questionable, if not downright dishonest, police practices.
Meidl says he's waiting for the unions to approve the body camera policy. He expects a finalized policy "very soon."
SPD's "draft" policy generally gives officers some degree of discretion whether to turn on the cameras. They must activate the camera during interactions that will generate an incident number, but the policy specifically notes that not all interactions need to be recorded.
Officers are also allowed to view all of their own footage at any time, a provision that is in direct conflict with policies endorsed by the American Civil Liberties Union, NAACP and 33 other civil rights organizations.
The argument comes down to the "independent evidentiary value" of an officer's report and imperfect nature of video footage.
"Footage of an event presents a partial — and sometimes misleading — perspective of how events unfolded," civil rights advocates argue. "Pre-report viewing could cause an officer to conform the report to what the video appears to show, rather than what the officer actually saw."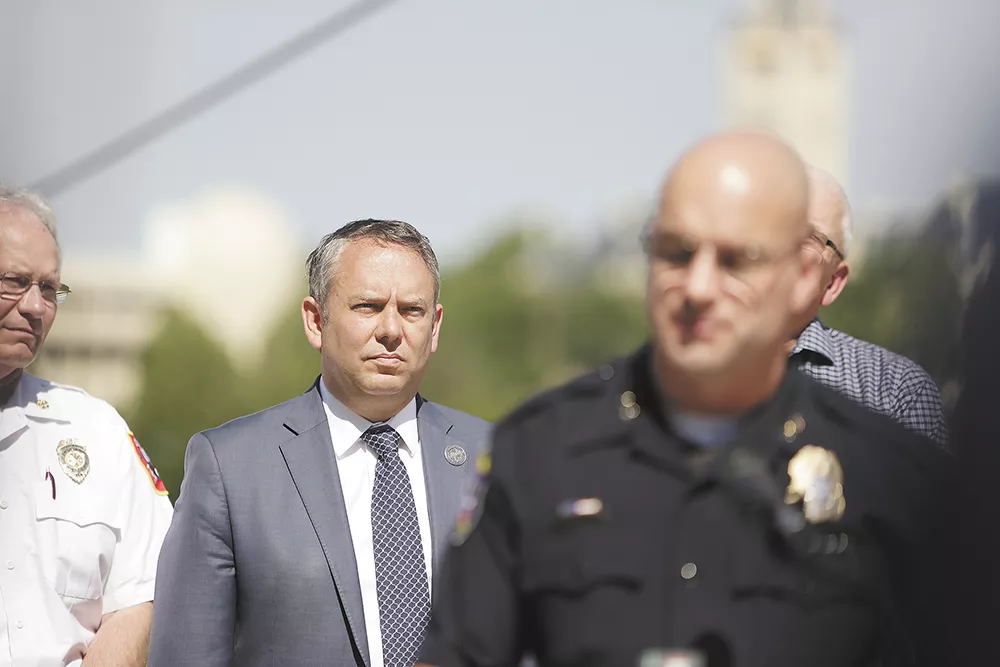 7. Finish the culture audit
The city of Spokane's Use of Force Commission and separate Department of Justice review recommended an audit of the SPD's internal culture, but one has never been conducted, in part, because former Chief Straub said he had everything under control. Details surrounding Straub's ouster for an abusive management style and an allegation that he sexually harassed a female employee have renewed calls for such an audit.
Penny Harrington, former chief of the Portland Police Bureau and founding director of the National Center for Women and Policing, also pointed to recent examples of an SPD sergeant charged with rape (and questions of whether officers interfered with the investigation into that case) and of another officer, who hooked up with an alleged victim of domestic violence, as further evidence of issues with internal culture.
"I absolutely believe the culture of the department comes right from the top," she told the Inlander last year. "If the person at the top has that kind of attitude, you can bet people underneath are going to also. If you're going to thrive in that department, you have to adopt that kind of attitude."
Following his nomination, Meidl listed the culture audit near the top of the list of most pressing objectives. Just last week, the city finalized an agreement with Gonzaga University to conduct such an exploration.
The audit will cost up to $8,000, according to city records. The final report is expected in February 2017.
8. Address efforts to remove "evil intent" language from state law
For a cop in Washington state to be held criminally liable for the use of deadly force, prosecutors must prove that officer acted with "malice" and without a "good faith belief" that his or her actions were justifiable.
That language, defined as "evil intent," puts up a barrier so onerous that it's nearly impossible for prosecutors to surmount, according to Dan Satterberg, King County prosecutor. A 2015 Seattle Times investigation identified 213 people killed by police in the state from 2005 to 2014. Only one officer was criminally charged in state courts — the only case in the three decades since the law was enacted in 1986. (Former SPD Officer Karl Thompson was convicted of excessive force in federal court.) The report called Washington state's statute "the nation's most restrictive law on holding officers accountable for the unjustified use of deadly force."
An effort to change state law is now afoot, as family and friends of those killed by law enforcement officials collect signatures for a ballot initiative. The initiative would not appear on the ballot until 2017.
9. Consider the staffing analysis
Jim McDevitt, the former U.S. Attorney who ran the department for four months before Meidl's nomination, identified a depleted force as one of the three challenges facing the next chief. SPD could use 30 to 40 more officers and civilian employees to help with records, crime analysis and dispatch, McDevitt believes.
Later this year, Meidl expects to get results from a staffing analysis. That report will make recommendations for how many more (or less) officers the department needs, based on how much discretionary time Meidl deems necessary. Generally, more discretionary time means more time patrolling in hot spots and engaging with the community.
"Right now we tend to be a call-driven agency, which means we don't have a lot of discretionary time to engage in activities other than taking the next call off the screen," Meidl says.
10. Continue nationally recognized community policing efforts
Police departments across the country struggle to balance two major demands from the citizens they serve: reduce crime and engage with the community.
The Spokane Police Department already has several community policing programs in place, including the Youth Police Initiative, the Police Athletic League, partnerships with juvenile court and Spokane Public Schools, Coffee with a Cop, public CompStat meetings and the opening of precincts in three areas of the city.
In fact, last year, Spokane was recognized at a White House forum on community policing as a nationwide leader.
"As far as community policing... if we want the community to know the police department cares about them, that's not just at the direction of the chief," interim police ombudsman Bart Logue says. "The chief gets to set the tone, but it's up to every officer to implement it."
In his parting note to the city, Straub called out the "old guard['s]" resistance to community policing.
"The Chief and his/her command staff must commit to the sea change and end the internal conflict. He/she must make community policing a priority," he wrote.
Then there's the precinct model, which Straub attempted to implement. Meidl acknowledges that it's a great crime reduction and community connection tool, but it's typically most successful in larger departments with more officers.
Still, Meidl says he anticipates keeping the precincts up and running, as store fronts, more or less.
"They're great for allowing officers to have more contact with the community, but to be effective, we need more detectives and would have more officers working out of the precincts," he says. "If the city is willing to give me more bodies, we could use one in the Northwest."
11. Fund the racial and ethnic disparity research
Last year, Eastern Washington University professor Ed Byrnes, with the help of Capt. Brad Arleth, released a report showing disproportionate contacts between minorities and Spokane police officers. Byrnes promised a second report drawn from a more robust data sample, one that could potentially drill down to the neighborhood level.
That report still has not come out and the project is at a standstill, due in part to the city's unwillingness to pay for it.
"It can't be about a budget issue," says Phil Tyler, Spokane's NAACP president. "It must be a priority."
"It was clear to me that, from Jim McDevitt's perspective, the city was not intending to fund this," Byrnes says of a meeting with the former interim law enforcement director and other city leaders. The group discussed funding the project with money from the regional MacArthur Grant. He has a meeting with Spokane Regional Criminal Justice Administrator Jacquie van Wormer to discuss details, though nothing is official yet.
Byrnes did the work to produce the first report for free, but says now that he's gotten a promotion, the city would have to buy out time spent teaching one of his classes at EWU. He estimates the cost at about $14,000.
"It will go forward no matter what," Meidl says. "If we are not able to get that additional funding, we are committed to seeing that through to completion."
12. Find a solution to officers as de facto mental health workers
Earlier this year, Spokane police officers were involved in three shootings in five days, one of which ended in the death of a man outside a shelter and a second involving a man recently released from the state psychiatric hospital who'd been shot by police once before. All three had previous contact with the mental health system at some point.
In the aftermath of those shootings, law enforcement leaders called on the Legislature to pump more money into the state's mental health system.
All Spokane police officers have gone through at least 40 hours of crisis intervention training (CIT), where they learn tactics to handle those in mental health crisis, struggling with addiction and dealing with personality disorders. Some officers have taken additional training as well.
"He needs to push the training for the enhanced CIT," interim ombudsman Bart Logue says of Meidl.
Additionally, there is talk of a regional pre-arrest, pre-booking facility designed specifically for officers to take people struggling with mental health other than jail.
"We're looking forward to having Craig help us work to build the necessary resources, whether that's through the department or physical structures," Spokane Regional Criminal Justice Administrator Jacquie van Wormer says. "The MacArthur Grant calls on us to address the mental health population, so law enforcement doesn't have to continue to rely on the jail as a mental health facility."
13. Finalize labor contracts
As the city looks toward contract negotiations with the Spokane Police Guild and the Lieutenants and Captains Association (a start date has not been set), one discussion happening on the other side of the state could bring more transparency to that process. Should those negotiations — where decisions about officer accountability, discipline and how to spend public money take place — be public?
Court documents filed in the Western District of Washington in conjunction with Seattle PD's consent decree earlier this year showed "near consensus" among the Department of Justice and major police accountability entities for more transparency in the collective bargaining process. The Seattle Times editorial board suggested a model where the public is kept in the loop throughout negotiations.
"I would have no problems with them being public," Meidl says. "The concern I think both sides will have is one might start using the public to apply pressure to the other group. But if you're honest throughout the whole thing, why would there be a concern? Maybe I'm missing something that others see."
Greater transparency during collective bargaining is something that Spokane's Use of Force Commission previously recommended. This time around, the public will have a chance to voice any demands before negotiations begin, says Councilman Breean Beggs.
"The negotiations themselves will not be open to the public, but they will weigh in on the front end, and then compare to what the mayor achieved," Beggs says. "This way everyone is on record for what the public wants."
14. Reduce crime
Even as Meidl faces a laundry list of administrative tasks, community demands and challenges stemming from his surprise appointment, he's also looking toward doing what police are hired to do: reduce crime.
"I know there's talk of more home monitoring for less serious offenders," he says, referencing efforts coming from the Spokane Regional Law & Justice Council. "We'll have to work through that to determine which ones are less serious. How do you address those in the community who are arrested and get out, arrested and get out, arrested and get out?"
According to the most recent CompStat data, which reports preliminary crime numbers, property crime is up almost 4 percent compared to the same time frame last year, and violent crime jumped nearly 5 percent.
But narrowly constructed statistics can be misleading and often don't show the bigger picture. According to the FBI's Uniform Crime Reporting stats, violent crime in Spokane is low and holding relatively steady, while the property crime rate is gradually declining, but is still high.
"We need stability," Meidl says. "We've been without a CEO for too long." ♦