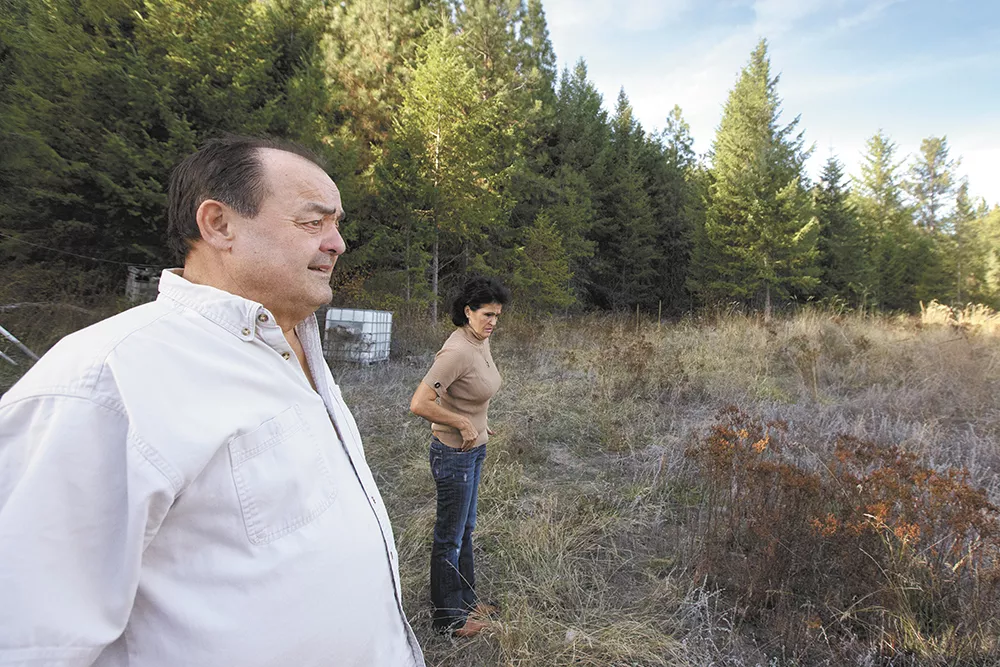 BRIDGE TOLL
Idaho's roads and bridges, as anyone who's taken a drive from Coeur d'Alene to Bonners Ferry knows, are awful. Hundreds of Idaho bridges are considered structurally deficient, including the bridge crossing Lake Pend Oreille into Sandpoint. Weight restrictions mean truckers have to get pricey special permits to cross that bridge.
Now, Idaho's legislature is considering what may seem anathema to the deeply conservative state: A GAS TAX hike. On Monday, a comprehensive transportation bill was introduced in the Idaho House that would increase the gas tax by 8 cents a gallon. It would also snag $22 million from the general fund.
Idaho's 25-cents-a-gallon gas tax has been in place for nearly two decades and hasn't kept pace with inflation.
"I'll sum it up in two words: Deferred maintenance," says Idaho Senate Transportation Chair Bert Brackett, from Rogerson in southern Idaho. Fail to maintain roads for long enough, and eventually the pavement is broken, the bridges are condemned or weight-limited, and a complete overhaul is required. And the price tag on reconstruction, Brackett says, would be six to 10 times that of proper maintenance.
The state transportation department estimates the $262 million needed to maintain its troubled roads could blow up to $3.6 billion if nothing is done. And that, Brackett argues, is a reason to raise gas taxes.
"We are conservative. ... We say we're against deficit spending," Brackett says. "But deferred maintenance is a form of deficit spending." (DANIEL WALTERS)
MOTION SICKNESS
Efforts to end the saga of the KETTLE FALLS FIVE — an Eastern Washington family of medical marijuana patients with federal drug charges hanging over their heads — were dashed when U.S. District Judge Thomas O. Rice denied a motion from the defense to dismiss the case.
Robert Fischer, the federal public defender on the case, had filed a motion last month that cited a congressional spending bill that contained a short paragraph barring federal law enforcement from using any money to "interfere" with state medical marijuana laws, including Washington state. The motion argued the case should be swiftly dropped because the prosecution was blocked by Congress from spending any money pursuing the charges.
But U.S. Attorney Michael Ormsby, who is prosecuting the case, argued that while Congress had patients and physicians in mind with the legislation, this particular family was growing marijuana for the black market and they weren't in compliance with state law.
The judge sided with the prosecution, and a trial is scheduled for Feb. 23. (JAKE THOMAS)
WAGE DEBATE
Washington already has the highest MINIMUM WAGE of any state in the country at at $9.47 an hour. Now lawmakers in Washington are considering a proposal to raise the minimum wage even higher — to $12 an hour.
House Bill 1355 had its second hearing on Monday. (Its companion bill in the Senate hasn't had even one.) Sponsored by Rep. Jessyn Farrell, D-Seattle, the bill, if passed, would gradually raise the state's minimum hourly wage over four years, starting in 2016, when the minimum wage would increase to $10 an hour. The minimum wage would continue to rise each year with inflation, as it does now thanks to a 1999 voter-approved initiative.
Several workers, union members and industry representatives testified before the House Appropriations Committee. Lori Pfingst, the research and policy director of the left-leaning Washington Budget and Policy Center, said studies support raising the minimum wage.
"Raising the minimum wage would boost the paychecks of low-wage workers, which are very likely to be spent immediately in the economy," she said.
Meanwhile, Mark Johnson from the Washington Retail Association argued that a higher minimum wage would mean job losses and an increased business expenses.
According to an analysis by the Budget and Policy Center, about 550,000 workers in Washington would benefit from a higher hourly minimum wage, more than half of whom are over the age of 30. (DEANNA PAN)