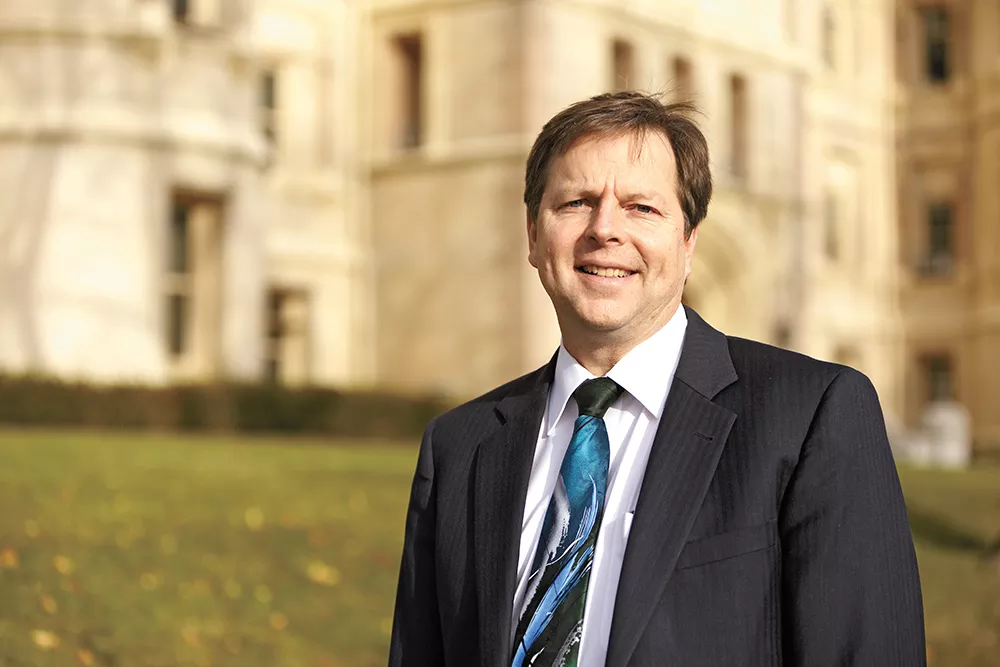 Last spring, amid panic about overcrowding, calls for a brand-new jail took over the regional conversation. But soon, a different voice emerged. A group of local reformers declared our region didn't need more jail beds. Instead, they said, we needed to use the ones we had smarter.
In the time since, the group "Smart Justice" has seen its ideas embraced by nearly every corner of local leadership. Support for its proposals — keeping nonviolent criminals out of jail, rehabilitating them in the community and tackling racial disparities in the criminal justice system, all while decreasing the number of inmates — has been snowballing, most recently within the findings of the Spokane Regional Criminal Justice Commission.
So if there's a time for a reform-focused civil rights watchdog to make a move for elected office, this could be it.
"If you talk to the police chief, the mayor, the county commissioners, the sheriff, the people who run Geiger [Corrections Center] and the jail, the judges — they're all ready to go to work to put things together. The county prosecutor's office, in my observation, has been largely absent in terms of leadership on that," says Breean Beggs, a prominent local attorney who plans to run as a Democrat for Spokane County Prosecutor next year.
After six years as director of the nonprofit Center for Justice, Beggs now works in private practice, where he focuses on personal injury and civil rights cases and represented the family of Otto Zehm in their civil suit against the city. Zehm was killed in 2006 during a violent confrontation with police, spawning high-profile criminal and civil cases and calls for independent police oversight in Spokane.
"[The prosecutor] is really the attorney for the entire county, the whole community," Beggs says. "That's the lawyer I've always tried to be, the lawyer for the greater good."
While the elected prosecutor doesn't allocate funds for programs (that power belongs to county commissioners) and doesn't alone determine whether every case gets prosecuted (the elected prosecutor oversees about 60 deputy prosecutors who work on cases), Beggs says his position could lead the office in a new direction.
He says he'd start with expanding the office's current efforts around "smart sentencing," a move also recommended by the Regional Criminal Justice Commission in its draft report. The goal is to create an assessment to be used at various stages of the justice system in order to analyze how likely each offender is to reoffend and what programs will best reduce that likelihood.
Beggs says he also would also create a process of analyzing the potential cost of every case to compare alternative programs to incarceration.
"We would give ourselves report cards as an office and as individuals to see how we're doing on the challenge to reduce recidivism," he says. "This is key to helping people be safer and to driving down costs."
While candidates have until May 16 to file to appear on the ballot, they have to register with the state Public Disclosure Commission soon after announcing or beginning to raise money, so names are beginning to trickle in. Steve Tucker, the current county prosecutor, says he hasn't yet decided whether he'll run for re-election, but one of the office's longtime deputy prosecutors has filed with the PDC.
Retired Air Force lieutenant colonel Larry Haskell has been a deputy prosecutor at the county since 1998, except for a span from 2002-05 when he returned to active duty military service. Haskell says he's open to reform ideas, but his primary focus is to increase the office's community involvement.
"We have good people and we do good work, but that's not being communicated to the public," Haskell says of the prosecutor's office. "For me, the main effort is of course to increase community safety and promote trust in what we do. Trust is everything."
Haskell says the prosecutor's office is indirectly affected by any negative high-profile incidents in law enforcement because it is a part of the greater criminal justice system. As prosecutor, he says he would attend more community functions, communicate with nonprofit leaders and law enforcement groups about ideas for improvement and lobby the state Legislature for funding. (In particular, Haskell says, he'd rather secure state funding for criminal justice programs than ask voters for a property tax increase, because state money is more certain than putting the question to a vote.)
Within the office, he'd look for more training opportunities for deputy prosecutors and staff, in addition to external training they already have access to through the Washington Association of Prosecuting Attorneys.
"I've had a long opportunity to see what things we do well and things where there is room for improvement," he says.
Another deputy prosecutor, Patrick Johnson, has also filed to run, but says he changed his mind when Haskell filed and plans to support him "rather than divide the office."
Taking on Ozzie
In a way, Douglas Orr says he's been preparing for his run for years. The Spokane Police Department detective has an MBA, a master's degree in organizational leadership and a Ph.D. in criminal justice, and now teaches courses at Gonzaga and WSU Spokane. Next, he plans to take on incumbent Sheriff Ozzie Knezovich.
Orr isn't shy in pointing out flaws he sees in Knezovich's leadership.
Knezovich has taken heat for pushing legislation, along with sheriffs from across the state, that would make it easier for him to fire deputies who misbehave. Knezovich has cited cases where even after violent outbursts or mistreatment of inmates, deputies have been reinstated to their jobs in his agency by a state arbitrator. In response to his legislative effort, which he plans to return to in the coming 2014 session, a group of former sheriff's office employees calling themselves Integrity First (the name of a bill Knezovich supported) has said it is investigating the sheriff and accused him of misrepresenting crime statistics.
Orr is not a member of that group, but says he believes Knezovich alienates union-represented employees by focusing on firing employees who could instead be "fixed."
"The current sheriff makes labor feel like they're a liability," he says. "I feel they're an asset."
Both are running as Republicans, and both say they support body cameras for the department, a change the Spokane Police Department is also in the process of making. Orr says he'd negotiate for them with the union representing the deputies; Knezovich says they'll be implemented outside of the bargaining process as soon as his department finds the funding.
Orr calls himself a cheaper option for taxpayers because he doesn't support building a new jail, which Knezovich does. Instead, Orr says, he'd support alternatives to incarceration like those pushed by Smart Justice to prevent the need for new jail beds.
But that's not enough, says Knezovich, who also supports some criminal justice reforms. The county jail, built for around 450 inmates, has recently housed as many as 650, creating what Knezovich calls a "dangerous situation."
"Sooner or later, something bad is going to happen," Knezovich says. "We're going to be looking for an answer and the only answer will be in the mirror."
Some argue effective alternative justice programs can prevent the need for a new jail; Knezovich disagrees. He says 70 percent of the jail population is made of "high-risk offenders" and many nonviolent offenders, like those charged with low-level misdemeanors, are already not being jailed because of overcrowding.
"They work hand in hand," he says of jails and alternative programs. "Just as you'll never arrest your way out, you'll never program your way out of this issue."
In response to criticism of his moves in Olympia, Knezovich is steadfast. Deputies should be held to "high standards," he says.
"The reputation of an entire agency can be damaged beyond belief by the act of one person," he says. "This is not being knee-jerk. It is the way we were taught in the academy. ... I hold this office to a very high standard. That's the type of law enforcement agency citizens should ask for and demand."♦