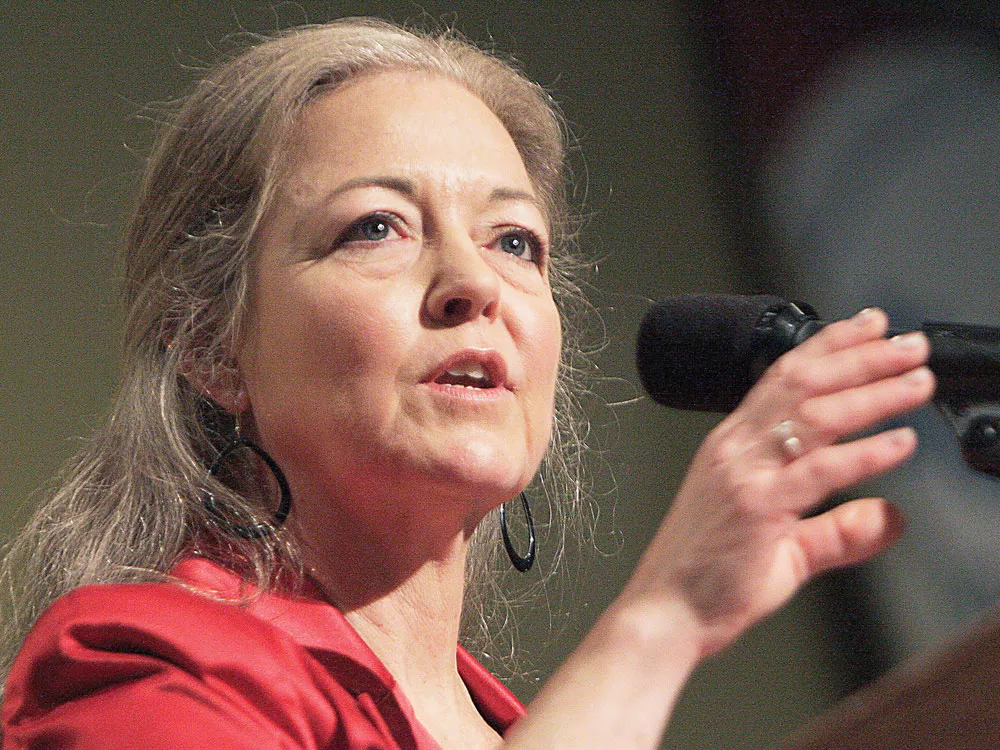 IF YOU CAN'T BEAT THEM…
Two human rights groups are planning actions next week, including a "Caravan of Love," to counter scheduled homophobic protests — in front of area schools, synagogues and even a bible college — planned by the Westboro Baptist Church.
The church recently argued in front of the Supreme Court that it had a right to protest even at soldiers' funerals. Its manner of protest usually involves waving wildly invective signs, including "God hates fags," "God hates America" and "God is your enemy."
Officer Jennifer DeRuwe, spokeswoman for the Spokane Police, says they haven't been contacted by Westboro members about permits. If there are only a handful of protesters, as in the past, and they stay on public sidewalks, permits may not be needed, she says.
On Oct. 21, the Peace and Justice Action League of Spokane is organizing a "Caravan of Love" tour for counter-protestors to shadow the Westboro congregants all day.
For information, contact Dale Raugust of PJALS at (509) 838-7870. The idea is for counter-protesters to carpool to the different Westboro protest sites with placards celebrating love and inclusion, instead of hate and exclusion, Raugust says.
The Spokane protests are 11 am at Gonzaga University, 11:40 at Moody Bible Institute, 12:30 pm at Whitworth, 2:25 at Ferris High, 3:45 at EWU and ending at 6 at night at the Chavurat HaMashiach Synagogue The next day, the Kootenai County Task Force on Human Relations will stage what it describes as a press conference and peaceful rally at 9 am at Coeur d'Alene City Park. This rally is designed to stay away from the Westboro protests, which are scheduled for Coeur d'Alene High, Lake City High and North Idaho College at around 6, 7 and 8 am, respectively. (Kevin Taylor)

TOO MUCH GLAZE ON THE PORK?

The city is obese, and needs a freakin' pedometer.
That was the metaphor coming out of Spokane Mayor Mary Verner's annual Statement of Conditions and Affairs address, which she delivered to the City Council Tuesday night.
The first 11 paragraphs of her speech employed the figurative language: "Step. Step. … One step at a time. … Step, followed by another step. … One foot in front of the other."
We call that metaphor abuse at The Inlander, but we'll forgive the mayor. She was, after all, trying to make an important point. This year, the city is $12 million short of paying its bills. Recently, the mayor gave notice to 120 city employees that their services were no longer needed — or at least, no longer affordable.
Under the headings of public safety, infrastructure, sustainable economic growth, community quality of life and accountability (for her leadership and administration), Verner made it pretty clear the city does carry more weight in some places than others, much like a middle-aged man with a spare tire.
"Together," the mayor said, "Police, fire, municipal court, probation, prosecutors, public defenders and the jail bill make up more than 57 percent of all General Fund expenses."
So do we face a lawless, very unsafe future? Only if the unions don't compromise!
"The shortfall cannot be what defines us. What we do to surmount this obstacle should be," Verner said. "That means I can't tell you today how many jobs or city services we can save. I can tell you that we … are in discussions with our unions to reduce across-theboard cuts. And, I can tell you that we are prepared to execute the 9-percent reductions if we can't reach the preferred endpoint."
Later on in her speech, the mayor said she liked the city's new bike lanes. Forget walking. Ride a bike. The weight comes off faster. (Nicholas Deshais)
ELECTION CENTRAL

Confused by all the initiatives on the ballot this November? Trembling with democratic rage but unsure who to aim it at? Click here, where we've assembled all of our coverage of this year's races and ballot measures, from the 77 initiatives filed this spring to the latest mud slung between Chris Marr and Michael Baumgartner.
You can also check out our easy endorsement guide, subscribe to our blog coverage of the election, and brush up on election commentary from Robert Herold, George Nethercutt, Mary Lou Reed and Inlander editor/publisher Ted S. McGregor, Jr. (Joel Smith)
MORE WORK FOR NURSES

When we interviewed Sacred Heart CEO Elaine Couture last week about the upcoming Sacred Heart Medical Center layoffs, she made it clear they would try to maintain the present patient-to-nurse ratios.
"When you have this drop in volume, this isn't about making people work harder," Couture said. "It's about reducing our workforce in schedules to meet current volume."
For example, she said, if a unit had limited four patients for every one nurse, that wouldn't change.
But a nurse called us last week to tell us some workloads for nurses would be increased. We checked with the Washington State Nurses Association, who confirmed it: Staffing levels on various units will change.
"On Wednesday, Oct. 13, we will be meeting with hospital management to discuss which units will be affected by staffing level changes. However, we do know that direct-care staff in some units will be reduced," says Christine Himmelsbach, assistant executive director of labor relations for the Washington State Nurses Association. "We believe these reductions are both short-sighted and dangerous, unnecessarily putting patient care at risk."
Peggy Currie, chief nursing officer for Sacred Heart Medical Center, says that ratios of registered nurses by bedsides will keep pace with levels before volume at Sacred Heart began to fall. While reduced volumes will result in a reduction of the overall number of registered nurses, the ratio will remain consistent, Currie says.
It will be another week before final information about the layoffs comes out. Until then, the hospital is limited in how much it can specify. (Daniel Walters)