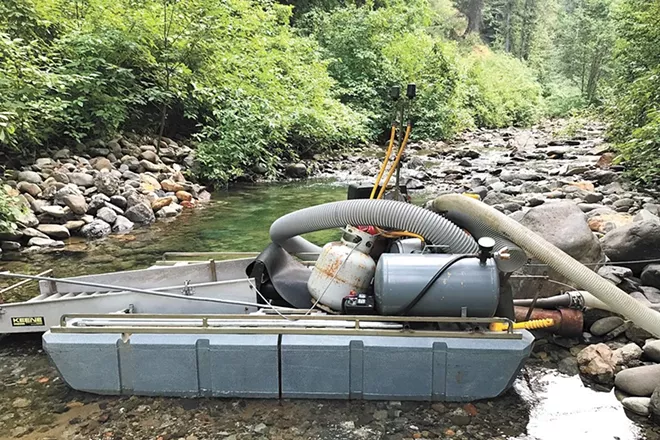 W
ashington lawmakers have banned suction dredge mining
in critical habitat areas for endangered salmon, steelhead or bull trout.
As the
Inlander
reported a few weeks ago,
the legislation brings Washington into line with other Western states that in recent years have banned or severely restricted the recreational sucking up of river sediments in hopes of finding valuable gold, silver or other minerals.
After a 37-10 vote in the Senate Thursday, March 5, the bill (ESHB 1261), which had already passed through the House, now goes to Gov. Jay Inslee. If signed, it will take effect later this year.
Environmental groups had pushed for years to ban the practice, which uses motors or gravity suction to filter sediments for valuable materials. To many, the practice seemed at odds with the state's simultaneous efforts to spend millions on restoring and protecting fish habitat.
"We have spent years working to raise awareness of this outdated practice that destroys sensitive habitat to benefit a small number of hobbyist miners," says Robert de los Angeles, Chairman of the Snoqualmie Tribe, in a news release. "So it is extremely gratifying to see that our state leaders are listening and embracing policies that are more consistent with all of our neighboring states."
Gold panning and nonmotorized mining methods will still be allowed, and suction dredge mining will still be allowed in noncritical habitat areas.