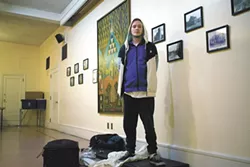 A
s temperatures at night continue
to get down to single digits, Spokane's network of warming centers is quickly reaching capacity.
"Certainly with the weather change in February, it's put a lot of pressure on the shelters," says Mike Shaw, executive director of the Guardians Foundation, which runs the warming centers in the city. "Basically all the shelters are at 100 percent capacity within a half hour of opening up."
Shaw says he has added staff in order to accommodate the higher capacity. He says the warming centers haven't turned anyone away, but he wants to keep the staffing ratio to one person for every 20 recipients.
"Individuals who weren't using the facilities at first are now warming up to them and finding them to be a safe place," Shaw says. "It does provide shelter without a whole lot of strings attached."
The center at Salem Lutheran Church originally had capacity for 60 adult men and women, according to the city. But this week around 100 people typically stayed there each night, Shaw says. The center on Ermina Avenue, managed by the Salvation Army, already doubled its capacity in January and saw roughly 120 people stay there per night this week.
"It just gets more and more crowded," he says.
Jason Green, a volunteer who has helped feed those staying at centers at both Salem Lutheran and South Cannon Street, says he's seen the cold take a toll on homeless individuals waiting in line to get into the shelters. Some people wait outside for several hours in the daytime waiting for it to open up at night. The Cannon center is open for 24 hours a day, but staff forces people to leave briefly in the evening in order to clean up, causing them to wait in line once again in order to get back in.
"The bottom line is there's not enough spots," Green says.
Shaw says the Guardians Foundation shuttles people to other centers if there is overflow and that staff takes about 45 minutes to clean up the Cannon center and get folks back in.
While the warming centers have become more crowded lately, Shaw says he expects fewer people in the next week because some folks will be getting Social Security benefits to start the month. He doubts any more warming centers will open up amid the cold weather that's expected to continue into next week.
The ones that are open have been a much-needed investment from the city, he says.
"There's lives that have been saved," Shaw says. "I've seen it first hand just about every night."