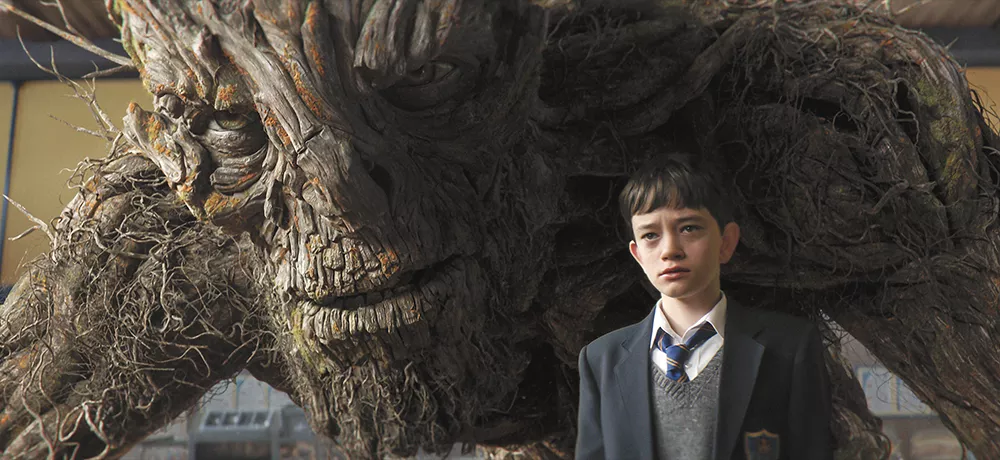 Be warned. Yes, A Monster Calls is a fairy tale, but more of the Grimm (and grim) sort: no happy ending, no heroes or villains, just a lot of hard truths about life and human nature. This is a film about fear and rage and abandonment and shame and grief, about how love can be painful, about the terror of learning that we exist at the mercy of time and fate. This is a fantasy overtly about fantasy as the place where we can examine the things too terrifying to face in the real world. This is fantasy verging into horror. The monster who calls is Death, and his visits are nightmares.
Those visits may literally be nightmares for 12-year-old Conor (Lewis MacDougall), his way of processing the awful stuff he is coping with: the lingering wasting away of his mother (Felicity Jones), who is dying of cancer; the absence of his father (Toby Kebbell) after his parents' divorce; the impending implementation of the plan for Conor to move into the unfriendly home of his icy grandmother (Sigourney Weaver). On top of all that, he's also regularly bullied at school. And then, late one night, the ancient, creepy yew tree in the churchyard that Conor can see from his bedroom window uproots itself and saunters over to talk to him. The Monster (the voice of Liam Neeson) promises to return three more times to tell Conor stories that, it will transpire, will have some bearing on Conor's situation, and not only because they will mirror Conor's own tale. They will be dark fables, wretched and unexpected, yet exquisitely perfect little nuggets of the human experience as untidy and unfair.
Director J.A. Bayona renders the Monster's stories as gorgeously animated mini-movies, ominous ink-and-watercolor drawings come to life. They may spring from the mind of Conor, an imaginative boy who loves to draw, a talent passed on to him by his mom. Or they may exist in a realm of their own, and perhaps the Monster is indeed real, not a dreamed-up product of Conor's misery.
Perhaps the most astonishing thing about A Monster Calls is that it explores an emotional reality that few of us would like to confront: the anger of children. Conor seethes with rage, and it's startling to see it depicted onscreen. (Young MacDougall is very convincing and completely harrowing indulging Conor's fury.) Some of Conor's story is about him realizing that he's not the only one whose feelings matter. But this film is also an unsettling reminder that our popular culture too often ignores the darker emotions of children, that we grown-ups sometimes pretend that children's emotions don't matter (or, worse, don't exist).
I sobbed harder through its finale than I have in a long time at a movie, at how wise and perceptive it is about what it means to be brave, and how difficult it can be to admit what you're feeling. I love how it embraces the power of stories — such as the ones the Monster tells Conor — as "wild creatures" that somehow simultaneously challenge us and tame us. With precisely the opposite of an easy and happy ending, A Monster Calls is immensely satisfying. Movies like this one are the reason that movies exist. ♦