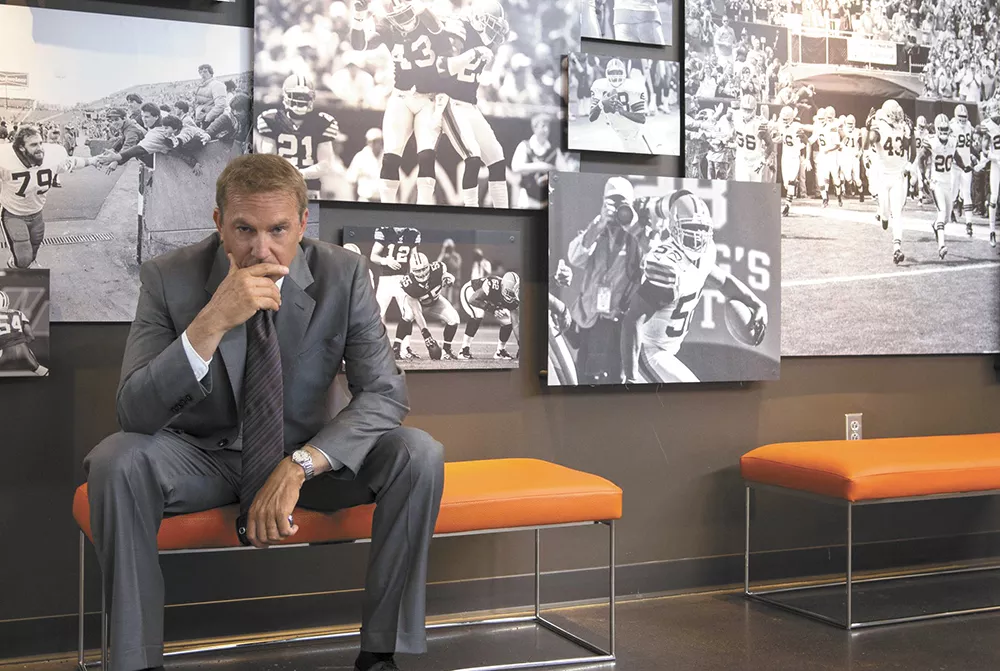 Journey back with me, if you will, some 20 to 25 years to the prime of Kevin Costner's reign as a movie star, forged in vehicles ranging from romances to epics to big-budget summer spectacles. He was becoming a stolid figure at the center of heroic narratives like The Untouchables, Dances With Wolves and JFK, representing integrity with a square jaw, a steely stare and resolute seriousness. And it really pissed me off.
Because Costner, based on all evidence, was a delightful comedic actor just begging to be given more chances to show it off. He was charming as the loose-cannon young gunslinger in Lawrence Kasdan's Silverado, and a terrific rogue with a heart of gold in Ron Shelton's classic baseball comedy Bull Durham. Every once in a blue moon — like reteaming with Shelton in Tin Cup — he'd provide a reminder of what an engaging presence he could be when he was encouraged to loosen up. But for the better part of two decades, he's wasted his greatest talents on roles that never even let him crack a smile.
So maybe part of what makes Draft Day more satisfying than perhaps it deserves to be is the chance to see Costner back in the milieu that shows off his best side: a contemporary sports comedy. Costner plays Sonny Weaver Jr., the general manager of the Cleveland Browns, preparing for the impending NFL draft under trying circumstances. His girlfriend — co-worker and team salary cap-ologist Ali (Jennifer Garner) — has just told him that she's pregnant. His popularity is shaky because he fired his own father, the team's legendary coach, shortly before he died. And the team's owner (Frank Langella) is putting pressure on Sonny to make a splash in the draft — which leads Sonny to make the perhaps-ill-advised decision to trade up for the No. 1 pick, presumed to be "can't-miss" quarterback Bo Callahan (Scott Pence)
Draft Day revels in its NFL-approved status, showcasing team logos, stadiums, ESPN draft analysts and commissioner Roger Goodell. It's easy to understand why the NFL would have granted its blessing to Scott Rothman and Rajiv Joseph's script: It's as deeply immersed in the minutiae of professional football as any face-painted, scream-until-you're-hoarse, cradle-to-grave fan. The story snaps along through the various decisions faced by Sonny — including butting heads with the new head coach (Denis Leary) — without pausing too long to make sure the uninitiated can keep up. There may be precious little on-field action, but make no mistake, this is a football movie, filled with catnip for the kind of folks who follow the buildup to their own team's pick with feverish fascination.
When Draft Day is focused on its behind-the-scenes NFL world, it's got loads of pop; when it tries to give equal time to the behind-the-behind-the-scenes soap opera of Sonny's life, it sags. The 15-year age difference between Costner and Garner is less of an issue than the fact that their relationship is presented as a given, with virtually no time spent allowing us to see if there's any connection between them. That relationship also detracts from what should have been the focus of Sonny's psychology: the complexity of working in his father's shadow, trying to make the Browns "his team" and dealing with all the questionable decisions such a burden can inspire.
Yet for all the unsuccessful attempts at workplace banter and romantic chemistry, Draft Day still has Costner in his element. There's a twinkle in his eye when he gets cooking in the scenes where Sonny is playing psychological games with his fellow general managers trying to make trades — including poking at the insecurities of the Jacksonville Jaguars' rookie GM by convincing him that if he doesn't make a certain deal, he'll look stupid. Director Ivan Reitman's crowd-pleasing showcase moments here are almost entirely built around the energy of Costner playing someone who's locked in with a smiling confidence that he's exactly where he belongs. For all its prime football geekery, Draft Day is a character study about a guy trying to prove that he's got the right skills for the job he's doing. Other filmmakers — and Costner himself — should take a look at his work here as a case in point. ♦