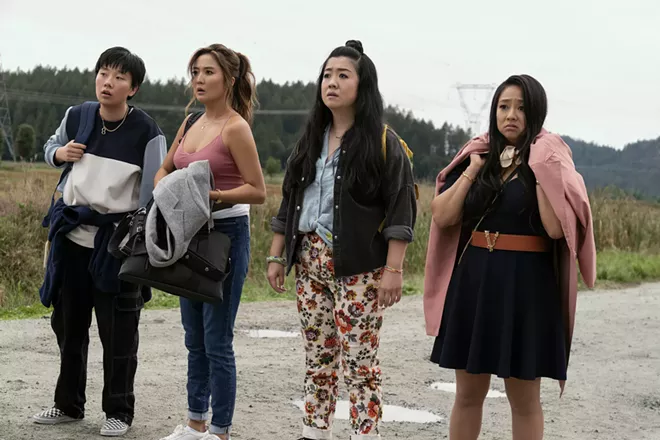 It's a shame that no studio would have ever released Adele Lim's comedy Joy Ride under its original intended title, Joy F— Club, because that play on the title of 1993's influential Asian-American drama The Joy Luck Club perfectly captures the proud yet irreverent approach that Lim takes to her subject matter. There's just as much authentic emotion in Joy Ride as in a movie like The Joy Luck Club, but there's also enough raunchy humor to put the movie on the same level as spiritual predecessors like The Hangover and Girls Trip.
It's the grounding in specific emotion that makes the humor in Joy Ride succeed, even when the tone gets a bit uneven in its final act. The vulgar jokes begin in the opening flashbacks of the main characters as children, when Audrey Sullivan and Lolo Chen are the only two Asian kids in their ultra-white Pacific Northwest town. They form a bond that takes them into adulthood, when the driven Audrey (Emily in Paris' Ashley Park) is a successful lawyer, and the snarky Lolo (Sherry Cola) is an aspiring artist living in Audrey's guest house.
Audrey, who grew up with adoptive white parents, is assigned by her self-proclaimed "ally" of a boss (Timothy Simons) to travel to Beijing and close an important deal for the firm, after which she'll secure a promotion. She brings Lolo along as both translator and moral support, although Lolo is more interested in convincing Audrey to finally seek out her birth mother. They're joined on the trip by Lolo's awkward, K-pop-loving cousin nicknamed Deadeye (Sabrina Wu), and when they arrive in Beijing, they meet up with Audrey's college friend Kat (Everything Everywhere All at Once's Stephanie Hsu), who's launched a successful career as a soap opera actress in China.
Since this is a comedy about an uptight lawyer hoping to land One Big Client, of course Audrey's plans immediately go off the rails, and the foursome end up in increasingly ridiculous — and often hilarious — situations. These hijinks range from attempting to hide drugs from the cops to impersonating a K-pop group. There are a lot of creaky plot contrivances in the screenplay by Cherry Chevapravatdumrong and Teresa Hsiao, but the characters are so likable and fun to watch that it's easy to forgive the occasional leaps in logic or the lack of details in Audrey's supposedly all-important business deal.
As is the case in other crazy-vacation comedies, the key to Joy Ride is the chemistry among the leads. Lim, making her feature directorial debut, finds a perfect combination between relative newcomers Cola and Wu, Broadway veteran Park and Oscar nominee Hsu. They're all fully committed to the comedy and to the personal relationships. Thankfully, Joy Ride remains focused on the core friendship, without any distracting romantic subplots.
That doesn't mean there isn't plenty of explicit sexuality, though, and Joy Ride is even more graphic at times than fellow recent R-rated comedy revival No Hard Feelings. Sometimes it gets a little too cartoonish (especially during an extended music video fantasy sequence), which makes the eventual shift into sentiment somewhat jarring. Still, those various elements work together to create a complex portrait of Asian-American identity, without sacrificing any dick jokes.
Chevapravatdumrong and Hsiao worked together on the underrated Comedy Central series Awkwafina Is Nora From Queens, which has a similarly chaotic sense of humor and a similarly subversive take on the Asian-American experience. If Joy Ride occasionally feels like an extended sitcom episode, at least it's the kind of show that you'd be eager to watch again next season. ♦

JOY RIDE
Rated R
Directed by Adele Lim
Starring Ashley Park, Sherry Cola, Stephanie Hsu