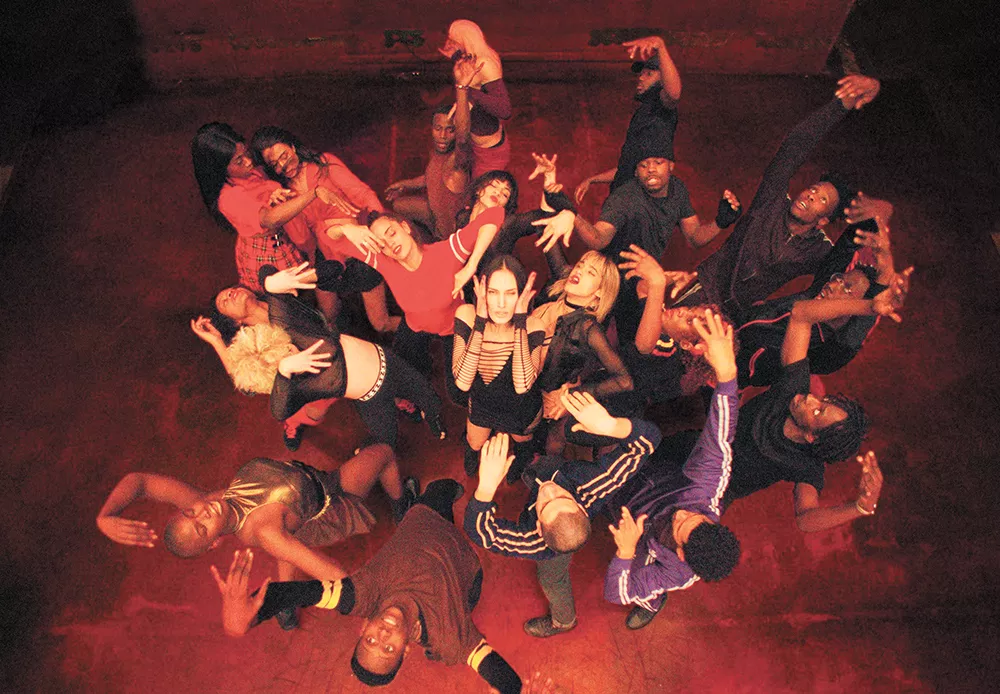 Rarely has a descent into hell had such an impeccable sense of rhythm.
Gaspar Noé's Climax is built upon a fairly straightforward premise — a group of dancers has a really bad, really violent drug trip — but it's made with such delirious style that it becomes something of a ballet itself, a portrait of excess and debauchery set to music. That shouldn't be a surprise coming from Noé, who has made some of the most shocking and disturbing movies of the last couple decades, but this is, for all its flailing intensity, his most readily accessible film.
Following a prologue that introduces us to the members of this diverse dance troupe through taped interviews, we get an opening sequence that's an out-of-the-gate mic drop. It's an electric, meticulously choreographed dance number set to an insistent, pulsating electronic beat and shot in a single 10-minute take. The dancers undulate and gyrate as if they're a single organism, but that sense of synchronicity is about to fracture.
There's a celebration in the gymnasium of an old academy. There's some flirting, some drinking, some more dancing. Then somebody spikes the sangria bowl with LSD, and as the drugs take hold, the party quickly devolves into paranoia, trauma, sexual deviance and grievous bodily harm. The final 45 minutes of Climax involve the characters screaming, thrashing, convulsing and contorting, careening from bug-eyed terror to orgiastic glee. Fights break out. Someone is lit on fire. A child is locked in the electrical room. A woman slices herself with a knife. The characters wander down the building's long hallways, all of which lead back to the gymnasium, a cavernous maze that Dante might have written about.
If that sounds like something you'd hate, you're probably right.
But I was mesmerized by it, and despite the occasional moment of misplaced self-importance — blocks of text occasionally fill the screen, espousing such dorm-room observations as "death is an extraordinary experience" — there's something pure about the notion of a film that's merely an exercise in movement and color. Sofia Boutella (Atomic Blonde, Kingsman: The Secret Service) is the only recognizable actor here; the rest are unknowns, cast primarily for their dancing abilities, and they get to show off in extended sequences where we merely watch them contort, bursts of free expression that give way to violence.
Noé's regular cinematographer Benoît Debie works wonders with his camera: It moves like one of the dancers, twirling and somersaulting and tilting and lurching and hanging upside down. His trademark God's eye shot is in full effect, looking down as everyone writhes, first in ecstasy and then in pain.
Noé has always fancied himself the bad boy of arthouse cinema. From the unflinching brutality of his breakout Irreversible (2002) to the unsimulated sex (in 3D, no less) of 2015's ponderous Love, he has always been rubbing our noses in the darkest proclivities of humanity, and to an obnoxious degree. He has a distinct approach — it's impossible to mistake his films for anyone else's — but I've always found his transgressions to smack of desperation, showboating style in service of hollow nihilism.
Climax is no less self-indulgent than Noé's earlier films, but for whatever reason the perverse excess worked for me this time. It feels less like a wallow in misery and torture than it does an embrace of baroque overkill. Noé has often quoted his inspirations on-screen, and here we see a stack of VHS tapes that hint at what he's channeling — the neon color palette of Dario Argento's Suspiria, the bug-eyed insanity of Andrzej Zulawski's Possession, the nightmare logic of David Lynch's Eraserhead.
The title almost comes to be a joke: The movie starts at such a fever pitch that the whole thing feels like one prolonged climax. It doesn't build; it's at full blast from the beginning. Some people will connect with it and others will recoil from it, but it's an undeniable feat of highwire filmmaking. ♦