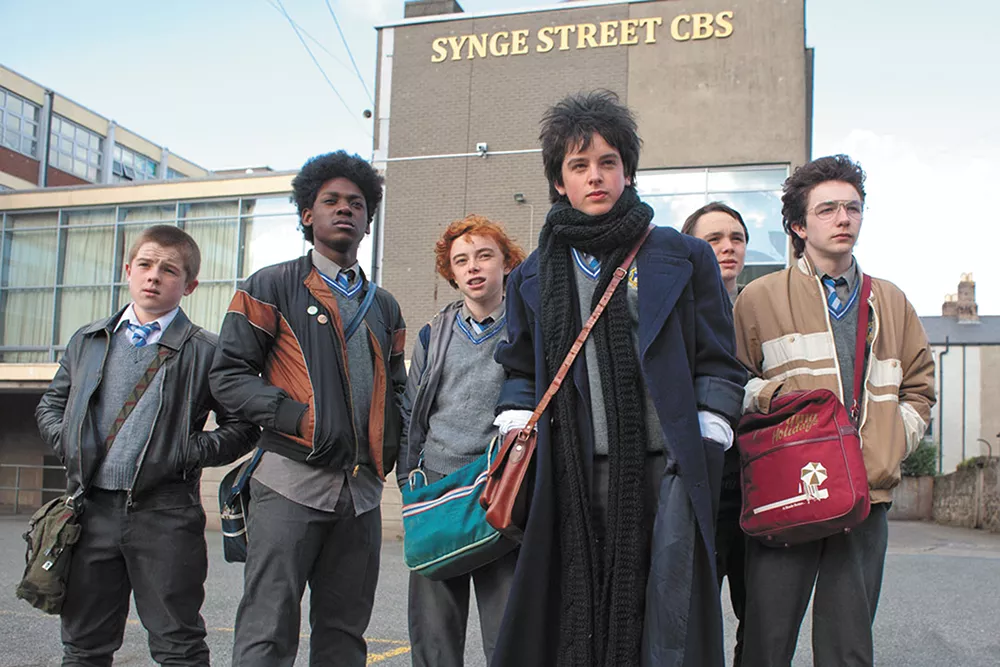 There seems to be only one tune in writer/director John Carney's canon, but that tune has an endearing melody and each film's varied cadences make it seem if not exactly fresh, then at least danceable. Carney's films celebrate the ecstasy of musical collaboration and the age-old tradition of using music as a lure for the opposite sex.
In 2007, the Irish filmmaker won wide attention for his Oscar-winning musical romance Once, which captured the on- and offscreen love affair of Dublin busker Glen Hansard and immigrant Markéta Irglová. With Begin Again in 2013, the action moved to Manhattan, where a fallen executive in the music business becomes smitten with the sound of an amateur singer-songwriter and produces her album, a collaboration that restores them both. Even though the action returns to Dublin and backward in time to 1985 in Carney's new film Sing Street, it's still a movie about music as a collaborative and seductive force.
At the start of the film, 15-year-old Conor (newcomer Ferdia Walsh-Peelo, who makes a remarkable film debut) is taken out of his private Jesuit school and sent to a lesser one run by the Christian Brothers on Synge Street. There, he is subjected to the indignities of bullies and petty-minded priests, but he makes a friend (Ben Carolan) and is bewitched by a girl (Lucy Boynton) hanging on a front stoop across from the school. Her name is Raphina, and although she's only 16, she seems so much older, with her teased-out hair and makeup and sophisticated attitude. Conor impulsively approaches her, and after she tells him she's a model, Conor blurts out that he's in a band that is shooting a music video and they happen to be in need of a model. When he scores her digits, he's compelled to form a band. The rest of the movie follows from there: putting a band together, writing songs, booking gigs, sparring with the bullies and the priests, navigating safe passage through his family's financial and emotional woes, and the swoons and sorrows of first love. It sounds like a lot, but there's nothing that can't be fixed with a good song.
As long as Sing Street stays on this sentimental path, the film is an agreeable toe-tapper. Scratch the surface too deeply and you'll find some historical inconsistencies, idealized events, and a depressing environment roiling in Conor's familial home and nation. Yet there's also a joyful glance back at the '80s, with its big hair and Back to the Future vibe, and a nod to that Irish-band classic, The Commitments. But as long as the focus stays on the boys and their newfound self-agency through music, the kids, as they say, "are alright." ♦