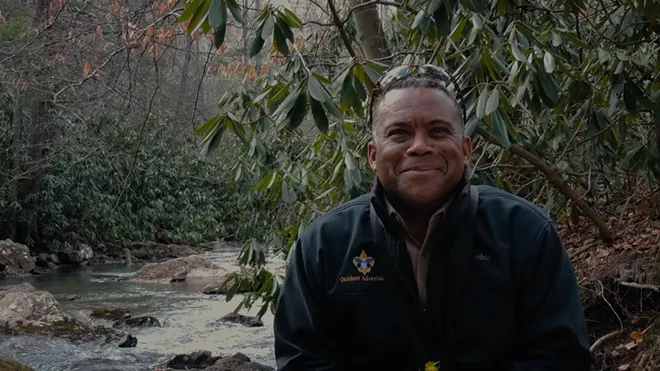 The modern art of documentary filmmaking has found itself in a bit of a crisis in the streaming era. In the continual push for creating more and more "content" as opposed to well-crafted nonfiction cinema, much of what comes to these various platforms has become noticeably rushed as they are often shoddily constructed. Corners are being cut when it comes to the basics of the form to get out on streaming as quickly as possible in order to become the next bingeable hit, regardless of whether it does a disservice to the critically important subjects being explored. While not everything is going to be as comprehensive as a Frederick Wiseman documentary that spends many hours on a single area of interest, far too many films are falling far short of this.
Such context makes a documentary like Scout's Honor: The Secret Files of the Boy Scouts of America a welcome reminder of how this work can and should be done. While even just competency would have set it apart from many of the other streaming offerings out there, longtime director Brian Knappenberger brings a greater degree of rigor to the subject. This will come as no surprise to anyone who's seen his past works, such as 2014's The Internet's Own Boy: The Story of Aaron Swartz and 2017's Nobody Speak: Trials of the Free Press, as he consistently brings attention to detail to a critical stories about individuals as much as the broken systems.
In this case, it is a decadeslong coverup about child abuse in the nation's largest youth group: the Boy Scouts of America. Such a subject requires striking a balance between delving into the horror of what happened and paying respect to the humanity of all those who were failed by the people meant to protect them. To shy away from the trauma and pain that each person we hear from is still carrying with them would be to let those who led the organization off the hook. Simultaneously, there remains a risk of being exploitative about one of the worst things they will ever experience in their life. Some occasionally unnecessary musical choices toward the end aside, Knappenberger maintains meticulous care for doing this excruciating topic justice while also showing an abundant kindness for those he interviews.
This ensures that, when the time comes to hold those responsible, the documentary doesn't hesitate in showing just how broken everything was. It is the type of robust documentary filmmaking that moves beyond merely going back through what happened and delves into actively doing journalism — asking necessary questions of those who are somehow still shamelessly downplaying the crisis. The interview with Steve McGowan, who served as the Boy Scouts' general counsel from 2013-2022, has already made headlines for a moment in the doc where he questions the staggering scope of the abuse before realizing how bad what he's saying sounds and backtracking.
You only get revealing moments like this by being willing to ask follow-up question after follow-up question to the evasive people in power and having the full picture of what happened straight from the victims. While the mantra that journalism should comfort the afflicted and afflict the comfortable is a familiar one, there is something to seeing it put into action here with one expertly complimenting the other. Though there are moments that occasionally feel glossed over and could have been explored in more depth, especially in regards to the way religious institutions become part of the cover-up, but Knappenberger is also efficient in covering quite a lot of ground on many adjacent subjects, including the disgraceful attempts by Boy Scouts leadership to scapegoat others rather than take action.
When we are brought to the present, we see how the Boy Scouts have now gone through bankruptcy proceedings. And yet, accountability is still in short supply. It is a closing reminder of the value of documentaries like this that shine a light on the sordid legacies of American institutions, ensuring they'll be left unscrutinized no longer. ♦

SCOUT'S HONOR: THE SECRET FILES OF THE BOY SCOUTS OF AMERICA
Directed by Brian Knappenberger
Streaming on Netflix