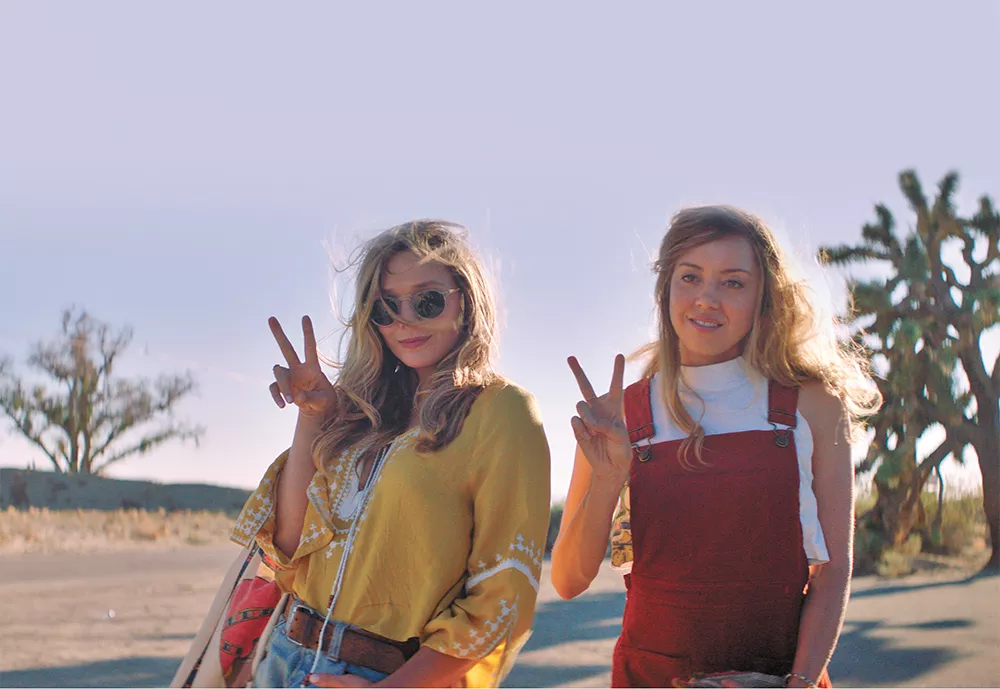 Aimless, jobless and now motherless, Ingrid Thorburn meanders around her empty house in a near-comatose daze after being released from her well-earned stay at a mental health facility. But Ingrid (Aubrey Plaza) isn't alone: She's got her phone.
She can obsessively refresh Instagram every two seconds and no one judges. If she happens to like everything, who cares? They're doing it for the likes, right? Who needs friends when you've got chic personalities who show you their glamorous lives? Why engage with your own life when everyone else's looks so much better? Ingrid Goes West finds the Instagram generation's real heart, then repeatedly stabs it with the knife of dark comedy.
While Ingrid's Instagram-stalking ways are established in an opening sequence featuring messy mascara tears, wedding crashing and pepper spray, her adventure truly begins with Taylor Sloane (Elizabeth Olsen), a moderately Instagram-famous influencer — always sharing photos of her perfect food, perfect dog, perfect husband, perfect getaways, perfect style. Taylor makes the grave mistake of replying to one of Ingrid's Instagram comments. Ingrid, of course, does the sound, logical thing and decides to use all her mother's inheritance to move out to California to become Taylor's BFF.
Through a combination of cyberstalking, low-key kidnapping and happenstance, Ingrid's improbable plan becomes a reality, and she becomes part of Taylor's inner circle. She meets Taylor's bearded pseudo-artist husband Ezra (played with some needed quiet, cynical grounding by Wyatt Russell) and the human ball of coked-up psychosis that is her brother Nicky (Billy Magnussen), who makes Ingrid looks super sane by comparison.
The script, by David Branson Smith and director Matt Spicer, nails its uneasy, superficial tone throughout the film. It's a screenplay that feels in-the-moment modern while also being sharp enough to be self-aware (characters directly reference things like Single White Female). The endless parade of groan- and cringe-inducing moments that the characters encounter in their social media-centric lives eventually hits a level of realistic absurdity: For example, Ezra's pop art paintings featuring spray-painted hashtag catchphrases are over-the-top ridiculous, and totally something that actually exists somewhere.
Somehow, Ingrid begins building a somewhat functional life by stealing the one Taylor presents on her Instagram account. While sorta creepy, it's really not sinister in any way. Ingrid isn't trying to replace or become Taylor; she's a lonely person who has finally found a friend (even if it was under false pretenses). She's pretending to be someone she's not, but isn't everyone on Instagram doing that to some degree?
The movie doesn't shy away from the idea that social media lives are just false façades presented to the world. As Taylor's interest in Ingrid begins to wane because of her brother's need for attention, or the presence of bigger Instagram celebs that could boost her lifestyle brand, things being to spiral for Ingrid.
The real linchpin of the film comes in the form of Dan Pinto (O'Shea Jackson Jr.), Ingrid's landlord and potential love interest, who happens to have an obsession that rivals Ingrid's Instagram love: Batman. Jackson's enthusiastic performance and jubilant glee for the Dark Knight provides a levity that counterbalances the actual darkness of the world around him. More important, he and his nerdy passion also serve as the key to understanding that Ingrid isn't just some crazy Insta-stalker. Over the course of a meal, he explains that his Batman love is directly tied to traumatic family issues: it's his escapist coping mechanism. Just as he turned to a superhero, Ingrid turned to her phone to keep her distracted from a world that's now without her mother (even if she won't ever admit it directly).
While Ingrid Goes West takes hilariously ruthless shots at the worst aspect of youthful social media obsession, some of the characters' genuine, explicable character flaws help keep the proceedings from feeling like a generational hit piece. It's like a selfie where all the ugly parts you meant to crop and filter instead fill the center of the frame. Sometimes it's better to nervously laugh it off than to face the reality of what's actually in front of your eyes. ♦