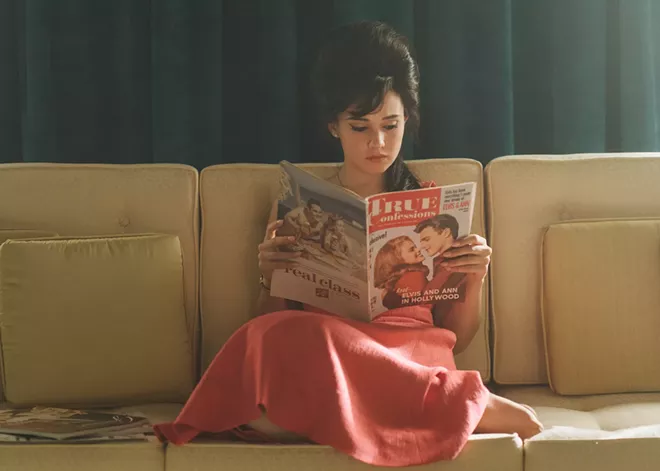 There's a brief moment in the second half of Priscilla, Sofia Coppola's biopic about Priscilla Presley, that perfectly illustrates Coppola's perspective on the cloistered life of the title character. About to give birth to her first child, Priscilla (Cailee Spaeny) pauses to apply fake eyelashes and adjust her hair and makeup before heading to the hospital.
By that point, Priscilla has been fully conditioned to the manufactured persona that her rock star husband, Elvis (Euphoria's Jacob Elordi), expects of her. She knows that any moment in the public eye, even for something as private as giving birth, requires her to have the perfect look. As Elvis makes clear, everything about her has to reflect properly on him.
That sounds like a miserable existence, and it is, although Priscilla isn't a dour movie, and it never wallows in its main character's unhappiness. Priscilla is often quite happy, especially in the early days of her courtship with Elvis, and it's only over time that she sees the rot beneath the veneer of romance and luxury.
Coppola has explored similar ideas about young women trapped in glass cages of privilege in movies like The Virgin Suicides and Marie Antoinette, but Priscilla has a more hopeful tone, without shying away from the challenges that Priscilla herself faced. It's based on the 1985 memoir Elvis and Me by Priscilla herself, who also serves as an executive producer on the film. The movie doesn't have the sanitized feel of an authorized biopic, though, and while the real Priscilla has been a longtime steward of her late husband's legacy, the movie isn't afraid to portray him as a bully and a narcissist.
At the same time, it's easy to see why young Priscilla would be swept away by someone who appears to be remarkably humble for an international superstar. When she first meets Elvis, Priscilla is just 14 years old, living with her mother (Dagmara Dominczyk) and stepfather (Ari Cohen) near a military base in West Germany where her stepfather is stationed. Elvis is enlisted in the Army, but of course he isn't treated like the average soldier, and he throws lavish parties at his off-base home.
Priscilla is invited to one of these parties by an intermediary, and although the 24-year-old Elvis secures all the proper permissions, his behavior toward her is borderline predatory. Coppola refrains from sensationalism, letting the power imbalance play out naturally, and she doesn't deny Priscilla's own agency in pursuing Elvis romantically. Priscilla is a teenage girl with fairy-tale dreams, and she's plucked out of obscurity by the most famous, desired man in the world.
There have been dozens of onscreen depictions of Elvis (including Baz Luhrmann's hit 2022 film, Elvis), but this is the most consideration Priscilla has ever been given, and Coppola treats her story with care, never losing sight of the fragile, troubled figure at the core. There are no Elvis concert performance scenes, and the soundtrack is almost entirely devoid of Elvis music. That may have been partially a licensing issue, but it has the added effect of making this larger-than-life figure into a supporting player in the story of a woman who was every bit as complex as he was.
This is a beautiful, sensitive, affecting film, with a powerful, nuanced lead performance from Spaeny, who convincingly plays Priscilla from ages 14 to 27. It's Coppola's best work in years, distilling her familiar themes into an ethereal and immersive character study, a bracing corrective to the string of "great man" biopics Hollywood churns out every awards season. Priscilla is as artfully composed as Priscilla herself, and just as mesmerizing. ♦

PRISCILLA
Rated R
Directed by Sofia Coppola
Starring Cailee Spaeny, Jacob Elordi