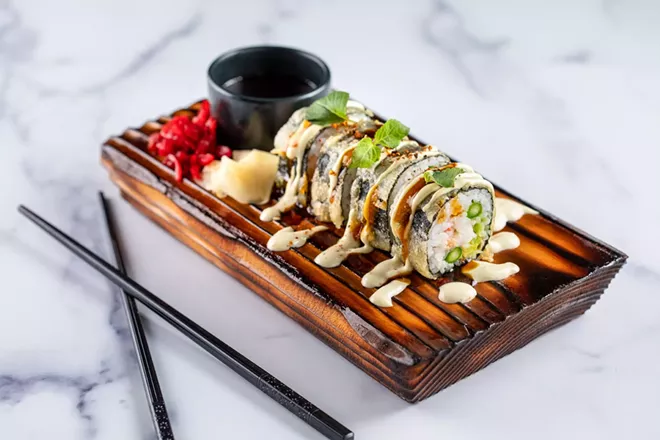 North Idaho's participation in Inlander Restaurant Week is officially in its 10th year, growing strong, and definitely back to pre-pandemic participation levels. For diners, that means even more delicious options to try.
We're thrilled to welcome back four Hagadone Hospitality venues: BEVERLY'S and DOCKSIDE, both in The Coeur d'Alene Resort, THE CEDARS FLOATING RESTAURANT, and TITO'S ITALIAN GRILL & WINE SHOP, the latter located in the Resort Shops.
In the past, Tito's has typically served all-new specials for Restaurant Week, says executive chef Tim Heinig. This year, however, Tito's is using Restaurant Week to highlight its new menu items.
"We're in the process of wanting to elevate our menu," Heinig says, adding that the already-popular chicken marsala is also on Tito's regular menu.
Additional entrees for Tito's $35 prix-fixe menu include lemon shrimp over angel hair pasta and a hearty plate of vegetarian lasagna, while dessert options — which all involve chocolate — include tiramisu and a chocolate caramel tart with Belgian chocolate ganache and salted caramel.
Think of Coeur d'Alene's CRANBERRY ROAD WINERY as farm-(and ocean)-to-table dining in an upscale location that's still family-friendly.
"Everything is made to order," says Maria Tiffany, who co-owns the elegantly appointed space at The Village at Riverstone with her husband, Chris.
The braised short ribs, for example, come from grass-fed Montana cows slow-cooked in a rich sauce featuring the winery's cabernet sauvignon. The other entrée options, prawn linguine and chicken piccata, both feature the winery's chardonnay.
Desserts are equally decadent, including crème brulee with fresh fruit and New York style cheesecake with a port reduction.
Just around the corner from Cranberry Road Winery at Riverstone are four more Restaurant Week participants. Check out VICINO PIZZA and its upscale sister spot, VINE & OLIVE EATERY & WINE BAR, both of which serve Italian food.
TERRAZA WATERFRONT CAFÉ dishes up the flavors of Latin America, while BARDENAY RESTAURANT AND DISTILLERY is known for its craft cocktails and eclectic menu in a family-friendly spot.
Maybe you'd like to make more of an event out of your Restaurant Week excursion. RED TAIL BAR & GRILL and CHINOOK CRAFTED BY ADAM HEGSTED are both located inside the Coeur d'Alene Casino Resort Hotel, which would be more than happy to speak with diners about hotel accommodations should they want to turn dinner into something more.
---
NORTH IDAHO'S RESTAURANTS
315 Cuisine
Bardenay Restaurant & Distillery
Beverly's
The Cedars Floating Restaurant
Chinook Crafted by Chef Adam Hegsted
Collective Kitchen
Cosmic Cowboy Grill
Cranberry Road Winery
Dockside
Honey Eatery & Social Club
Red Tail Bar & Grill
Republic Kitchen & Taphouse
Satay Bistro
Sweet Lou's Restaurant and Tap House
Terraza Waterfront Cafe
Thai Bamboo
Tito's Italian Grill
Vicino Pizza
Vine & Olive