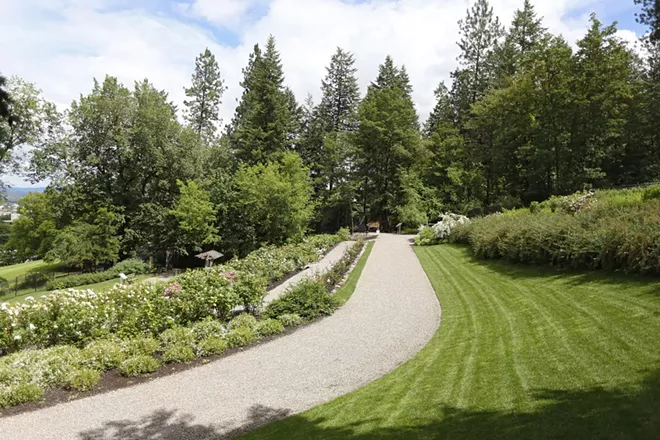 There are so many places in the Inland Northwest to make a great picnic.
Most of us might choose the Bowl and Pitcher, Manito Park or Riverfront Park as our automatic go-to spots. But where's the imagination in that when there are so many others?
MOORE-TURNER HERITAGE GARDENS
Nestled next to the Corbin Arts Center on the South Hill are the Moore-Turner Heritage Gardens. The gardens, which opened earlier this month for the season, are part of the historic estate established and maintained from 1889 to 1930 as private residential grounds for the F. Rockwood Moore and U.S. Sen. George Turner families.
In its early days, the gardens played host to dignitaries, socialites and civic leaders from around the country — and now it will play host to your picnic. Whether you bring a cushion for a bench or a blanket for the grass, the peace and beauty of the gardens are an excellent choice for an in-the-city picnic.
The garden's hours are 9 am to 3:30 pm, Tuesday through Sunday, until Sept. 15. They are free to visit and are located at 507 W. Seventh Ave. in Spokane.
HIGH DRIVE BLUFF PARK
For a unique, evening picnic, try High Drive Bluff Park on Spokane's South Hill. Stop by the Rocket Market and pick up a fresh baked dessert, a cup of hot tea or a bottle of wine, and head to out to enjoy the sunset as the sky lights up with stars. High Drive offers gorgeous views of Latah Creek and the West Plains. Many drivers pass this area daily without ever pulling off and enjoying the painted skies as the sun goes down. You can enjoy the view from a bench, take a hike through the trails winding down the hill, or lay out a blanket and take in the view.
ARBOR CREST
Arbor Crest takes all the work out of a romantic picnic at the winery. They offer three packages of picnics, each boasting a variety of foods to be paired with different Arbor Crest wines. Choose from various sandwiches, charcuterie boards, hummus and salads to share. If you haven't visited the winery grounds — the former Cliff House residence of eccentric inventor Royal Riblet — you're going to love the beautiful panoramic views of Spokane Valley, the lush green grass, the beautiful grounds and the incredible wine. The only thing you need to bring is a blanket and someone to share a picnic.
Prices for two, including food and a bottle of wine range from $52 to $116. Reservations can be arranged for picnics taking place Wednesday through Sunday from noon to 7 pm. The winery is at 4705 N. Fruit Hill Road.
WATERFRONT PARK
Medical Lake's Waterfront Park gets pretty busy during the summer with locals enjoying the swimming area at the lake. Go for an early adventure and enjoy the peace and quiet of one of the many picnic tables or get cozy on a soft grassy area with less people and beautiful views of (and cool breezes from) the lake.
On your way to the park, stop for a coffee and a takeaway breakfast at the LaFevre Street Bakery and Cafe. Any of their baked goods — I'd slap my grandma for one of their raspberry oat bars — is worth the trip. But don't stop there: Grab one of their chicken biscuit or breakfast sandwiches for your picnic.
Waterfront Park is a 20-minute drive from downtown Spokane and located on State Route 902.
MCEUEN PARK
Steps away from downtown Coeur d'Alene is McEuen Park. This well-maintained and beautiful park boasts views of the lake, bright green grass, an off-leash dog park, a pickleball court, colorful splash pad and the city's largest playground for the kids, and so much more. There's something for the entire family at the park, plenty of picnic tables or patches of grass, and oodles of ways to enjoy family fun together on a day out. Check the calendar before you plan your picnic to see if you can catch a summer concert or fun run.
McEuen Park is next to downtown Coeur d'Alene on Front Avenue. ♦