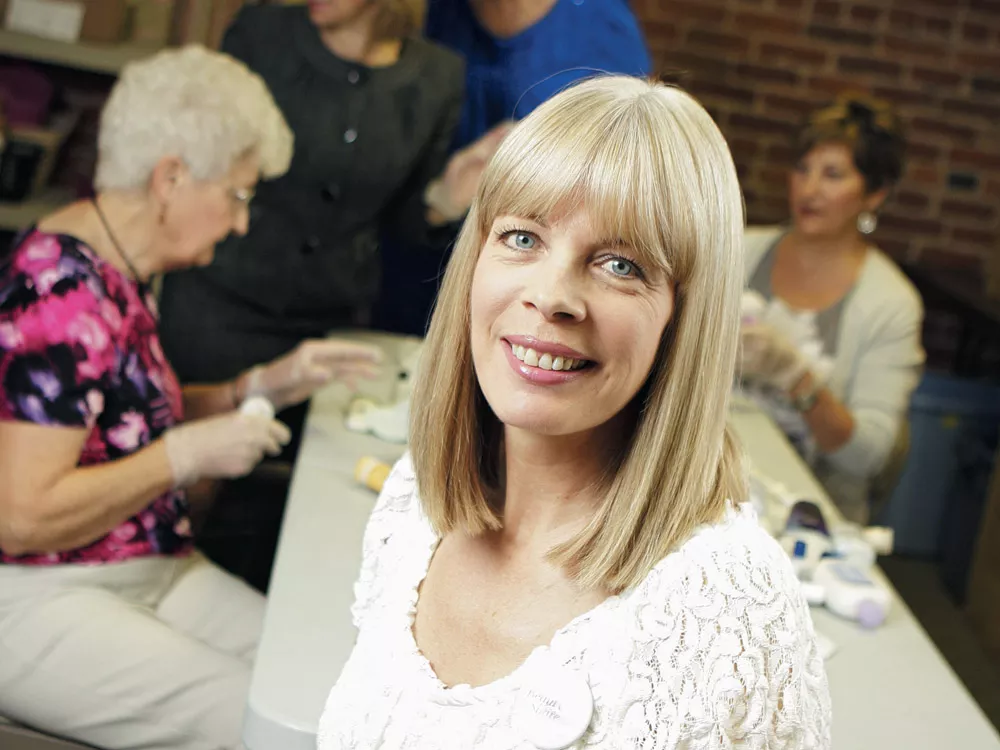 From providing make-up to the disadvantaged to making wishes come true for seniors to building community through art, these newly active charities are changing lives in novel ways.
Project Beauty Share
Julie Farley, founder of Project Beauty Share (216 N. Bernard; 455.7430), describes her group as "a food bank for beauty and hygiene products."
It's not necessarily an original idea, Farley says. Women have been donating beauty products to homeless shelters for years. Her group just does it on a "grander level."
They sort, they clean, they label. "We're super-organized," she says. Every week, the group distributes somewhere between 500 and 750 pounds of beauty and hygiene products to seven local shelters. Their goal is 1,000 pounds.
"We provide to the poverty-stricken and women in transition who can't afford these luxury items," Farley says. "A lot of it is about health and hygiene, but it's also about dignity. … We're trying to help them restore their dignity and get back on their feet."
Farley's group is looking for "gently used" items such as lipsticks and shadows. Other things, mainly items with wands, need to be unused. Farley recommends raiding closets for "gift-with-purchase makeup bags."
"Our needs aren't great, but we do need," she says, adding that monetary gifts are more than welcome. "We're also needing volunteers."
Twilight Wish Foundation
Since its founding seven years ago, the Twilight Wish Foundation has put people in hot air balloons and on a Broadway stage, and given others a new set of dentures or a hearing aid.
"We're here for someone who never realized their dream," says Elinor Foltz, who got the foundation's local chapter up and running last fall (18115 N. Hilltop Rd., Colbert, Wash.; 509-464-2303). "We think it's important that everyone realizes his or her dream before it's too late."
The Twilight Wish Foundation is very similar to the Make-A-Wish Foundation, but for seniors.
As Foltz describes it, the foundation gives people who have been hindered by finances or lack of time to achieve the one thing they always wanted to accomplish.
Nationally, the foundation is trying to help a woman named Margarette who lives in Merritt Island, Fla. "This woman has always wanted to drive or ride cross-country in a long-haul 18-wheeler," Foltz says. This fall, it'll happen.
But locally, the wishes are bit more down-to-earth.
Of the four wishes the local group has worked on since its inception, only one is incomplete. Richard Gero, 71, was an Army mechanic. Now retired, he needs 10 teeth pulled and dentures.
He needs $3,000. Any donation will help.
Black Rabbit Magic
Naaman Cordova-Muenzberg, a chief rabbit, says art is more than commodity. It's a way to build community.
"We focus on the social function of art," he says. "Something that makes you think and makes you react in a positive way to your history, your identity, your connection to culture and community."
Though Black Rabbit Magic (riverspeak.net) has been around a couple of years, it was in the last year that the group caught the public's eye.
Most recently, in April the group put on the Transcendence Project, which paired artists with nonprofit organizations, such as Catholic Charities and Community-Minded Television, to give each organization's mission an artistic representation.
"We work with community members and community organizations to highlight what they do and the beauty they bring to the local social structure," he says.
Black Rabbit Magic's next big project is sending local artists to other communities in a sort of cultural exchange program. When they come back, they'll have more tools to build community.
Goods aren't being dispersed, but art is creating culture. For everyone.