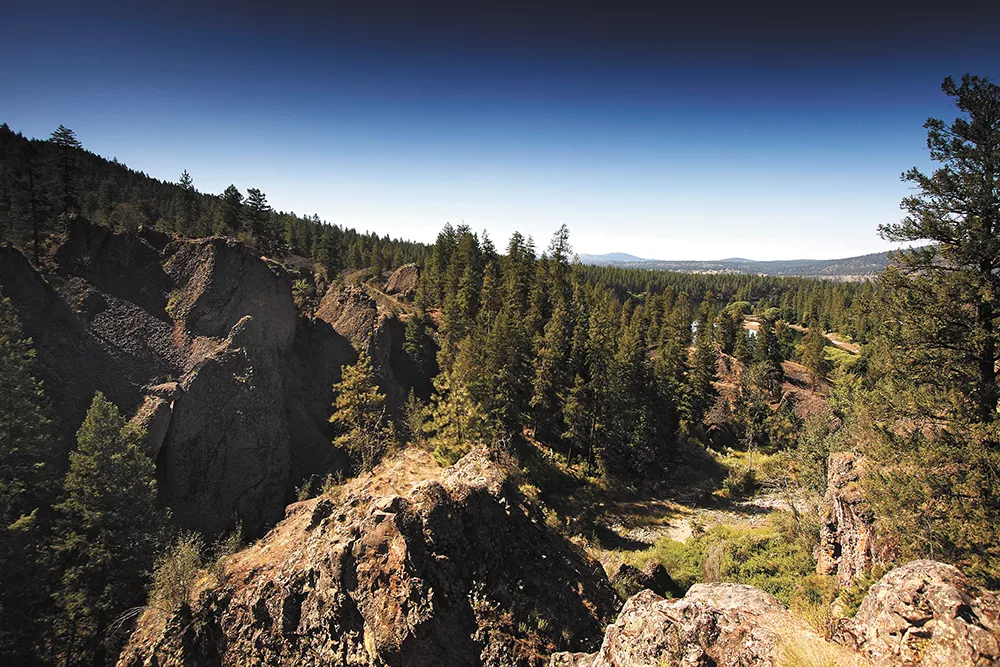 CAMPING KEPT SIMPLE IN NORTH IDAHO
Get back to the basics. Get off the grid. Get lost — in a good way — among the rivers and mountain ranges of North Idaho with the simple pleasure of "dispersed" camping. The U.S. Forest Service manages approximately 2.5 million acres of public lands throughout the panhandle, with about 1,600 documented sites for such camping.
What's dispersed camping? It's just you and the woods. No plush cabins. No paved RV pullouts. No picnic tables or barbecue grills. No showers, restrooms or running water. And if you're lucky, no cell service.
Look, sometimes it's nice to book an established campground site online, pay your fee, pull in alongside your fellow campers and relax for the weekend. But maybe the reservations fill up, or you get an itch to go out last minute, or you just want a little more solitude.
Josh Jurgensen, forest recreation program manager with Idaho Panhandle National Forests, says dispersed camping requires more personal responsibility and self-reliance than established campgrounds. It also allows more flexibility, more isolation and a more "rustic" experience.
"They can be a little more free," he says of campers.
For those looking to try it, Jurgensen recommends checking out the motor-vehicle-use map for the national forest you want to visit. These maps, available online or at ranger stations, show driving access to many of the popular rivers, lakes and hunting areas throughout the panhandle. Dispersed camping is typically allowed within 150 feet of roads, but should also be at least 100 feet from waterways.
Campsites can be found near some of the premier destinations in Idaho, including the shores of Priest Lake and the blue-ribbon trout waters of the St. Joe River. When preparing for a trip, Jurgensen suggests visitors be "self-contained." Bring extra water, a hardcopy map, a spare tire and have a backup plan in case the site is occupied.
"You are out in the woods," he says. "You don't have the security of a developed campground."
Visitors should also take responsibility to mind local fire restrictions, minimize impact on the site and pack out waste, Jurgensen says. Open access to public lands depends on campers protecting that experience for others coming after them.
"It's really simple," he says. "Try to keep the site cleaner than you found it. ... We want people to enjoy their public lands."
WANDER WILD
The Lands Council conservation group will offer several educational hikes for its new Wander Wild Series throughout the summer, inviting habitat specialists to give tours of regional wildlife areas. A hydrologist and watershed director will help lead the first outing to Le Clerc Creek in Pend Oreille County on June 23 with a discussion of water restoration efforts and local wildlife. Additional hikes will explore Mt. Spokane, Dishman Hills, Scotchman Peak and Riverside State Park. Visit landscouncil.org/wander-wild-series.
A PODCAST IN PERSON
REI Spokane will host several clinics and educational sessions for its annual Wednesdays in the Woods series at Riverside State Park this summer. Learn about regional hiking (June 20), getting kids outdoors (June 27), dog first aid (July 11), mammals in the wild (July 25), outdoor ethics, (Aug. 1) or attend the Smackout Pack Live Concert (Aug. 29). Don't think of it as summer school. Think of it as listening to a podcast in person. Podcasts are great. All events are free. Find the full event listing at rei.com/spokane.
TRAILBLAZERS
Get outside and give back a little. Join a work party with the Washington Trails Association to help repair and develop new hiking trails on Mica Peak. The association needs volunteers for restoration projects in the Mica Peak Conservation Area southeast of Spokane. Workers do not need any previous trail-building experience, but you should be prepared to hike up to six miles and labor on uneven terrain for about four hours. WTA crew leaders will provide training and equipment. Find work party dates and details at: wta.org/volunteer.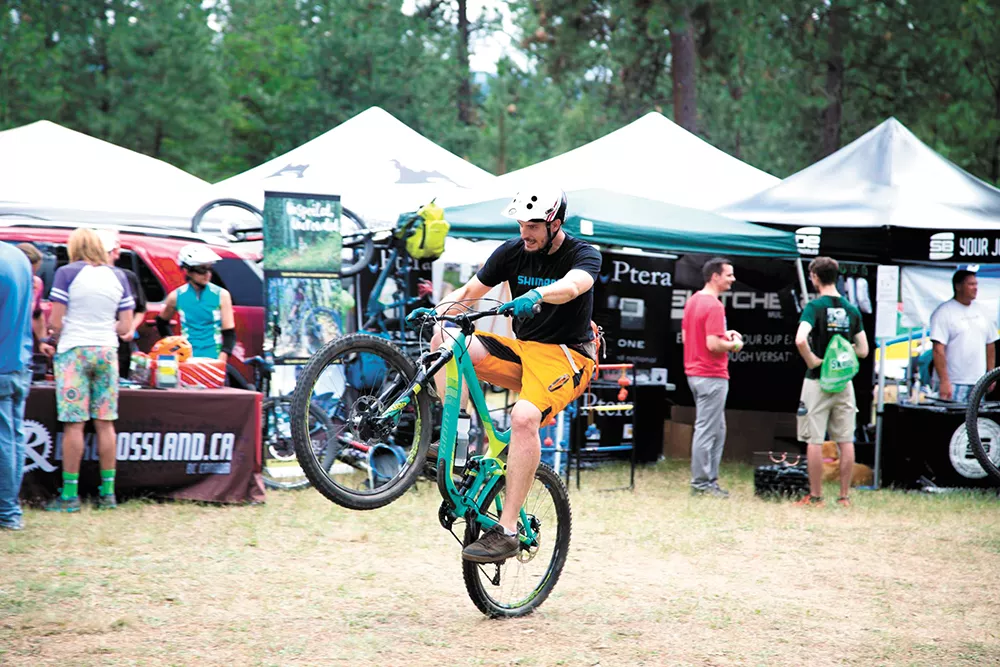 GEAR GALORE
Pedal, paddle, slackline and climb your way through the fourth annual Spokatopia Outdoor Adventure Festival on July 7, when regional outfitters will gather to show off their latest gear and celebrate the call of the wild. Vendors will take over Camp Sekani Park and Boulder Beach along the Spokane River to host clinics on kayaking, slacklining, mountain biking, rock climbing, yoga and more. A $5 demo pass pays for access to a number of biking and water sports gear demonstrations. Live music, food vendors and a beer garden will also be available. Visit spokatopia.com.
120 IDEAS
Check out the inaugural edition of the Washington State Parks Guide, featuring more than 120 historic sites and recreation areas ranging from coastal lighthouses (Fort Casey State Park) to limestone caves (Crawford State Park). The 364-page guide covers park amenities, access and local activities. Read about places to hike with kids, catch a ferry or sleep in a castle. The guide costs $6 at select state parks, including Riverside State Park. Order online at parks.state.wa.us.
ULTRA EXTREME
With more than 7,900 feet in elevation gain and loss over more than 31 miles, the Mt. Spokane Vertical Challenge 50K trail run on July 28 will likely wipe out even the most hardened athletes. The Coeur d'Alene-based Trail Maniacs group will host the ultra-marathon race starting from the Selkirk Lodge and stretching up along cross-country ski trails and looping back down through Mt. Spokane State Park. Sound too hardcore? Runners can also sign up for somewhat milder 10K or 25K courses. That's still pretty badass. Registration costs between $40 and $90 depending on race length. Visit trailmaniacs.com.
BUTTE NAKED VIEW
Steptoe Butte State Park's overlook at 3,612 feet in elevation provides a sweeping view of the vast and rolling hills of the Palouse — even if you never step out of your car. Located about 55 miles south of Spokane, the cone-shaped Steptoe Butte soars over the surrounding wheat and lentil fields. Corkscrew your way up the narrow access road to the parking lot where you can enjoy a picnic, peruse historic markers or shoulder in next to landscape photographers from around the world looking to capture the magic of this unique region. Keep an eye out for visiting paragliders who occasionally take flight from the summit. Don't forget your Discover Pass.
LOOKOUT LOFTS
Some tower 50 feet above the ground. Others squat atop jagged peaks. A few crooked shacks barely keep out the wind while others offer cabin-esque coziness deep in the backcountry. But by design, almost any fire lookout offers grand 360-degree views of miles and miles of wild countryside. Wraparound catwalks and windows provide front row seats to rugged landscapes, passing wildlife and stunning sunsets. And you can book overnight stays at many historic lookouts for as little as $30 a night. Some remote sites can only be reached by foot, so plan accordingly. You should also pack water and bedding, depending on where you're headed. Check out Quartz Mountain, Little Guard and Bald Mountain lookouts for nearby stays. Visit firelookout.org. ♦