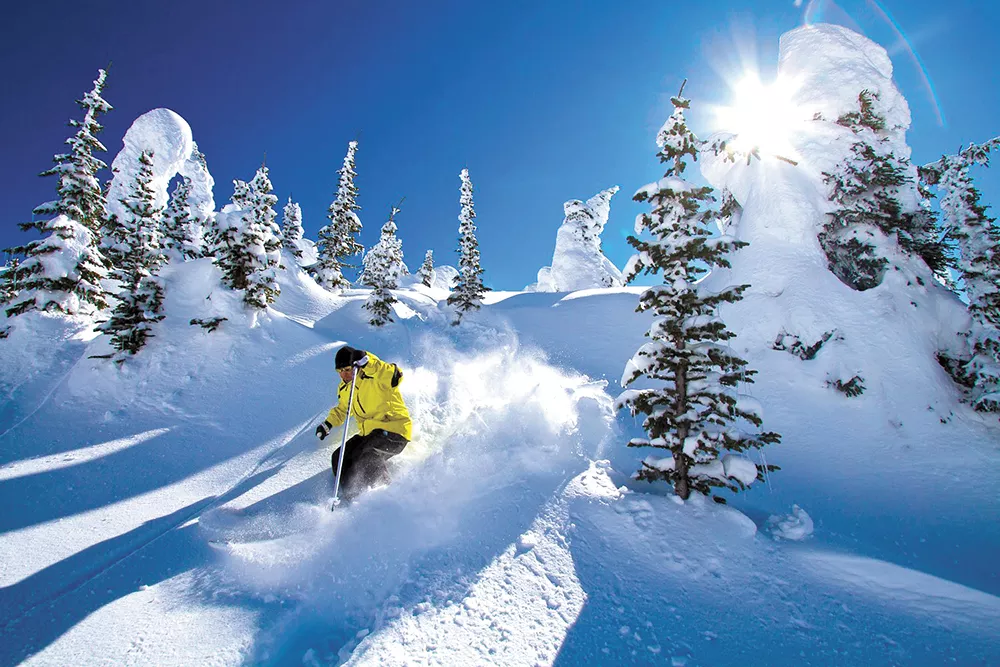 49° North
Chewelah, Wash. • ski49n.com • 1,850 vertical feet • 82 runs
49 Degrees North, known as the "Northwest's Favorite Family-Friendly Resort," stands by that designation proudly, offering 2,325 acres of skiable terrain, with a wide variety of immaculate groomers for all abilities as well as the kind of tree skiing found at regional cat-skiing operations, accessed by one of their many chairlifts. Top it off with a rustic lodge, which hosts the Boomtown Bar, a favorite among 49° regulars.
Anthony Lakes
North Powder, Ore. • anthonylakes.com • 900 vertical feet • 21 runs
Located in the northeastern corner of Oregon outside the charming town of La Grande, Anthony Lakes Ski Area offers powder, views and 1,100 acres of natural glades and groomers. Additionally, Nordic trails and cat-skiing are available. With a top elevation of 8,000 feet, the powder is light and the crowds are minimal, which makes skiing and snowboarding at Anthony Lakes worth a road trip.
Apex Mountain Resort
Penticton, B.C. • apexresort.com • 2,000 vertical feet • 70 runs
Destination amenities, dry Okanagan powder, smooth cruisers and steep chutes adds up to an Apex Mountain adventure. Located a half-hour from the British Columbia city of Penticton, Apex offers large amounts of precipitation with low humidity and cold temperatures, making for the lightest champagne powder imaginable and giving visitors a quintessential Canadian ski vacation without all of the crowds.
Big Sky
Big Sky, Mont. • bigskyresort.com • 4,350 vertical feet • 250 runs
Big Sky Resort is going big for its 40th birthday. It recently acquired neighboring resort Moonlight Basin, giving the resort a total of 5,750 skiable acres over three mountains. Big Sky boasts 400 inches of that famous Montana "cold smoke"; couple that with lots of sun and it makes most days epic, especially if you're a seasoned Big Sky veteran. Come ready with your ski legs and willingness for adventure, as a trip to the top of Lone Peak (11,166 feet) is essential. Big powder, long groomers and nine terrain parks make for a myriad of options.
Big White Ski Resort
Kelowna, B.C. • bigwhite.com • 2,550 vertical feet • 118 runs
This resort comes by its name honestly, with nearly 3,000 patrolled acres of skiing and the most night skiing terrain in western Canada. After a big day on the mountain, big offerings ensure the entire family can meet any après-ski and non-skiing needs. Activities range from the one-of-a-kind 60-foot ice climbing tower to the "Mini Z" children's snowmobile track. A vacation at Big White will leave the entire family happily exhausted.
Blacktail
Lakeside, Mont. • blacktailmountain.com • 1,440 vertical feet • 32 runs
Located above Flathead Lake in western Montana, Blacktail Mountain offers world-class views of Glacier Park and the Mission, Whitefish and Cabinet mountain ranges from its mountaintop village — a view every level of skier gets to enjoy, as this is an "upside-down mountain." All skiers and boarders have a top-to-bottom ski run before ever riding a chairlift. Blacktail offers a well-balanced mixture of terrain, with more than 1,000 skiable acres.
Bluewood
Dayton, Wash. • bluewood.com • 1,125 vertical feet • 24 runs
Looking for a unique ski adventure that can only be found in the hills of southeast Washington? Try a skiing and wine-tasting adventure — preferably in that order. Bluewood pairs nicely with a mid-winter wine-tasting getaway to Walla Walla, where award-winning wines are available after skiing some of the area's best glades. A truly decadent ski adventure awaits those looking to do something a little different this winter.
Bridger Bowl
Bozeman, Mont. • bridgerbowl.com • 2,700 vertical feet • 71 runs
This world-class, community-owned ski resort is getting quite the facelift this season with the installation of two new chairlifts, a significant enhancement for this big mountain playground known for its friendly local vibe. Bridger Bowl boasts 2,000 acres of skiable terrain and is located only 20 minutes from the university town of Bozeman, which offers an impressive variety of dining, nightlife, entertainment and lodging options.
Brundage Mountain Resort
McCall, Idaho • brundage.com • 1,800 vertical feet • 46 runs
It's located in the high mountains of central Idaho, near the cute little lake town of McCall. Brundage, known for its powder-packed glades and luxuriously wide groomed runs, receives an average of 320 inches annually of the Best Snow in Idaho™, which blankets the 1,500 acres of lift-served terrain and an additional 19,000 acres through backcountry snowcat operations. Brundage offers a remote ski adventure that's not too far from home.
Crystal Mountain
Crystal Mountain, Wash. • skicrystal.com • 3,100 vertical feet • 57 runs
Crystal, located in the shadows of volcanic giant Mt. Rainier, prides itself on variety. The largest ski resort in Washington state and one of the Northwest's top skiing destinations, Crystal boasts 2,600 acres of gentle groomers, challenging steeps, glades, chutes and endless backcountry options for those seeking a little more adventure. Between the well-developed base area village and mountain lodges, dining options are plentiful. There's even a taco truck, serving up everything from breakfast burritos to après-ski cervezas.
Discovery
Anaconda, Mont. • skidiscovery.com • 2,340 vertical feet • 67 runs
Commonly known as "Disco," Discovery Ski Area has all the ingredients for a genuine Montana ski adventure. Discovery offers 2,200 acres of well-balanced terrain for all ability levels — everything from wide-open cruisers to steeps that will challenge even the most expert skiers. Lodging is available at the three surrounding towns of Anaconda, Georgetown and Philipsburg, each offering a unique experience.
Fairmont
Fairmont, B.C. • fairmont.com • 1,000 vertical feet • 13 runs
Fairmont Hot Springs, the base camp for the Powder Highway, is the ideal vacation destination for those wanting to learn but also seeking to soak their cold, tired bodies in the Nordic-style hot and cold plunge pools. Because of its location, central to the nearby resorts of Kicking Horse, Panorama, Kimberley and Fernie (from 30 minutes to two hours away), even seasoned skiers and boarders will enjoy a Fairmont vacation.
Fernie Alpine Resort
Fernie, B.C. • skifernie.com • 2,820 vertical feet • 112 runs
Be prepared to be awestruck by the terrain quality and sheer number of options at Fernie Alpine Resort; five bowls, all unique in their own way, offer endless steeps, challenging glades and pristine groomers to keep you entertained. In addition, a well-equipped village with several dining and shopping options and one of the coolest ski towns north of the border is just down the road.
Kicking Horse
Golden, B.C. • kickinghorseresort.com • 4,130 vertical feet • 120 runs
"Raw ruggedness" is the best way to describe Kicking Horse Resort, a well-hidden mountain offering world-class skiing that's well worth discovering. Kicking Horse is not for the faint of heart, with 85 inbounds chutes, the fourth highest vertical drop in North America, and 50 percent of 2,800 skiable acres designated as expert/advanced. With stats like those, remember to pack your ski legs and "A-game" for a truly kick-ass ski adventure.
Kimberley Alpine Resort
Kimberley, B.C. • skikimberley.com • 2,470 vertical feet • 80 runs
Known as the Bavaria of Canada, this is a true winter playground. Nestled above the town of Kimberley, it boasts plenty of sunny days and so many extracurricular activities outside of skiing and boarding, you're sure to find an adventure for everyone in your family. Almost nightly kids' après-skiing activities are offered, with the family ice skating rink as the hub.
Lake Louise
Lake Louise, Alberta • skilouise.com • 3,250 vertical feet • 139 runs
The Lake Louise Ski Resort is the jewel of the historic Banff National Park and the birthplace of skiing in Canada. Lake Louise consistently receives acclaim as one of the most scenic ski areas on the planet, but offers more than just endless views, with legendary powder, bright blue skies and an astounding 4,200 acres of skiable terrain. Outside of skiing, Lake Louise has a multitude of dining and lodging options between Banff and the Lake Louise village.
Lookout Pass Ski Area
Mullan, Idaho • skilookout.com • 1,150 vertical feet • 34 runs
Lookout Pass Ski & Recreation Area is famous for access, snow accumulation, free ski school and its chili — seriously. Located conveniently on the Montana/Idaho border off Interstate 90, Lookout Pass receives an average of 400 inches of snow annually and has offered a Free Ski School since 1940. If powder, ease of access, a cool little ski area and a bowl of delicious chili interest you, you'll love Lookout.
Lost Trail Powder Mountain
Sula, Mont. • losttrail.com • 1,200 vertical feet • 45 runs
Lost Trail is located on the Idaho/Montana border on scenic Highway 93, 45 minutes south of Hamilton, Mont. This still-undiscovered gem is a local secret and tops the list of the "mom-and-pop"-style ski areas that make Montana skiing so unique. If you're lucky enough to ski Lost Trail on one of its numerous powder days, you'll understand why this area is a favorite with so many.
Loup Loup Ski Bowl
Okanogan, Wash. • skitheloup.com • 1,240 vertical feet • 10 runs
Skiing in north-central Washington has long been known for a impressive number of high-quality cross-country skiing trails. Loup Loup adds to this reputation with two trail systems and 23 kilometers of track-set trails. Downhill skiing is also available, with 300 acres of terrain. Known for sunny days and dry snow, Loup Loup is located off scenic Highway 20 on the eastern side of the North Cascades.
Mission Ridge
Wenatchee, Wash. • missionridge.com • 2,250 vertical feet • 36 runs
Mission Ridge Ski & Board Resort is only 12 miles from the world-famous apple orchards of Wenatchee, but it feels a million miles away, with sweeping views of the region's ring of volcanoes and other surrounding jagged peaks. Located on the eastern slope of the Cascades, Mission Ridge is blessed with dry, light snow and sunshine and also offers 2,000 acres of wide-open groomers and challenging off-piste terrain.
Mount Bachelor
Bend, Ore. • mtbachelor.com • 3,370 vertical feet • 71 runs
It's easy to feel like you're on top of the world when skiing at Bachelor. The summit is an impressive 9,065 feet, the highest in Oregon and Washington. Pair that with nearly 3,700 acres of skiing, one of the longest ski seasons in the Northwest and a funky mountain town conveniently 22 miles down the road — with a bevy of terrific brewpubs — and you've got yourself a well-rounded ski adventure.
Mount Baker
Glacier, Wash. • mtbaker.us • 1,500 vertical feet • 32 runs
Mount Baker Ski Area is situated between the beautiful peaks of Mount Shuksan and Mount Baker. The area's proximity to the coast is one of the reasons it consistently receives the most snow in the Northwest, averaging more 700 inches annually. The area boasts the world record for snowfall — the 1998-99 season, with a staggering 1,140 inches, or 95 feet! Located an hour east of beautiful Bellingham, Baker is a Northwest favorite.
Mount Baldy
Oliver, B.C. • skibaldy.com • 1,300 vertical feet • 35 runs
Located in the Okanagan country of British Columbia, Mount Baldy offers plenty of sunshine, tree skiing and untracked powder. In the heart of wine country near Oliver, Osoyoos and Penticton, a trip to Mount Baldy will take you to a place where skiing and the mountain lifestyle are celebrated — a true hidden gem.
Mount Hood Meadows
Parkdale, Ore. • skihood.com • 2,780 vertical feet • 85 runs
Located on the sunny, wind-protected side of Mt. Hood, Meadows offers terrain that will challenge all levels of skiers and snowboarders. Enjoy the wide-open terrain off the Cascade Express, known as the most popular cruising terrain in Oregon. At an elevation of 7,300 feet, it offers incredible views of the surrounding terrain. Looking for more of a challenge? Try the endless pitch- and powder-filled Heather Canyon.
Mount Hood Skibowl
Government Camp, Ore. • skibowl.com • 1,500 vertical feet • 65 runs
Mount Hood Skibowl amenities go far beyond expectations. Not only is it one of the country's oldest ski resorts, it also boasts one of the largest night skiing operations. Plenty of activities, including snowmobiling, cross-country skiing, sleigh rides and snow tubing, will keep all snow lovers entertained. Lodging is available nearby in Government Camp or right down the road in the charming town of Hood River.
Mount Norquay
Banff, Alberta • banffnorquay.com • 1,680 vertical feet • 28 runs
With a family ski resort tradition since 1926, Mount Norquay is one of Banff's best-kept secrets. It's located in the protected playground of Banff National Park, set above the picturesque town of Banff. Top elevation for this resort is 8,040 feet, and it covers 190 acres.
Mt. Spokane Ski & Snowboard Park
Mead, Wash. • mtspokane.com • 2,000 vertical feet • 45 runs
Spokane's local and most convenient ski area is located just 28 miles from downtown. Mt. Spokane has plenty more to brag about, with the greatest amount of night skiing terrain in the region and the most night skiing hours — every Wednesday through Saturday until 9:30 pm.
Nakiska
Kananaskis, Alberta • skinakiska.com • 2,560 vertical feet • 64 runs
This conveniently located resort 45 minutes from Calgary is making some big improvements this season, including a new tubing park, an additional magic carpet and snowmaking improvements. Upgrades to the village include a BBQ area — two additions to a ski area loaded with world-class amenities. There are more than 1,000 acres to explore, with something for every type of skier.
Panorama Mountain
Panorama, B.C. • panoramaresort.com • 4,000 vertical feet • 120 runs
Panorama Mountain Village has it all: wide-open groomers, challenging tree lines, steep and deep bowls, and the largest slopeside hot pools in Canada to top off your great day on the slopes. With more than 2,800 acres in the scenic Canadian Rockies, Panorama offers a lot for beginners and intermediates. For experts, the Taynton Bowl's 700 acres feature all black-diamond runs.
Red Mountain
Rossland, B.C. • redresort.com • 2,920 vertical feet • 87 runs
Red Mountain Resort has long been known for an abundance of crazy-deep snow and plenty of steeps — approximately 37 percent of its terrain is designated as advanced. Now it boasts one of the largest single-season expansions in North America in the past several decades. The expansion to the Grey Mountain area will add an additional 1,000 acres, giving Red Mountain 2,682 total skiable acres.
Revelstoke Mountain
Revelstoke, B.C. • revelstokemountainresort.com • 5,620 vertical feet • 65 runs
In addition to boasting more than 3,000 acres of skiing serviced by a top-of-the-line lift network, Revelstoke offers an incredible number of alpine possibilities, with a helicopter and cat-skiing operation available right in the same base area. Bring your ski legs and a willingness to use them; the longest run is nearly 10 miles in length, with incredible fall lines. This season, Revelstoke has improved some of its beginner terrain, providing more green skiing options.
Schweitzer Mountain Resort
Sandpoint, Idaho • schweitzer.com • 2,400 vertical feet • 92 runs
Schweitzer Mountain Resort turns 50 this season, with more to celebrate than just being a half-century old. In addition to 2,900 skiable acres over two massive bowls, it's added a beginner terrain park, the Southside Progression Park near the existing Stomping Grounds Park, and the return of the sun deck outside the Lakeview Lodge. Schweitzer is the largest resort in the Spokane area, offering a full slate of lodging options and several dining and shopping outlets in the village to explore after a day on the slopes.
Silver Mountain
Kellogg, Idaho • silvermt.com • 2,200 vertical feet • 73 runs
Silver Mountain Resort consists of two mountain peaks offering 2,200 vertical feet over 1,600 acres. Your adventure at Silver begins with a ride up the scenic gondola to the mountaintop village. Silver features an extensive variety of terrain, with glades and groomers. At the end of your day, treat yourself to waterpark fun and a soak in the hot tubs at the Silver Rapids Waterpark, Idaho's largest indoor waterpark.
Silver Star Mountain
Vernon, B.C. • skisilverstar.com • 2,500 vertical feet • 115 runs
Silver Star Mountain offers a full array of dining, shopping, lodging and nightlife options in a quaint, Victorian-themed village. In addition to 3,000-plus acres of inbounds skiing, there are boundless acres to explore in their heli-skiing terrain and several options to keep the kids active, including snowmobiling, a climbing wall, ice skating, and tubing. New this season, Silver Star has added a Katal airbag that will be operated by its Freestyle club on Friday and Saturday evenings.
Sitzmark Ski Area
Havillah, Wash. • gositzmark.org • 660 vertical feet • 10 runs
Located 20 minutes outside Tonasket in beautiful north-central Washington, the Okanagan highlands fixture offers 10 runs and additional cross-country trails.
Snoqualmie Pass
Snoqualmie Pass, Wash. • summitatsnoqualmie.com • 2,280 vertical feet • 25 runs
With something for everyone, Snoqualmie Pass is the most accessible ski destination in the Seattle area, 54 miles east of the city off Interstate 90. The four areas that make up the Pass, each with its own personality, total 1,981 skiable acres. Alpental is known for having some of the most challenging terrain in North America, while Summit Central features revolutionary terrain parks. Enjoy a fun-filled night at Summit West, or go back in time and ski Summit East.
Snowbowl Ski
Missoula, Mont. • montanasnowbowl.com • 2,600 vertical feet • 42 runs
On the lengthy list of must-ski mom-and-pop Montana ski areas, Snowbowl is up there with the best of them. Located 20 minutes from downtown Missoula, Snowbowl features an annual average of 300 inches of snow and an exciting mix of steep terrain. Stay slopeside at the European-style lodge Gelandesprung, or choose from one of the many downtown hotels for the quintessential Missoula experience.
Stevens Pass
Skykomish, Wash. • stevenspass.com • 1,800 vertical feet • 37 runs
At first glance, Stevens Pass is nothing spectacular. But spend a little time exploring, and you'll find Stevens has it all — steeps, groomers and passionate locals. Located off Highway 2, 35 miles west of the quaint Bavarian town of Leavenworth and 90 minutes from Seattle, Stevens has three well-equipped lodges, a terrain park regularly featured in ski movies, terrain to keep the most experienced of skiers and boarders challenged, and spectacular views of the North Cascades.
Sun Valley Resort
Ketchum, Idaho • sunvalley.com • 3,400 vertical feet • 75 runs
Well-appointed lodges, immaculately groomed runs that seem to go on forever, sunny skies and beautiful views of the Sawtooth mountains — we're just scratching the surface of what makes Sun Valley so special. The city of Ketchum splits the resort: Bald Mountain offers the big mountain experience, with challenging bowls, steep groomers and the most beautiful mountain top lodges found in the West, while Dollar Mountain, near the famous Sun Valley Lodge, offers a nicely maintained beginner area, as well as terrain park features that keep park riders going all day.
Sunshine Village
Banff, Alberta • skibanff.com • 3,520 vertical feet • 107 runs
Located in the heart of Banff National Park, Sunshine Village is full of options for dining, lodging and skiing. With more than 3,300 acres of skiing over three mountains and 12 lifts to get you to where you need to go, Sunshine delivers an exciting ski adventure. The season is long, typically mid-November through mid-May, and its great variety meets the needs of skiers of any ability, with 15 acres of terrain park features. It averages 360 inches of snow annually, with great views and sunshine, and it's only 90 minutes from downtown Calgary.
Tamarack
Tamarack, Idaho • tamarackidaho.com • 2,800 vertical feet • 37 runs
Tamarack, located in the Payette River Mountains of central Idaho, offers a family-friendly experience with amenities for everyone. Tamarack has 900 acres of skiable terrain for all abilities, two terrain parks, 25 kilometers of Nordic trails and an efficient lift system to get you to where you need to go faster. There are several lodging options available in the village area, and enough dining options to keep even the pickiest eaters satisfied.
Timberline
Timberline Lodge, Ore. • timberlinelodge.com • 3,690 vertical feet • 41 runs
The only resort in the Northwest open year-round — almost. Timberline typically celebrates two season openers, one for winter, the other for summer, and boasts an 11-month ski season. This mountain offers old-world charm with the historic lodge at the base area, and new-school skiing and riding with an immense amount of freestyle terrain. Nestled on the slopes of Mt. Hood, Timberline is truly the most unique ski resort in the Northwest.
Turner Mountain
Libby, Mont. • skiturner.com • 2,110 vertical feet • 25 runs
Located in northwestern Montana in the mountains of the Kootenai National Forest, Turner Mountain has the best fall-line skiing in the Northwest, hands down. Find it on a powder day, and you'll have an experience of a lifetime. This mom-and-pop operation offers a little over 2,000 feet of leg-burning goodness, with more than 60 percent of the terrain geared for expert skiers. A short drive from the small town of Libby, it's even available for private rental.
Whistler/Blackcomb
Whistler, B.C. • whistlerblackcomb.com • 5,280 vertical feet • 200 runs
Whistler/Blackcomb, two hours north of Vancouver, won over the world as host of the 2010 Olympic Games. But to Northwest skiers and boarders, it needs no introduction. A premier ski destination with incredible terrain (8,100 acres, 16 alpine bowls), massive amounts of snowfall (an annual average of 469 inches), a sophisticated lift system (37 of them) and spectacular amenities, Whistler/Blackcomb has more than enough to keep you entertained, from first tracks through après-ski enjoyment.
White Pass
Naches, Wash. • skiwhitepass.com • 2,050 vertical feet • 45 runs
Located on scenic U.S. Highway 12, White Pass offers amenities you might find at bigger resorts but with half the number of people. The mountain has a nice mix of rolling terrain, great tree skiing, terrain parks and a healthy number of cross-country trails. Add beautiful views of nearby Mt. Rainier, on-mountain lodging and dining options, and this is a true gem located 50 miles west of Yakima.
Whitefish Mountain Resort
Whitefish, Mont. • skiwhitefish.com • 2,350 vertical feet • 102 runs
Whitefish is getting bigger this season, adding four new intermediate runs. The mountain already offers commanding views of Glacier National Park, Whitefish Lake and the surrounding mountains. The terrain expansion is phase one of a two-year project to expand intermediate terrain. There are endless options for how to experience a Whitefish ski adventure, ranging from how to get there (train, plane or automobile), where to stay (the mountain, downtown or in between at the Lodge at Whitefish Lake) and the sheer amount of terrain available. Bowls, steeps, private stashes and wide-open groomers are all at your fingertips.
Whitewater Ski Resort
Nelson, B.C. • skiwhitewater.com • 1,300 vertical feet • 46 runs
Whitewater, nestled in the shadows of Ymir Peak outside the funky, eclectic town of Nelson, B.C., regularly attracts attention from around the world from those searching for steeps, deep snow, and a variety of chutes, bowls and glades. In 2010, Whitewater completed its first major terrain expansion in 34 years, adding a triple chair and access to 750 acres of new terrain. ♦