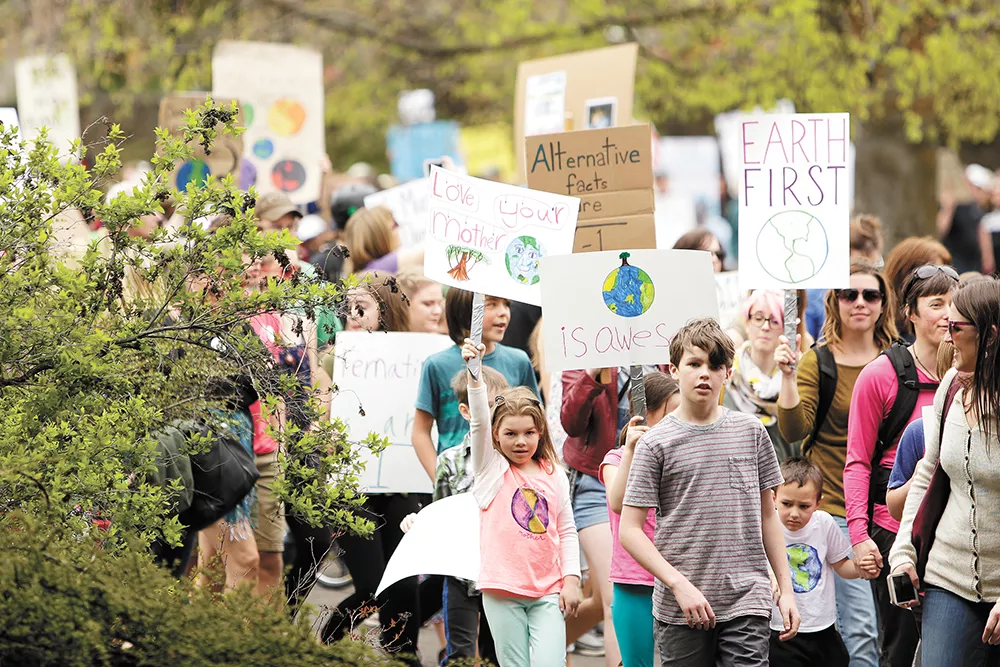 When Donald Trump was elected president in November 2016, the scientific research community braced for the worst.
Funding for science research had stalled in the past decade. And on the campaign trail, Trump talked about drastic cuts to federal spending. For scientists, his overall attitude caused concern, such as when he called climate change a "hoax."
When he released his budget request in May 2017, it did nothing to alleviate concerns that he'd decimate federal funding for scientific research. Across the nation, universities and researchers cautioned against it.
"It was not a positive budget for the future of our country," says Jennifer Poulakidas, vice president for congressional and governmental affairs at the Association of Public Land-grant Universities.
It was a major reason behind the more than 1 million people who participated in the 2017 March for Science, which in part advocated for more funding for research. The budget would have included major cuts to the National Institutes of Health, the Department of Energy, the National Science Foundation and the Department of Agriculture. The impacts would have been felt locally as well, says Christopher Keane, vice president for research at Washington State University.
"It certainly would have been serious," Keane says. "We would not have been able to pay for a lot of our staff."
But then, in a major reversal, Congress passed a bipartisan funding bill this March that not only maintained previous funding levels, but significantly increased them for most government agencies. The National Institutes of Health (NIH) saw an increase in $3 billion, the second largest increase in funding in its history. It included $295 million for the National Science Foundation, the first major increase in more than a decade.
Researchers within the scientific community rejoiced. And the impacts rippled all the way to the Spokane area, where federal funding has helped important research projects and proved critical to Spokane's newest medical school.
The NIH is the largest public funder of biomedical research in the world. From 1998 to 2003, the NIH budget was doubled, says Poulakidas, with the Association of Public Land-grant Universities, or APLU.
Yet since 2003, federal support steadily went down for NIH when adjusting for inflation, according to the Federation of American Societies for Experimental Biology. That can result in fewer grants, fewer new discoveries and scientists leaving research.
"There was some sense [in Congress] like, 'We did our job, we doubled it and we can leave it be,'" Poulakidas says.
In the last couple years, however, that's changed. The federal funding has begun to trend up again. WSU has seen the evidence of that, with funding to the school from NIH climbing to more than $30 million a year, says Keane. Part of that was because of the new medical school, WSU's Elson S. Floyd College of Medicine, which opened last summer.
John Roll, vice dean of research for the Elson S. Floyd College of Medicine, says federal funding is "absolutely crucial" for the college.
"Some of the new grants are the way we train students and postdoctorates and junior faculty," Roll says.
It improves the local economy, he says. And that's to say nothing of what's discovered in the research itself. Some of the most important research on drug and alcohol addiction coming out of WSU is funded by federal grants.
Students like Shannon Kozlovich, a Ph.D. candidate in pharmaceutical sciences at WSU Spokane, are directly impacted when funding is cut to NIH. Kozlovich's thesis studies the impact of genotypes and tobacco additives on cancer risk in tobacco users, and she lives on the money she gets to study that full time. Her lab, she says, has less money available than it used to. It had grants terminated, and that means that there's less money to go to research conferences and talk about ideas.
"We no longer have money available to us to present our research at conferences, which is where we make connections and get new ideas for research," Kozlovich says.
A lack of funding can also dissuade students from going into research at a public university. And since the 1940s, building future scientists has been a central goal of the government, Poulakidas says.
"Universities help build the future science workforce through this work," she says. "That's where graduate and undergraduate students are integral."
And while Poulakidas says scientists are encouraged by the uptick in federal funding, they're not too optimistic. The last two decades are evidence that as soon as they think they'll see a steady increase needed to fund new research, it can be taken away.
"Of course there's uncertainty," Poulakidas says. "Because these decisions are made annually." ♦