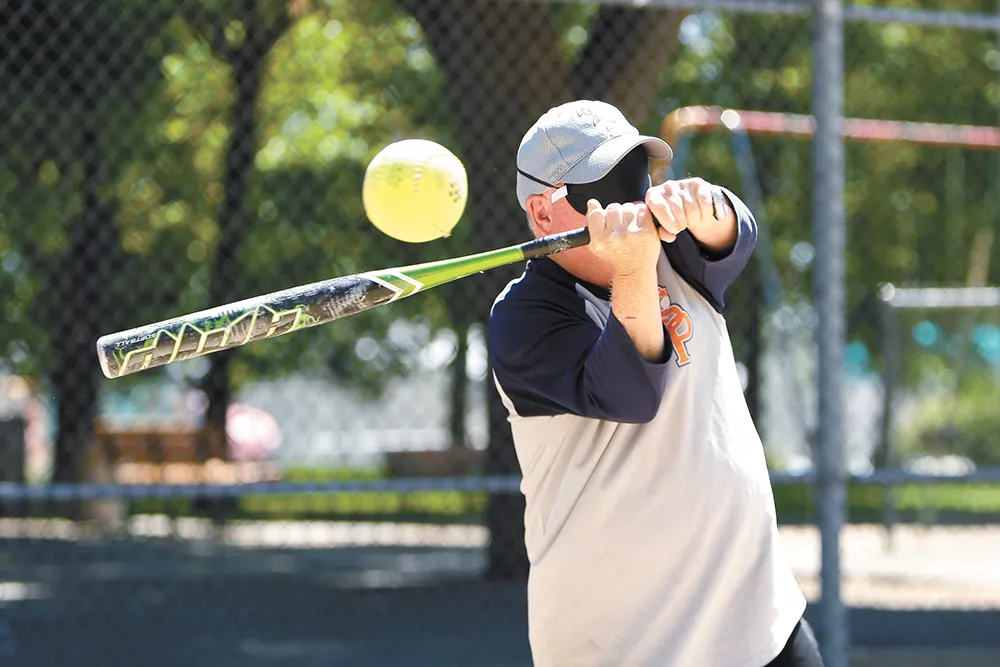 For people with limited sight, hearing or mobility, there's never been a better time to access the outdoors and get involved in recreational opportunities in the Inland Northwest.
For years, organizations in the community have worked to make sure people of all abilities can participate in local adventures, from offering adaptive skiing, sled hockey and sports aimed at veterans and others with physical disabilities, to holding "beep baseball" games and bowling for individuals with visual impairments.
With an ever-expanding list of adaptive options, 2019 promises to offer even more opportunities to get outdoors.
For the first time, Spokane Parks and Recreation will be offering an Adaptive Summer Adventure Camp for kids ages 8-15 between July 1-3. Aimed at kids with physical disabilities, the camp will offer rock climbing at Wild Walls, kayaking/paddling and disc golf, all led by staff members who are trained to make the activities safe and accessible to all.
"The rec department does a Funshine Day Camp that's focused more on developmental disabilities, but we were seeing a gap for kids with visual impairments, hearing impairments or mobility impairments," says Kacie Dietz, a certified therapeutic recreation specialist with Spokane Parks and Rec. "We're just trying to take these kids that are already active and get them opportunities that maybe haven't been in Spokane before."
While local children's hospitals and schools especially have been great at working with youth with those limitations, Dietz says there haven't historically been many summer camps or activities offered locally. Some families even send their kids to California or Colorado for adaptive camps, but the hope is that with pilot programs like this year's adventure day camp, Spokane will be able to start offering more of that quality programming in the Inland Northwest, she says.
"This area is really deprived for something like that," Dietz says. "We've had participants come down from Canada and up from Idaho — every time we throw a pilot or a test out there we get a great response."
In addition to helping grow the list of accessible recreation activities offered through the city, Dietz and another community member are helping offer more activities to the community through the Inland North West Adaptive movement, which they started about three years ago.
"We started with snowshoeing, then branched into Nordic skiing, and since then we've taken over climbing and biking and paddle sports," Dietz says. "We're just trying to provide more opportunities for outdoor recreation in our community. We sometimes provide equipment, and sometimes volunteers to help facilitate getting outside. This is really a grassroots effort that's come up, and it's gotten way bigger than we ever anticipated."
They're hoping to launch a website at some point this summer so that anyone who wants to know their regional options will have a one-stop shop for adaptive recreation resources, Dietz says.
Adaptive rec is not one-size-fits-all, and one of the main reasons Dietz says she's passionate about it is that she and others are able to help people find ways to participate in sports and activities, while building the groundwork and confidence they need to later go out on their own.
"The goal always is for them to be empowered to do it themselves," she says, "but having that support in the beginning is critical, and whatever help we can provide to get them there is what we're here for."
Some other groups offering adaptive recreation in the community include the Inland Northwest Disabled Veterans Sports Association and Sports 4 the Blind (which recently changed its name to Beep Ball Clubs of Washington State).
Every summer, Sports 4 the Blind offers beep baseball through the Spokane Lion Pride team, which you can keep up with at facebook.com/Sports4theBlind.
Since there are a wide variety of sight limitations, it's open to those who are sighted and those who aren't, with everyone wearing a blindfold to even the playing field, explains program director Vivian Huschke. The ball itself beeps so you can hear where it's at.
"We like to play with other individuals and groups. I might be able to see just light, and somebody else might not be able to see light at all. It's a big umbrella and there's varying degrees of it," Huschke says. "So everyone is blindfolded, except the pitcher, the catcher and the spotter, for obvious reasons."
Since starting around 2011, the organization has expanded its offerings, she says, with blind bowling, tandem biking, walking, cross-country skiing and other activities.
"Our goal was to empower individuals who were blind and encourage independence and self-esteem through sports. We want to get people off the couch and involved, and counteract the effects of diabetes, which is one of the leading causes of blindness," Huschke says. "We're trying to promote independence and let people know they can partake in this beautiful state we live in and what the outdoors offer." ♦