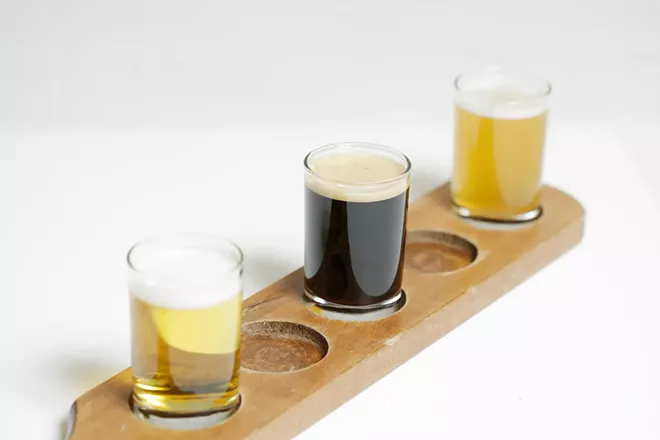 While the central focus of Restaurant Week is on the regionwide culinary community's ever-evolving creativity, a meal would not be complete without a glass of something. So on each of the 100-plus menus, diners will once again see a trio of suggested Drink Local pairings. While priced separately from the three-course menus, the goal is to make it easy for diners to support a local purveyor, who are often a huge draw to our region for visitors from near and afar.
"We are the Inland Empire," says No-Li Brewhouse's Jack Bryant, who serves as the family-owned company's marketing head. "That means we actively promote our area to bring in tourists and dollars that support our world-class culinary scene, craft beverage community, and locally owned restaurants and pubs."
Among the many, many creative libations on offer, one obvious trend stands out: Old fashioneds are everywhere, and lots go far beyond the classic combination of whiskey, bitters and simple syrup. Consider MOSSUTO'S ITALIAN and BLACK PEARL CASINO, for example, which are both serving smoked old fashioneds, and both showcasing Dry Fly Distilling's whiskey.
Locally made spirits are also on the menu at KISMET in Hillyard, which showcases the newcomer Ballistic Distillery's Luxe Vodka in its spicy lemonade, with a touch of muddled peppers to bring the heat.
Adding a little extra oomph to its take on the classic Negroni, LEGENDS OF FIRE at Northern Quest offers for its first course — mixing things up more, its second is a cigar, and third is an entree — a coffee-infused version that also features Dry Fly's gin.
Restaurant Week is all about choices, and that's what you get at POST STREET ALE HOUSE, where you can order a tasting paddle featuring three different local beers of your choice from their extensive list of local drafts, including No-Li's Cascade Fog, which took home six international beer medals in 2022.
Drinking local doesn't require the libation to be boozy, and while this hibiscus margarita at SCRATCH is, it also features Revival Tea Company's hibiscus tea alongside agave, sour mix and candied blood orange.
At the quirky, cozy GILDED UNICORN in downtown Spokane, one of diners' third course choices is the Unicorn dessert martini, a decadent concoction of huckleberry cream, blueberry, chocolate liquor, whipped cream and sprinkles. Yum.
Drinks that look as exciting as they taste are on many menus, but don't miss the Talking Monkey at LITTLE NOODLE and ITTY-BITTY BUDDHA BAR in the Garland District. It features cold brew made just down the street at Pitotti Coffee with rum liquor, spiced rum, banana liqueur, condensed milk and is finished with a smoking cinnamon stick. You'll want to share photos on the 'Gram for sure.