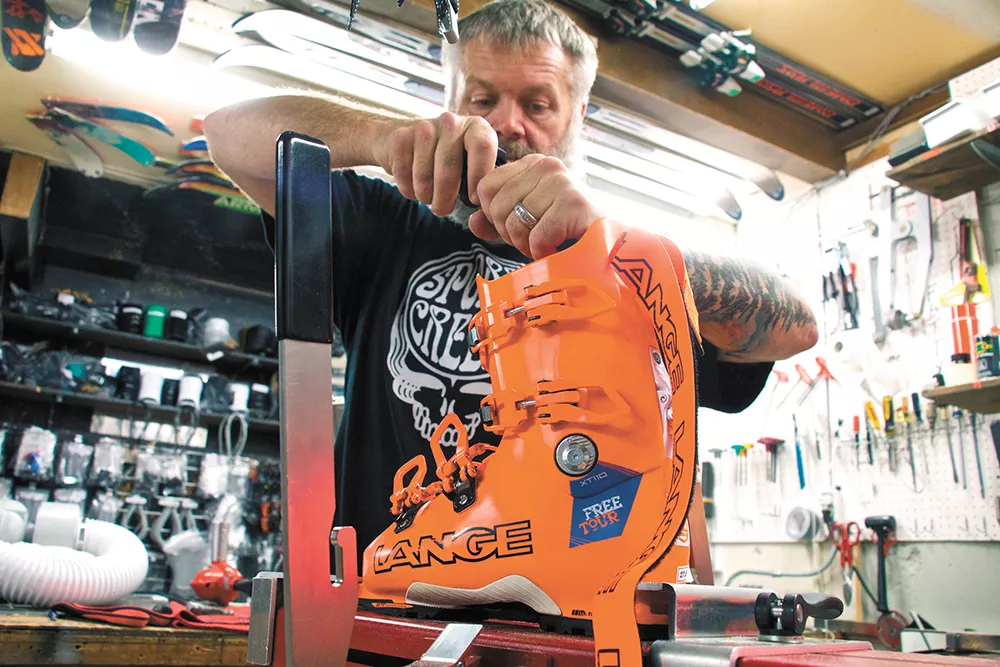 "Grandpa opened in 1954, my parents took over operations in the early '70s and about 2011 TJ and I had slid into the operations side." That's third-generation Micah Genteman describing how deep the family roots go in Spokane's oldest specialty ski shop, the Sports Creel, which is currently entering their 65th year of business.
Micah gave me a quick history lesson on the start: "My grandfather Harry Larned worked for Early Dawn Dairy here in Veradale where he lived, and he had a passion for the outdoors and he had a big family who all had an equal passion for getting outside and doing things in the mountains. In 1954 in the Valley, there weren't any options from a retail sporting goods standpoint, so Harry wanted to connect his family, his time and his friends to the outdoors, so he created a retail environment which he named the Sports Creel."
Grandpa Harry sold a little bit of everything, from fishing and hunting gear, inboard and outboard boats which led to motorcycles and sail boats and skis. Most anything that was outdoor related was sold at Sports Creel at one time or another. It was the early '70s when Harry's daughter Lyn, who was the second of seven kids, and her husband Herb Genteman, started in on their long run at day-to-day operations at the Sports Creel. It was during this period the Sports Creel started to fine-tune their product line as more and more speciality retailers were moving in and covering those items. According to Micah, "There were places who had more time and more devotion to motorcycles, hunting and the archery side of things, so that was what allowed us to kind of get out of that area."
One of the new retailers to move in was Washington-based Pay 'n Pak, a home-improvement center that also started selling ski equipment. They moved in close and with a goal. "They opened right across the street from us. They hired my grandpa's No. 2 guy and set up shop across the street. Their focus when they moved to town: 'We've got to get the Sports Creel outta here.'"
"That guy who owned Pay 'n Pak, currently owns Lowe's. Pay 'n Pak closed. Grandpa beat him," says Micah with a huge grin.
That was a lesson the Sports Creel learned from and passed with flying colors. "During the '70s and '80s," Micah says, "the Sports Creel started fine-tuning what we would sell and focus on the passion, which has been and always will be on the snow-ski side things." That focus has proven to be true as they enter their 65th year of business. This says heaps since they have seen more than 15 ski shops come and go from this area.
Micah wears a lot of hats at the Creel, from owner-operator, manager, shop tech and boot guy, just to name a few. You can sense Micah's knowledge and his strong passion for skiing when you talk to him; after all he's only been working in this family business for as long as he can remember.
"When I was growing up," he says, "my parents worked pretty hard to get me out of here. I worked summer jobs at other places while important full-time employees stayed on here. I ventured out and did several other things, but when fall would hit, I'd start to miss the vibe and miss the energy and miss the service side of things. It was time for holes to be drilled, screws to get screwed and people to get up to the mountain.
"TJ and I both are incredibly blessed in that what we were handed over is 40-plus years of successful hard work and the cumulative business that comes to us because of how hard my parents worked and because of how hard my grandparents worked."
The family's hard work has not gone unnoticed as the Sports Creel was voted twice by Inlander readers as the best ski and snowboard shop, and most recently the Sports Creel is in the running for Freeskier Magazine's "Top Shop" award which is given to Top Shops regionally from the East Coast to the West Coast.
I ask Micah what he feels is one of the Sports Creel's reason for success and longevity as a full-service ski shop.
"Adaptability," he answers. "Being able to adjust through the trends and staying smart in terms of recognizing what was going to be a gimmick and recognizing what was going to make a long-term difference. We pay a lot of attention to service, the way your boots fit, the way your skis glide, the way your bindings function. I think by not making any mistakes there and keeping everything square, that's allowed us to maintain some solid footing."
Throughout my interview with Micah, the word "generations" seemed to be a common denominator with the Sports Creel and their customers.
"There are kids who were my age growing up who I saw come in here as my friends and schoolmates, who now have families of their own. They were coming in here while my dad was fitting them in boots and now I'm fitting their kids in boots and in some instances, grandkids in boots. So for us, it's been generations and generations of loyal customers and referral business," Micah says.
Staying current and knowledgeable of new products and techniques is another part of the Creel's success, as well as having a team you work with that has a wide variety of skills, styles and backgrounds.
"I think that's the beauty of what we do is that there's enough generations of us and we employ a broad enough range of skiers here that we kind of bring a little bit of everything to the party in terms of our ski styles and where we're from," Micah says. "We've actually had the opportunity to work with world-class skiers like Noah Wallace and Peter Arneson who are local here in town."
Both Noah and Pete made names for themselves world wide in freestyle skiing. Noah is one of the top riders on the Dew Ski Tour and Pete is a former competitor who's turned to judging slopestyle and halfpipe events like the Dew Tour, X-Games and the Olympics.
After visiting with Micah, I can see that Grandpa Harry's philosophy and work ethics are engrained.
Micah had this to say about Harry and the Sports Creel philosophy: "He was a pretty simple, pretty straight forward, hard-working guy and I think that his vision of shilling up and doing your job whatever it may be stuck with us. ... This is all we have, and that's I think why we give it everything that we've got, because we recognize the value of us being here to skiers and we certainly recognize the value of the skiers who come in here to keep the doors open." ♦