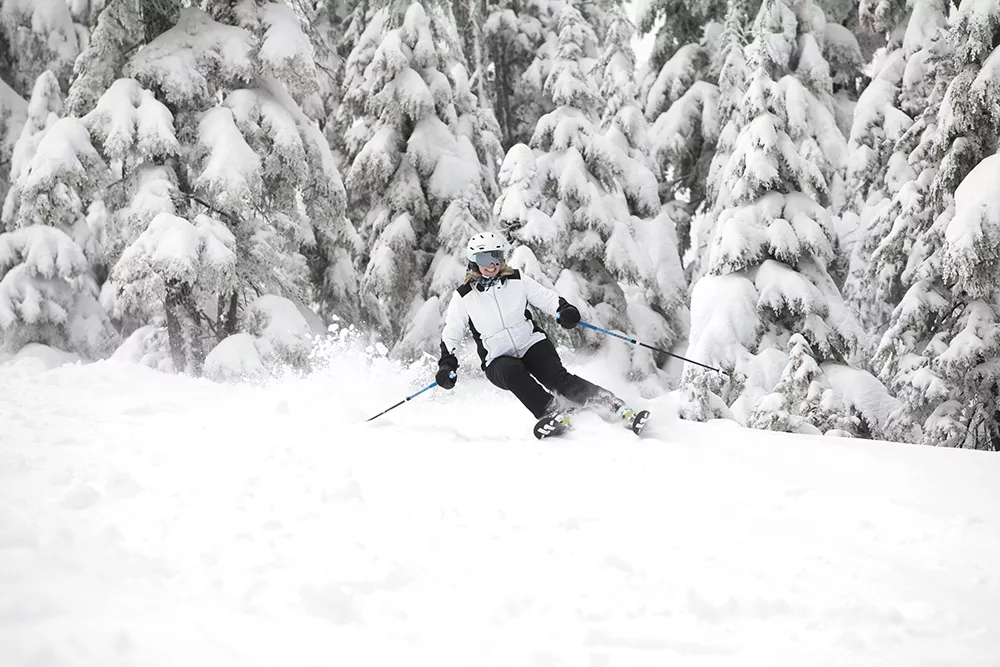 El Niño may just be the worst thing you can tell a skier in the Inland Northwest. The southern shift of precipitation that comes with a warm Pacific jet stream typically means less snow, and less snow means less skiing.
The threat of a warm winter is never good for snow sports enthusiasts and going into the 2020 ski season, no one knew what to expect. We're halfway through winter and the supposed El Niño, but looking back on the first half of the season, did original predictions hold true?
Hypotheses of a late start weren't wrong and every local resort we reached out to could vouch for this.
"The season got off to a slow start due to snow conditions," says Silver Mountain Resort General Manager Jeff Colburn. And by snow conditions, he's referring to the general absence of snow.
Despite the considerable lack of powder, local ski resorts did their best to get operations up and running, and we can only applaud them for getting the ski season started as soon as physically possible.
Schweitzer Mountain Resort in Sandpoint originally planned to open Nov. 29 and they made it happen. Thanks to the wonders of snowmaking technology, Schweitzer was functional. With one lift operational and crazy discounts, the resort made the best of a rocky start, and they weren't the only ones.
"Despite some less than desirable weather in the past two months, we're very happy with our 2019-2020 winter performance. We're sharing the best that 49 Degrees North has to offer," says Emily McDaniel, 49 Degrees North's marketing and communications director.
Seasonal operations are always risky, and guest services manager for Mt. Spokane Ski and Snowboard Park Brenda McQuarrie is no stranger to the fickle nature of snow.
"Every season is different and this one has proven to be a weather roller coaster," says McQuarrie. "We'll have tons of fun regardless, and sometimes in spite of what Mother Nature delivers."
Optimists were rewarded this year, as the slow start has been mitigated by one of the snowiest Januarys on record.
"Lookout Pass has enjoyed great snow in January with over 15 feet of snow in that month alone," says Matthew Sawyer, director of marketing and sales at Lookout Pass, located on the Idaho-Montana border. With 311 inches of snow accumulation this season, Lookout is planning on running operations through April 19.
Mt. Spokane, Silver Mountain, 49 Degrees North and Schweitzer also benefited from the powder dump in January. The cold is suggested to continue and fingers are crossed for that perfect combination of high precipitation and low temps that keep us shredders happily supplied with fresh gnar.
"We expect the season to finish out strong as we have a good snowpack to get us through the season and, historically, seasons that start slow have solid finishes," Sawyer says.
Every skier and snowmobiler, snowboarder and snowshoer knows you can't trust the weather, though. Sometimes the weather comes to you, but oftentimes you have to chase the weather, and that's exactly what I did to jumpstart this season.
Rather than wait around for winter, I turned to our northern neighbor for epic snow. In search of untracked powder I crossed the Canadian border more than once this winter. Revelstoke Mountain Resort, six hours north of Spokane in British Columbia, was my first stop.
Revelstoke lays claim to North America's greatest vertical, and with 5,620 feet to ski and an average snowfall of 34 feet per season, it's more than worth the road trip. I can confidently say I will make the trek back up there before the season's end to enjoy another weekend of free refills and apres-ski.
The hunt for pow also took me to Fernie Mountain Resort, which delivered hands down the best snow of the season. Granted, Fernie delivered the goods the same week Schweitzer got absolutely dumped on at the beginning of January, but just four hours north the weather gets colder, the snow gets lighter and the bars get better. I have nothing but love for our local ski resorts and you can find me at Schweitzer most weekends, but there's something to be said for a winter getaway with nothing but fluff in the forecast.
At the end of the day, snow is snow, no matter what country, and as long as there's enough coverage to slide, I'm happy. So here's to a solid end to a solid season. The mountains are calling, from Idaho to Canada, and it's hard not to go. ♦