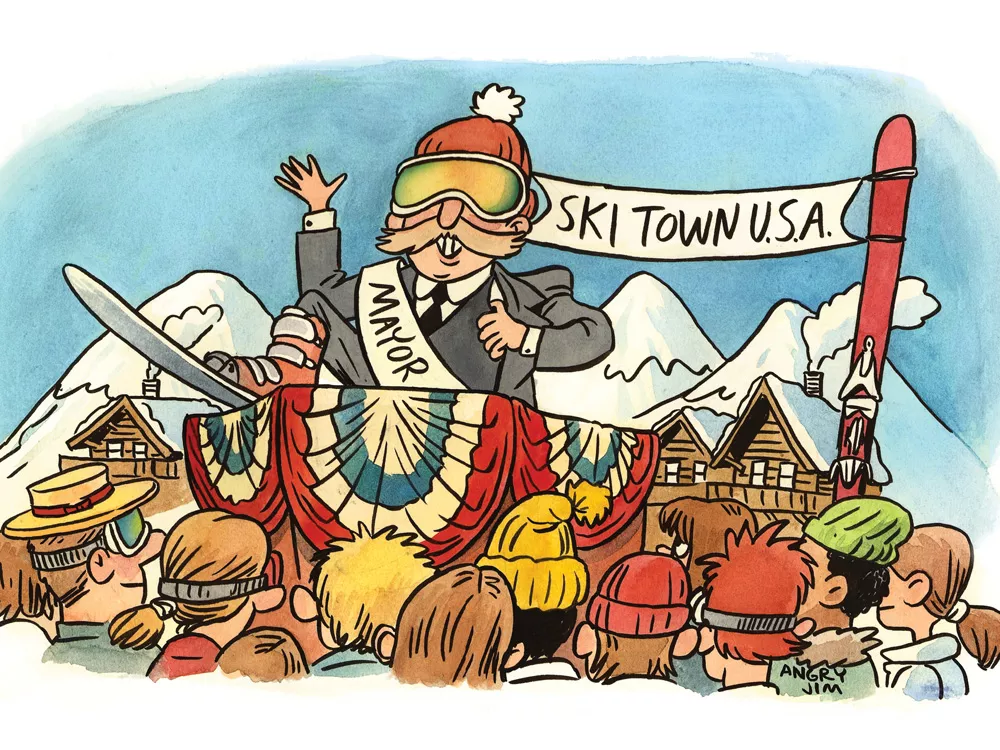 Here just after election season, with leaders making all kinds of wild promises they'll never keep, we decided to ask what, exactly, you would do if you ran the shining city on the ski hill? We gathered promises from potential potentates on our Facebook page, and from a visit to the Mt. Spokane Ski Swap on Oct. 29; others we just pulled out of our tassled ski hats.
10. "Every sign in Skitown will officially be changed to the metric system." Somehow that would make every trip down the mountain seem more like an Olympic event.
9. "If elected, I will restore common courtesy to the ski hills." "I think some of that's kind of gone," Kyle Mecham told us, "to the point where people don't honor the right-of-way system that's been there for forever. And I think it would be nice to have that back. One time, somebody came from behind my brother and cut him off — then came and yelled at him. And my brother had the right-of-way!" Avenge this outrage: Vote for Kyle!
8. "Skiing in jeans will henceforth be illegal." Some exceptions will be made — as in the case of Retro Day or for a few select spring skiing days. The Chief of Skitown's Fashion Police will be issuing citations, so c'mon people, join the 21st century!
7. "If elected, I promise… awesome conditions!" Now that's the kind of promise the citizens want to hear.
"In my ski utopia, it's a blizzard," says Andrew Fuzak. "I'm in the trees, and every time I come back, my tracks are gone. And I get to make new ones. And it's blowy and nasty and foggy."
OK, Fuzak, you may be losing a few voters with all that blowy and nasty and foggy stuff; Jacqueline Essig seems to have the more polished message: "I promise a good day, where you get it done and you're just like, 'Man, I could never beat that.' Peak performance, people, weather, everything. Always one of those times when you get done and you're just like, 'Yeah,' and you can't stop smiling."
In Skitown, delivering the dumbfounded smile is a sure way to get your approval rating up.
6. "Elect me, and every iPod set on shuffle will always pick the perfect song for every run." Don't question how it works, it just does.
5. "I promise to end the work day, the ski day and the sleep-in day at 3 pm for a mandatory, Skitown-wide aprs-ski celebration." It's like the siesta hour in Latin America, only it's cold and you're awake.

4. "Female citizens of Skitown will no longer have to pay taxes — or cover charges." Chivalry ain't dead yet.

3. "I promise that under my administration, all snow will fall in the form of powder." "Powder in the trees, especially," elaborates Lance Stengle. "I love the trees and love the powder, love the way it feels. Skiing in the powder in the trees."
Put that on a campaign sign, and Skitown could be yours, Lance Stengle.
But wait: Not to be outdone, Justin Slawson adds some specifics to the message: "Eighteen inches of powder. On a beautiful sunny day." Clever.
But Kenneth Essig trumps the field of Powder Party candidates with a promise of "unlimited powder, no lift lines and nobody bothering me."
Note to Citizens of Skitown: No bothering Mayor Essig, OK?
2. "If elected, I promise to bring Skitown together, in a bipartisan way, to heal the wounds so we can move ahead to form a more awesome union. Skiers and snowboarders will put aside their party differences to ski and ride together in perfect sync. And if it doesn't work, it will all be the #&*@$! skiers' fault!"
1. "The day after I am elected your mayor, I'll order all vending machines to be emptied of their various fluids and refilled with PBR." This just in: Election results are complete, and we have a winner!

Got a funny ski story, true or kinda true? Let us know about it and we might publish it in this space. Email [email protected] or post a message at Facebook/SnowlanderNW

Welcome to Snowlander, Vol. II
Every year at this time, it's a guessing game as to when we might start skiing. We're always hopeful of a Thanksgiving opening, but we know that many years December is the first month for sliding on snow.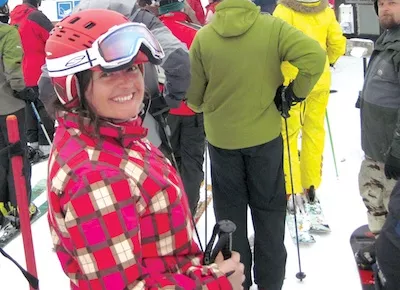 I can't believe it's already November. It seems like someone hit the fast-forward button through October. As I write this, all of the ski areas are reporting snowfall, ski movie premiers are in full swing and many of the ski swaps have come and gone. Now we wait. We wait for snow and opening day announcements. If you're like me, I'm sure you still have a list of tasks to complete to be ready for opening day. Take the time now to get those skis waxed, or scrape the summer wax off so that first chair doesn't catch you by surprise.
Since launching the new Snowlander section back in October, we've received a lot of feedback and hope to receive more. If you feel like there's a story that should be covered, a picture that should be printed or something humorous you'd like to share, please send it my way. We love hearing from fellow ski junkies and getting a different perspective. Make sure you take the time to 'Like' our fan page (Facebook.com/SnowlanderNW). This is where you can find the latest on all things related to snow, interact with fellow riders, post pictures, videos and just generally share your stoke for winter. We'll also have several giveaways that we'll announce through our Facebook page throughout the winter.
Just imagine, we could be skiing in two weeks!
Jen Forsyth
Snowlander Editor
[email protected]