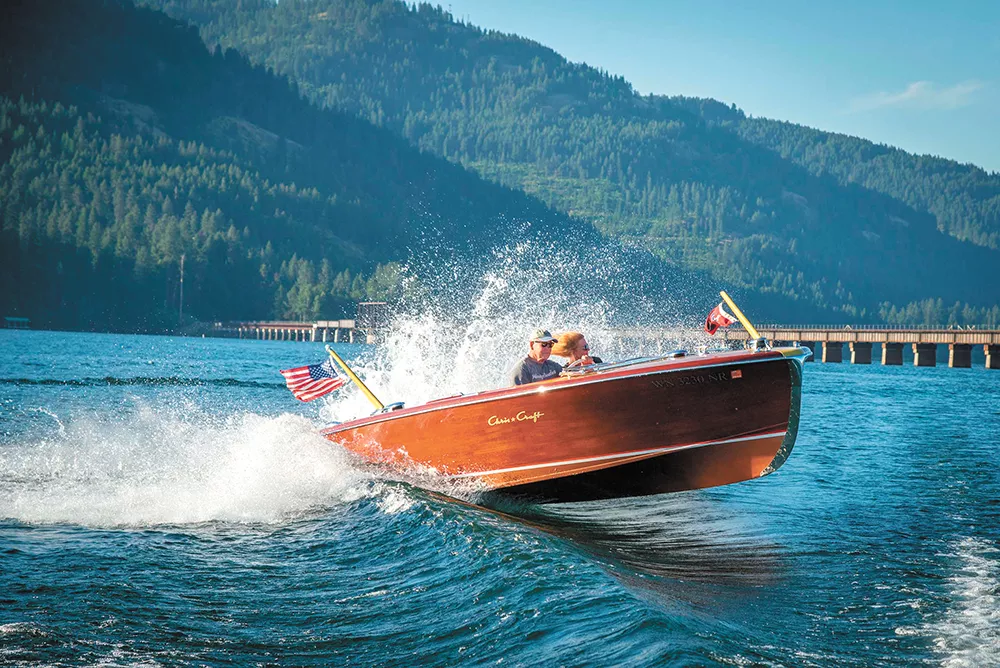 AHOY THERE, CAPTAIN!
Bring in the anchors, tighten down the hatch and set sail to the 16th annual Sandpoint Boat Show. Boat enthusiasts from all over the Northwest will be joining the Inland Empire Chapter of the Antique and Classic Boat Society for a weekend of fun on the water July 13-15. Friday marks the "Welcome Aboard Party" along with an awards banquet and silent auction. Saturday features the boat parade down Sand Creek, launched at the ramp at City Beach at 3 pm. Registration is due by June 30 and can be done at inlandempireacbs.net.
Looking for another opportunity to show off your sweet watercraft? No problem! The Coeur d' Alene Antique & Classic Boat Show brings in over 10,000 visitors each year. More than 60 restored antique, vintage and classic boats are on display, along with a variety of wooden-clad vintage cars. There may be even some antique planes for all you flyboys and flygals out there. Make sure to visit the floating boardwalk right at the Coeur d'Alene Resort Aug. 24-26 to have a blast from boating's past.
For all you landlubbers and scalawags looking to get out on the water but don't have a boat of your own, Lake Coeur d'Alene Cruises is the answer for you. The family-friendly boat ride takes a trip around the lake to view secluded lakefront homes of celebrities and sports stars. Cruise to the world's only floating, movable, island golf green that's only reachable by boat. The fleet departs daily from the Coeur d'Alene Resort all summer long for scenic tours, history-themed excursions and brunch and dinner cruises. Visit cdacruises.com.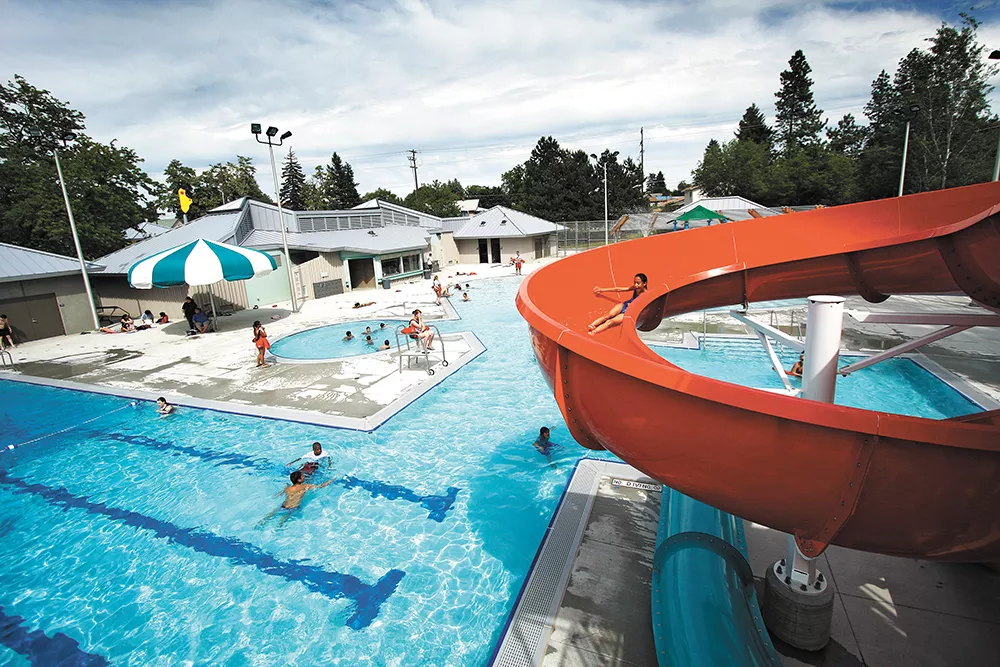 CALLING ALL AQUA-FOLK
For the mermaids and mermen out there, you're in luck. Open swim at all six of the Spokane's city-run aquatic centers is free for everyone starting this summer. This year's season goes from June 18-Aug. 25, and during that time the pools at Shadle, Comstock, Hillyard, Liberty, A.M. Cannon and Mission parks offer free access for adults and kids. In addition to open swim times, this includes free access to lap swimming, family nights and the parent-tot time in the pool wading area. Swim lessons, along with novice swim team and aquatic fitness programs, will continue to be offered at regular prices. Before you go, though, make sure to pick up a required but free SplashPass at spokaneparks.org/aquatics.
LONG BRIDGE SWIM
For those wishing to put their swimming skills to the test, this is an event for you. The 24th annual Long Bridge Swim takes place in Sandpoint on Aug. 4. The 1.76-mile open water fundraiser swim takes participants across Lake Pend Oreille along Sandpoint's Long Bridge. Last year the swim was cancelled for the first time in the event's history due to bad weather, disappointing 711 registered swimmers. Mark your calendars and start training... this swim is gonna be a long one. Visit longbridgeswim.org.
SWIM AND A MOVIE
Looking for a more casual swim session for the whole family? Look no further than this year's Spokane Federal Credit Union Free Swim & Movie Series. Hosted by the Northside and Southside Family Aquatics facilities operated by Spokane County Parks & Rec, enjoy a free two-hour swim followed by a family-friendly flick. On July 7 catch Despicable Me 3. Coco screens July 21 and Cars 3 is Aug. 4. Gates open for each event at 6 pm, with food available at the concessions stand. Grab a chair, throw down a blanket and enjoy the film on a huge blow-up screen down by the pool.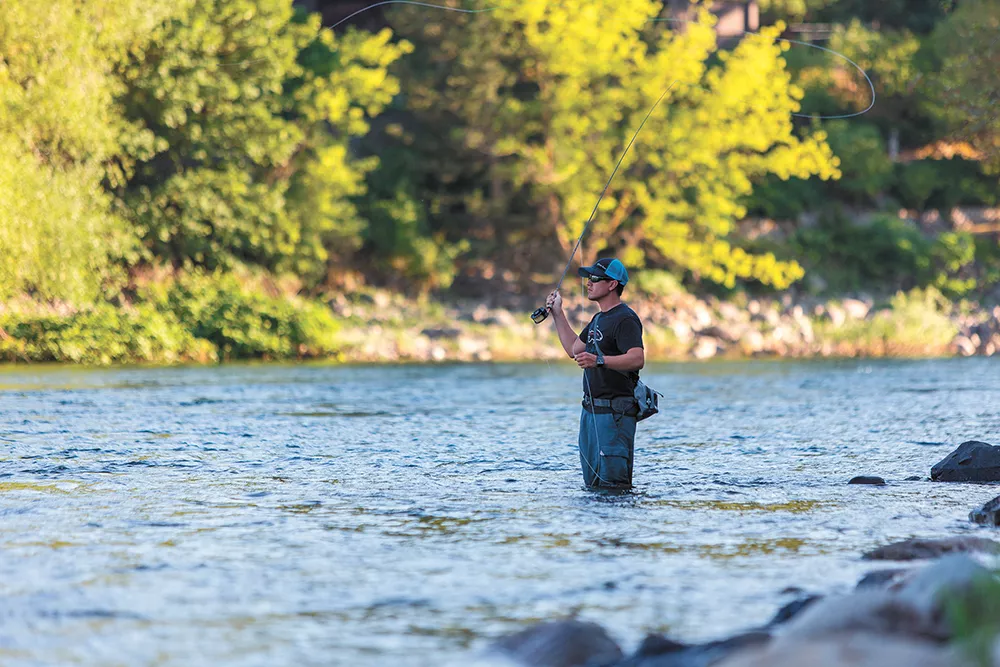 CAST A LINE
The Inland Northwest is home to a variety of water holes where you can sit back, open up a cold one and reel them in. Liberty Lake is a great location if you're looking to catch yellow perch and bluegill. The lake is well known for having one of the best brown bullhead fisheries in the area and is a popular spot to catch channel catfish.
Idaho's largest lake, Lake Pend Oreille, has 148 miles of surface area and goes 1,158 feet deep. Lake trout, large rainbow trout, kokanee salmon, largemouth bass, smallmouth bass, perch, crappie, northern pike and walleye make their way into the lake from the Clark Fork River and and are common catches. Boaters better be careful, as the wind and bad weather can easily flip small water crafts.
Always wanted to fly-fish but never knew how? Silver Bow Fly Shop offers a three-hour beginner fly-fishing class that'll teach you everything you need to know to get started. If you've never touched a fishing pole in your life, this hands-on experience is for you. You'll learn about knot tying, fishing locations, bait selection and casting techniques. No need to bring any equipment as everything is provided. The cost is $50, and sessions are held from 10 am-1 pm on July 7 and Aug. 4 at Silver Bow's shop in Spokane Valley.
MAKE A SPLASH
If you're looking to escape the heat and want something more than just a pool, Boulder Beach may be the ticket. Part of the Inland Northwest's largest amusement park, Silverwood Theme Park, the facility offers a variety of lazy rivers, wave pools and slides for the whole family to enjoy. Climb around with the kids at the jungle gym at Polliwog Park as water splashes all over, or enjoy the geysers and fountains at Toddler Springs with the little ones. Sit back, relax and drift along the popular Elkhorn Creek and let the lazy river cool you off on a hot summer's day.
PADDLE PLAY
Break out the life jackets because it's time for Paddle, Splash & Play. Hosted annually by the Spokane Canoe and Kayak Club, the family-friendly event allows for kids to try out kayaks, stand-up paddle boards and canoes at the Nine Mile Recreation Area of Riverside State Park. Hop on board with the whole family on a 22-foot voyager canoe. This year's event is on Aug. 11, from 10 am-2 pm. Free life jackets, paddles and basic instruction are provided, but a Washington State Parks Discover Pass is required for park entry and is available for purchase on site.
CHASING WATERFALLS
Often described as the jewel of Eastern Washington, the 198-foot Palouse Falls is a popular site to see. A mere two-hour drive from the heart of Spokane, the falls are recognized as Washington's official state waterfall. Many trails and pathways at Palouse Falls State Park allow for a spectacular view of the falls. And with the melting snow coming down from the mountains, the falls are sure to be as roaring and loud as ever in early summer.
RIDE THE SKY
Right in the heart of downtown Spokane lies a site to be behold: the mighty Spokane Falls. While several trails and bridges in Riverfront Park offer a closer view, those looking for a different kind of experience can take to the SkyRide. Set to open for the season in early July, the 15-minute gondola ride takes you past City Hall and then gradually drops down 200 feet over the river into Huntington Park. There are 15 cabins, each able to hold six passengers. It's recommended to take a ride in the morning during the summer months as the cabins tend to heat up underneath the sun. Tickets for the ride are $7.75 for adults, $6.75 for seniors and $5.75 for children. They can be purchased at the SkyRide Cafe before you board. Children under the age of 2 ride free. ♦