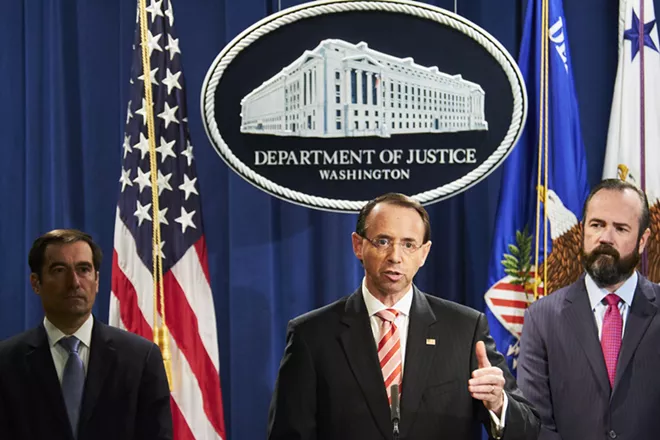 By Eileen Sullivan and Katie Benner
© 2018 New York Times News Service
W
ASHINGTON —
Rod J. Rosenstein, the deputy attorney general, on Friday announced new charges against 12 Russian intelligence officers accused of hacking the Democratic National Committee, the Clinton presidential campaign and the Democratic Congressional Campaign Committee. The announcement came just a few days before President Donald Trump is expected to meet with Russia's president, Vladimir Putin, in Helsinki.
The 11-count indictment includes charges of conspiracy by the Russian intelligence officials against the United States, money laundering and attempts to break into state boards of elections and other government agencies.
The indictment is part of the special counsel's investigation into Russia's interference in the 2016 presidential campaign.
Russia has denied that its government had any role in the hacking that preceded the presidential election. Rosenstein discussed the charges during a news conference at the Justice Department as Trump met with Queen Elizabeth in Britain, creating a bizarre split screen on cable news of presidential pomp and an ongoing investigation that has ensnared some of the president's aides.
"Free and fair elections are hard-fought and contentious, and there will always be adversaries who work to exacerbate domestic differences and try to confuse, divide and conquer us," Rosenstein said in a statement. "So long as we are united in our commitment to the shared values enshrined in the Constitution, they will not succeed."
The special counsel, Robert Mueller, has filed more than 100 criminal counts against 32 people and three companies. Among the people previously charged are 14 Russians and three Trump associates who have already pleaded guilty.
Rosenstein said Friday's indictment did not include any allegation that the Russian efforts succeeded in influencing the election results.
U.S. intelligence officials concluded in a January 2017 report that Russia had created a sophisticated hacking campaign to influence the 2016 election. Trump has never fully accepted the 2017 U.S. intelligence findings.
U.S. intelligence officials and lawmakers are concerned that the Russians are also trying to meddle in the upcoming midterm congressional elections in November. Trump said Friday that he planned to tell Putin when he meets with him to stay out of those elections.