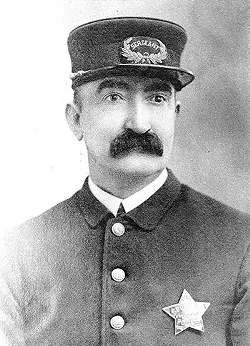 John T. Sullivan had a slow and steady rise through the Spokane police ranks — his ascension abruptly ended by corruption charges and an assassin's bullet less than two years after being named the city's top cop.
Sullivan was a friend to Spokane's elite, a supportive mayor and the Spokesman-Review, but his thuggish tactics made him many enemies, including the Industrial Workers of the World and labor-promoting Spokane Press. Mere months after becoming chief, he was locked in a high-profile battle with the IWW, thanks to their campaign against Spokane's anti-public-gathering laws. The Wobblies' Industrial Worker newspaper regularly lambasted Sullivan and promoted his alleged involvement in all manner of corruption — including being in cahoots with a prostitution ring — while also proclaiming a distaste for Sullivan as a person.
"Chief of Police Sullivan," reads an article in the Nov. 10, 1909, issue, is "a long, lean, rank, fishy-eyed individual, whose personality can best be likened to that of a gila monster, and who is alike despised by all men and women, and by even the fat-jowled men that serve under him."
Sullivan eventually resigned his post under pressure from the Wobblies and the Spokane City Council after repeated accusations of corruption and misconduct, but remained a captain in the department until he was shot on Jan. 5, 1911.
He survived for a couple of days, reportedly saying from his hospital bed that he believed labor agitators from the Spokane Press were behind the shooting. Investigators believed it was a professional hitman, based on the bullet used. But his brother thought Sullivan was killed by some of Spokane's power players, as Sullivan was to talk about graft and corruption among city officials to a grand jury convened a few weeks before the assassination.
The case remains unsolved.