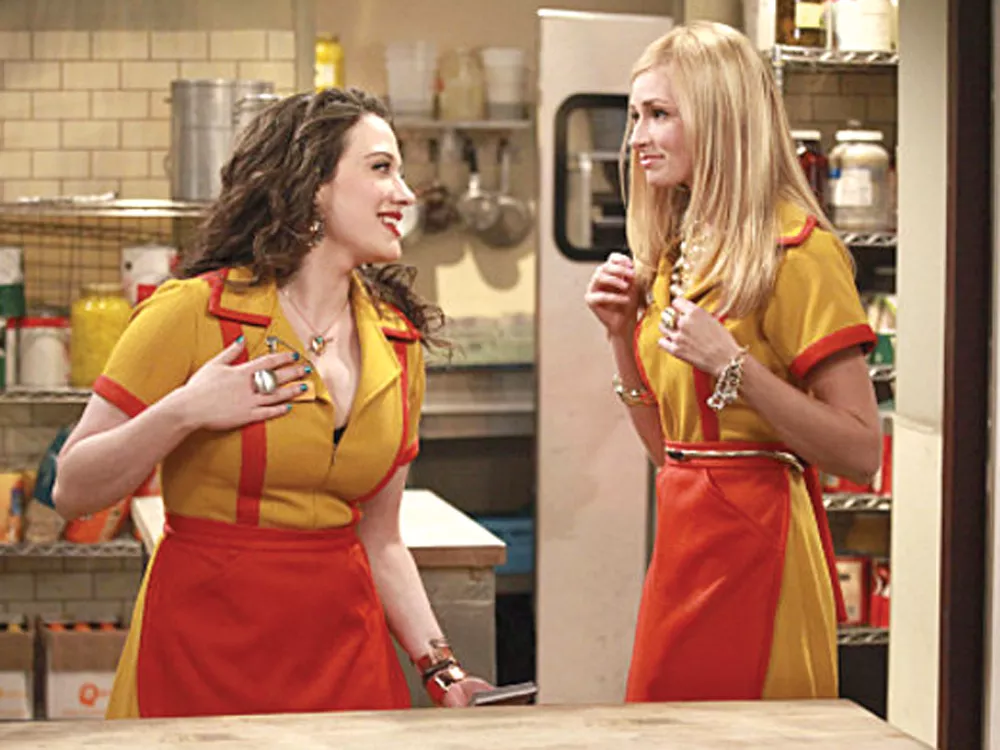 It is possible to mock cultural clichés while being a cliché yourself. I know this to be true; I have seen 2 Broke Girls.
A multi-camera, laugh track sitcom from the comedian Whitney Cummings (who has a second sitcom, Whitney, premiering this fall, too), 2 Broke Girls is an Odd-Couples-ish portrait of one girl who's poor because she was born that way (Kat Dennings) and a second who's poor because her dad was a convicted Ponzi schemer (Beth Behrs).
It includes jokes about methamphetamine that are funny (a fired meth-addict waitress was "really good at cleaning," Dennings' character says) and ones that are clichéd ("But her a-teeth a-fall out," replies Bryce Lee, an Asian caricature of a boss).
There is a funny bit involving hipster entitlement, but in order to make the social milieu clear, Cummings and crew have felt the need to telescope their jokes. The flea-bag cafe both women work in is called the Williamsburg Diner. Williamsburg was the center of hipster culture … like six years ago. In order to point out our culture's clichés, 2 Girls feels it has to stoop to them. (Incidentally, this marks, by my count, the first dressing down of hipsters on a major network since Gossip Girl, another show that, far more slavishly, buys into the culture it seeks to critique.)
Still, the pointing out is enough to tip the scales for me here. Despite its formula, 2 Girls is a sitcom that aspires to say something about who we are now and how people live when they are poor. It would like to be like Roseanne in that sense. It's not fullscale critique, exactly, and certainly not realism (the apartment the girls share would require a Ponzi scheme to bankroll in Williamsburg), but there's aspiration, and that's rare on network TV.
The pilot doesn't get to Roseanne levels, but Cummings is a very smart writer. She's also foul and, at least in roasts, she doesn't pull punches. Assuming she has control of the ship (and assuming Whitney doesn't stretch her too thin), 2 Broke Girls will get better.
For now, there is nearly as much truth as artifice. As long as that ratio holds, I'll keep watching.
(CBS, Premieres Monday, Sept. 19, 9:30 pm)
---
TIVO-WORTHY 
The Playboy Club
Push-up bras masquerading as female empowerment, free love masquerading as an analogue to sexual equality, Eddie Cibrian masquerading as Don Draper (and also masquerading as a serious actor). There's too much artifice in The Playboy Club to note in this limited space, but I'll try. The show wants to be Mad Men, but it's not smart enough. It wants to be Glee, but it also wants to be a serious drama, so there can be no dance numbers except onstage at the club. It wants to be about equality, but it also wants to show scads of gravity-defying breasts. The Playboy Club wants to be a lot of things, but it is none of them. (NBC, Premieres Monday, Sept. 19, 10 pm)
H8R
"Celebrities" try to win over their most vocal normal-person critics. Snooki is in the pilot, which is the reason for the quotes. Producers would like to book Lady Gaga and Mel Gibson, but so far they've only gotten Kim Kardashian and Barry Bonds. Mario Lopez, who inspires H8 in me, hosts. (CW, Wednesdays, 8 pm)
New Girl
Zooey Deschanel is in a sitcom on Fox — likely an indie cred killer. (FOX, premieres Tuesday, Sept. 20, 9 pm)