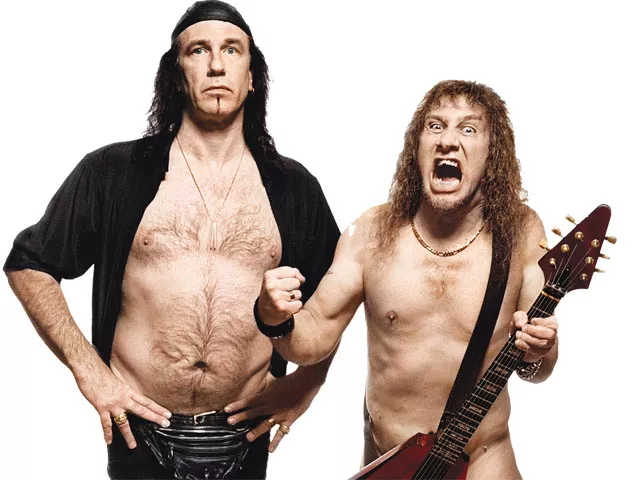 When they finally became rock stars, they were old enough to be members of AARP. But for the core members of Anvil, drummer Robb Reiner and singer/guitarist Steve "Lips" Kudlow, it was hardly too late.
Reiner and Kudlow have dreamt of being rock stars for as long as they can remember — and at times, they came close to seeing those dreams come true. After forming the band in 1978, Anvil went on to headline festivals with heavy hitters like Scorpions, Whitesnake and Bon Jovi. But — for one reason or another — while those bands rose to super-stardom, Anvil's number never came up. They slipped into obscurity.
But they never quit. While hair metal faded and grunge rose, Anvil continued to do what they always had. They never stopped playing, and never quit believing that someday they, too, would be famous.
It's all the subject of last year's award-winning documentary, Anvil! The Story of Anvil, a film directed by one of the band's former roadies. The film shows all that Reiner and Kudlow have endured to keep the dream of Anvil alive. Cameras watch as Reiner removes drywall and as Kudlow delivers food to school cafeterias. They follow the band on a failed tour through Europe, into their homes and as they argue — desperate from years of wanting this dream so badly. Anvil! shows the true power of a dream, and how these two guys will do anything for their music.
Today, Kudlow says the film — which made a big splash at Sundance and other festivals worldwide — was the answer. A film about the band's lack of fame is what finally made Anvil famous.
"It doesn't matter where we go, people seem to know who we are," he says over the phone from St. Louis. "Tours, management, record companies, becoming successful. All the things that weren't there before are there now.
"All the wishes and desires and all the things that I wanted are coming true."
After 30 years of booking their own shows, hauling their own gear, mailing albums out to fans, Kudlow says it's "kinda weird" to be so detached from the process now. So the band makes up for it in its own way.
"After every show we go out and meet everybody," he says. "Most bands are so full of themselves and think they're separate from the audience, but we're a part of the audience. I know what it's like to be in the crowd and to be an admirer. I know what that feels like.
"I don't want anybody walking away feeling disappointed," he says. "We go out of our way to make sure that never happens."
Anvil plays with Lucid and Black the Sky at the Knitting Factory on Tuesday, Feb. 9, at 7 pm. Tickets: $15; $47 for "Experience Anvil VIP Bundle." All-ages. Visit www.ticketswest.com or call 325-SEAT.