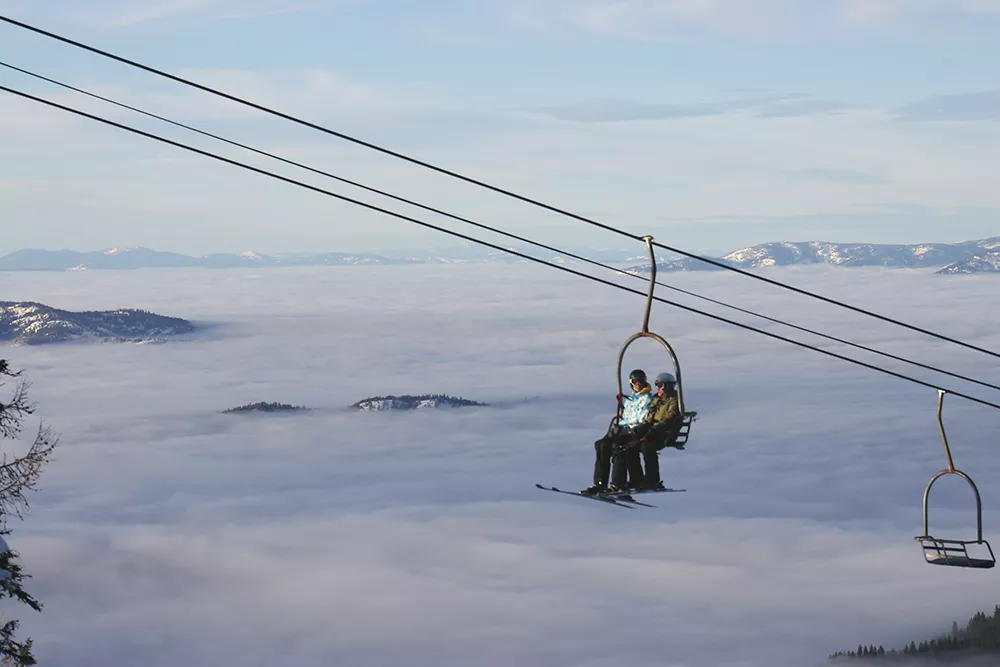 WHAT'S NEW
The upgrades continue at 49 Degrees North. The most noticeable will be this season's transformation of the Sunrise Basin. "The entire base of Chair 5, Sunrise Quad, is transformed," says 49 Degrees marketing director Kenleigh Hobby. "We have finalized the majority of the infrastructure, including a private, high-speed fiber optic network, wastewater collection systems, 130,000-gallon water storage tank and pump house. We paved Nelson Creek Road out to the yurts, added three unisex bathrooms and the completed the first of two ski-under bridges. The building of the residential structures includes a sold-out eight-plex Alpine condo unit, a five-plex private residence Alpine Glades townhouse, and one single-family house."
New for the 2016-17 season, 49 Degrees will focus on using locally sourced products and ingredients in their food outlets. "We will feature Angus Meats, a local Spokane meat purveyor, and Petit Chat Bakery will provide us fresh local baked goods," says Hobby. This adds to their food offerings out at the yurt, quickly becoming known as one of the best places to get food in Chewelah, with homemade waffles, scratch-made soups and chowders, Reuben sandwiches and sushi rolls. This season, they're expanding their Friday Afternoon Club experience, featuring one microbrew and an in-house brewery representative, and food and drink specials.
MAKING THE MOST OF IT
The season pass deal at 49 is among the best when it comes to all of the perks, and it comes at a very attractive price. First, a payment plan locks in the deal: Pay half before Nov. 1; the other half is due Nov. 15. The pass holder will also receive discounts at area resorts in Canada and the U.S., as well as free passes to White Pass, Mission Ridge, Loup Loup and Bluewood, and free tickets to the resort's Nordic trails.
SPECIAL DEALS
The Multi-Week Lesson Program takes place over four full days, with coaching and fun at a bargain price. The Adventurers program is a perfect way for skiers and boarders, ages 5 to 13, to improve their skills on the mountain. The classroom size is small, and students are placed with the same specialty coaches for the four-week program. There are multiple blocks to chose from; check out the website (ski49n.com) for more information on dates and costs. Lesson times are 10 am to noon; after a lunch break, the group returns in the afternoon from 1 to 3 pm. Upon completion of the Adventurers program, a discounted season pass can be purchased for $99.
Lift Tickets
6 & under Free
Adult
Full Day: $49-$56
Half Day: $35
Youth
Full Day: $43-$47
Half Day: $30
College/Military
Full Day: $46-$49
Half Day: $34
Chair 3 only
Full Day: $43
Half Day: $29