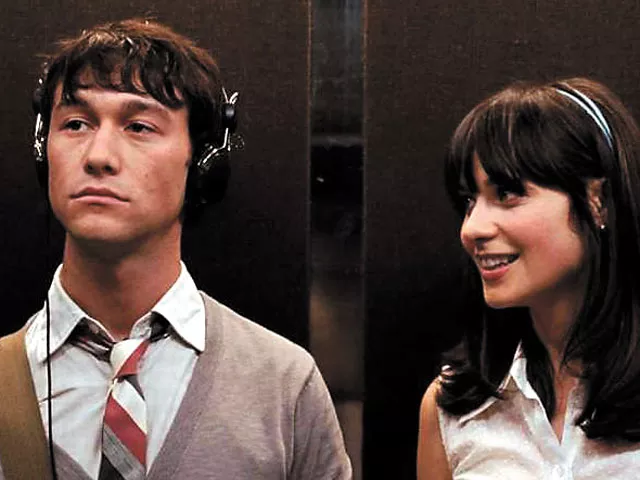 I'm a girl, but every moral I cherish is opposed to romantic comedies. Chick flicks. Films about shoe fetishes and purse addictions and living sexy lives in big cities make me WANT TO DIE. I hate shoes, and I really hate purses.
But then one of those very movies comes along and gets me. Makes me all blubbery and teary over a silly guy who sweeps a silly girl off her feet. I laugh when they laugh. I cry when they cry. And then I fear being flagellated by my feminist kinswomen.
But that's how I felt about Mark Webb's film debut, (500) Days of Summer. Everything about it says "rom com," practically demanding that you dream of your wedding day along with the sappy, too-pretty characters. But Webb, a music video director, weaves a story that turns the romantic-comedy genre on its side. And I don't feel bad for liking it.
Joseph Gordon-Levitt plays Tom, a cute but overdramatic twenty-something. An over-thinker who writes copy for greeting cards, Tom thinks his life will start the day he falls in love. And one day, he does. Tom's world goes topsy-turvy when a new girl starts at the office. Summer (Zooey Deschanel) is a free-spirited beauty with a soft spot for Morrissey and throwback clothing. Tom goes berserk for her. After months of gallivanting around Los Angeles with her, Tom thinks he's finally happy. But then something goes wrong.
Director Webb takes the whole nonlinear narrative thing to a new level with this flick, leapfrogging the story from Day 12 to Day 475, back to 50, then to 30 and up again to 392. If that sounds confusing, it really works quite well here. Though the film, on the outside, looks like a cutesy, indie-pop fest, there really is something more to (500) Days. Unlike so many terrible romantic comedies, Webb doesn't just tell a tale of love. He tells a tale of confusion, of choice and of burning down everything we ever believed in. (500) Days of Summer is hardly one of those love-beats-all-odds stories. Those aren't real — but this movie could be. (Rated PG-13).