The Social Animals came together through the convenience of proximity.
When they were teenagers in the small town of Cloquet, Minnesota, frontman Dedric Clark befriended guitarist Tony Petersen, the only other kid he knew who could play the guitar.
Bassist Roger Whittet was practicing his bass while working a shift at a liquor store when Clark happened to wander in and ask him on the spot if he wanted to be in a band.
Drummer Boyd Smith lived right down the street from Clark, and he was also brought into the fold.
It was as simple as that.
After a short relocation to Portland a few years ago — "We wanted to move as far away from Minnesota as we could, so we had no excuse but to play music full time," Clark explains — the four members of Social Animals are now spread out all over the country, with Clark having settled in Nashville.
And though they went from living mere blocks away from one another to having entire states separating them, the drastic change in location hasn't affected business as usual, since they're on the road together most of the year.
"At this point they're so much a part of my life, so I'll miss them for a month, and then spend every single day with them," Clark says.
He's talking to the Inlander from a tour stop in Montana, and even though it's nearing 3 pm, he's still a bit hungover from the night before. They tied one on at a dive bar in the previous city, Clark explains, where Smith sold his vintage Coors hat to a drunk stranger for a whopping $75. It should be perfect fodder for the chatter in between songs at the next show, which Clark describes as "basically me talking about whatever horrible things we've done on the tour."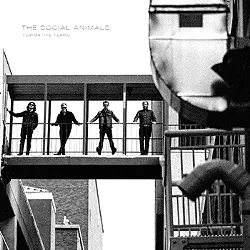 The specters of the drunken decisions you make late into the night hover over the Social Animals' sole EP, 2016's Formative Years — an apt title, considering several of its tracks were written when Clark was just 18 or 19 (he's now in his late 20s). It's a slickly produced collection of songs about cold mornings and unpaid bills, bloodshot eyes and broken hearts.
Listening through those songs, you can hear a lot of stylistic dabbling going on: There's some Americana, bluesy R&B, confessional singer-songwriter sketches, straight-ahead rock. And the band's upcoming LP, which is now in the final stages of mastering, is only going to further muddy the waters: Clark says the new songs will sound an awful lot like the Cure.
"The new album we're about to come out with is going to be a departure from what's up on Spotify," he says. "We're going to make some people mad, but they'll get used to it. I truly care about how people are reacting because you have to. But it is a balance of realizing this is the kind of music I wanna make."
You can hear that imminent shift in the band's most recent single, "Cheer Up Charlie," which announces itself as a sonic departure from its opening, synth-drenched seconds. It plays out like a diary entry set to music, and although Clark is somewhat loath to discuss its meaning (when you connect with a song, he argues, it's sometimes a bummer when you find out what it's really about), the lyrics carry such specificity that you just know it's personal, and you almost feel bad for eavesdropping.
The title, a reference to a tune in Willy Wonka and the Chocolate Factory, becomes a lyrical refrain: "That's what she used to say to make fun of my middle name," Clark sings. "It used to make me so mad. Now I wish you'd just call me and say it again."
"That one was certainly hard [to write]," Clark says. "I was in Nashville alone in an Airbnb and I wrote that song in, like, 10 minutes, and I was drunk as hell. The vocal on that song is literally me drunkenly whispering into an iPad. I didn't think we'd ever use it for anything. I sent it to my label ... and they loved it and wanted to put it out."
If you didn't know better, you'd think "Cheer Up Charlie" was the work of another band entirely. But like the teenager who penned some of Formative Years, the band is still finding its voice. It's difficult to pinpoint a style, to pigeonhole their output into just one genre, but Clark says this upcoming album proves the Social Animals have finally settled on a definitive musical personality.
"I feel like with these new songs, we're about to find it," Clark says. "The band has come to a consensus: This is what we're supposed to sound like. This is where we're supposed to be." ♦
The Social Animals with the South Hill • Sat, June 23 at 8 pm • All ages • $8 • The Bartlett • 228 W. Sprague • thebartlettspokane.com • 747-2174