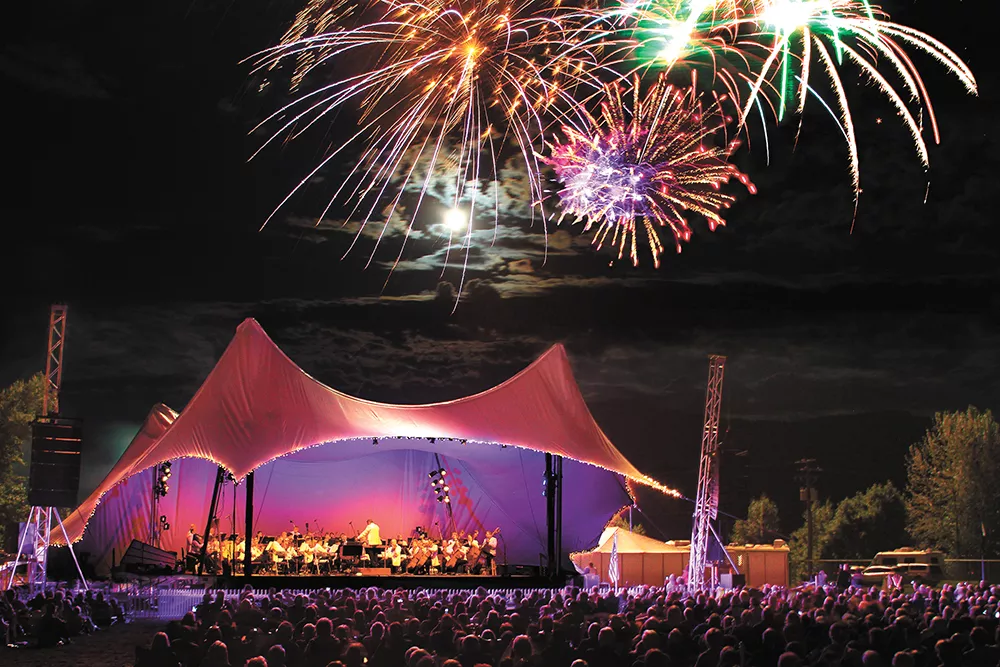 As other festivals in the Inland Northwest come and go, we wait with bated breath for the lineup of the Festival at Sandpoint every year. It always offers a nice surprise or two.
What began as a strictly symphonic festival in 1983 has morphed into a haven for rock and country fans. Many legends have performed in Sandpoint's War Memorial Field over the years: Johnny Cash, Smokey Robinson, Etta James, B.B. King, Willie Nelson, Tony Bennett, Loretta Lynn... the list goes on. Here are the major headliners you can look forward to this year.
Aug. 2
Big Head Todd and the Monsters
From the wilds of Colorado, Big Head Todd and the Monsters built a cult following in the early '90s with a sound that's difficult to describe in simple terms: It's a blend of classic blues, hard-rock and maybe a little grunge, with the occasional jammy freak-out. They're best known for their cover of John Lee Hooker's "Boom Boom" (featuring Hooker himself) and originals like "Resignation Superman" and "Broken Hearted Savior." $44.95; 7:30 pm.
Aug. 3
Amos Lee
Singer-songwriter Amos Lee has navigated numerous genre pathways throughout his career, tender and empathetic lyrics about heartbreak, spirituality and the euphoria of new love. His next album, titled My New Moon, is set to be released at the end of the month, and its two singles — "No More Darkness, No More Light" and "Hang On, Hang On" — are cathartic examinations of the tumultuous state of the modern world. $59.95; 7:30 pm.
Aug. 4
ZZ Top
When it comes to ZZ Top, the litany of iconic songs speaks for itself. "Sharp Dressed Man." "Legs." "Tush." "Gimme All Your Lovin." "La Grange" (which, coincidentally, also reworks "Boom Boom"). Complete with spinning guitars and extravagant beards, duo Billy Gibbons and Dusty Hill — alongside clean-shaven drummer Frank Beard — went from blues-bar boogies to arena-ready synth-rock that made them unlikely MTV stars. $79.95; 7:30 pm.
Aug. 9
Greensky Bluegrass
The name says it all, really. The Kalamazoo quintet twists the classic bluegrass sound into a fusion of genres that is sometimes labeled prog-bluegrass, and primary songwriters Paul Hoffman and Dave Bruzza always keep listeners on their toes. The band adopts the credo of many a jam band: You're welcome to record their shows, they never play the same set twice, and you're going to hear one or two unexpected cover songs. $39.95; 7 pm.
Aug. 10
Sublime with Rome
By the time '90s ska-rock band Sublime became hitmakers, their frontman Bradley Nowell was dead at 28. Much of their career has been a postscript to that shocker, but Sublime has remained hugely popular on the nostalgia circuit, and people still stick those sunshine decals to their cars. The band tours relentlessly — they performed just last year at Northern Quest — with new vocalist Rome Rodriguez, who captures Nowell's spirit without copying him outright. $64.95; 7:30 pm.
Aug. 11
Gavin DeGraw and Phillip Phillips
The final co-headlining show of the festival features two artists with similar sounds coming from very different places. In the early 2000s, Gavin DeGraw broke out of New York's cutthroat singer-songwriter scene with singles like "Chariot" and "I Don't Want to Be" (also the theme song for the teen drama One Tree Hill), both of which were inescapable radio hits. Phillips, meanwhile, gained national attention after finishing first in the 11th season of American Idol, and his winning single "Home" is the most successful in the show's history. $74.95; 7 pm. ♦
Festival at Sandpoint • Thu-Sun, Aug. 2-5 and 9-12 • War Memorial Field • 525 Pine St., Sandpoint • festivalatsandpoint.com • (208) 265-4554