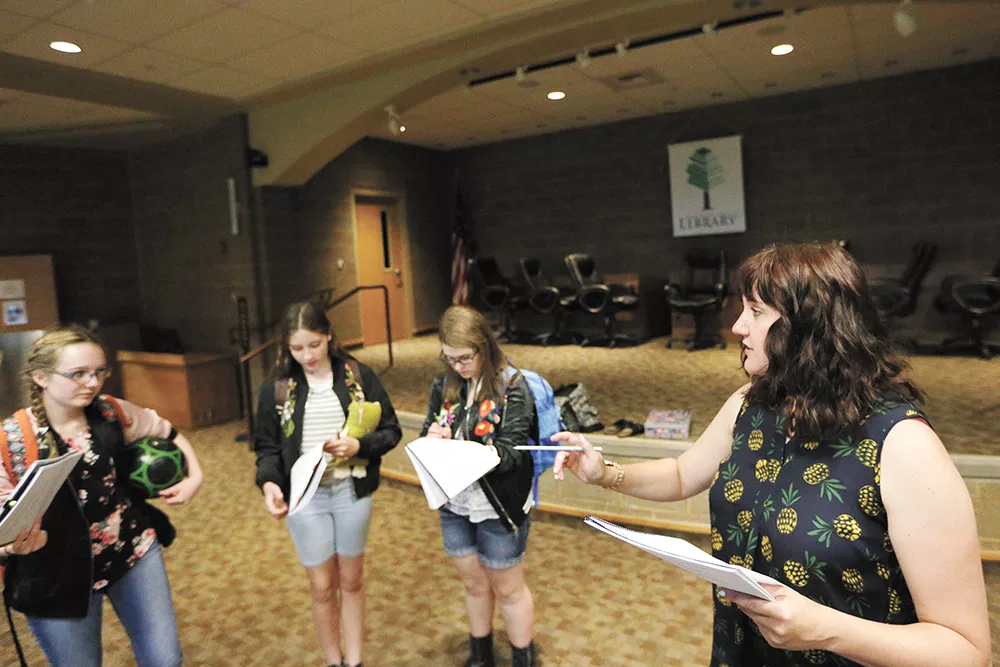 Teagan Daniels is incredulous that people actually live on $2 a day or less.
Two dollars a day, says the vivacious soon-to-be ninth grader, is the global poverty rate, something she's learned in preparation for her role in Girl, Awake!, a play designed to educate audiences about an array of social issues.
Daniels, who plays Azalea, and the other five cast members, ranging in age from 11 to 15, are forsaking traditional summer pastimes to immerse themselves in topics like poverty, child abuse, water scarcity, bullying and child marriage. Through August, the girls will learn about global issues to help learn their scenes — monologues, spoken word pieces, songs, dances, ensemble scenes — which they'll perform throughout the Inland Northwest starting in October.
This will be the fourth edition of Girl, Awake!, all of them written by Brook A. Bassett. Bassett describes it as "a show for everyone about making a difference." She penned the production after participating in The Vagina Monologues in 2014 at North Idaho College. Although she'd been involved in theater since high school, it was her first exposure to social activism, she says.
Every scene, 10 in all for this year's production, carries a strong message that's sure to be eye-opening for audiences, much as the "poverty scene" was for Daniels.
"I'm poor," says the character of Lantana, who this year is played by Kimberly Hunt. "I like to pretend like it is a secret but I'm pretty sure it isn't. You can't show off things you don't have. And you can't truly be popular without money to buy things. Some people just seem to have everything and others just don't."
Lantana holds a flower, which she'll give to an audience member as the scene transitions to the ensemble. Flowers, explains Bassett, who wrote the play in 2014, can symbolize a lot: strength, femininity, growth, yet also the dissemination of ideas like seeds.
The first year of Girl, Awake! opened on Oct. 11 — the International Day of the Girl — in 2015, and raised money for UNICEF. Every season, cast members choose a charity and then donate 60 percent of the proceeds from Girl, Awake! shows to them.
This year's charity is International Rescue Committee, whose mission is to "help people whose lives and livelihoods are shattered by conflict and disaster to survive, recover and gain control of their future," including immigrant children isolated from their parents.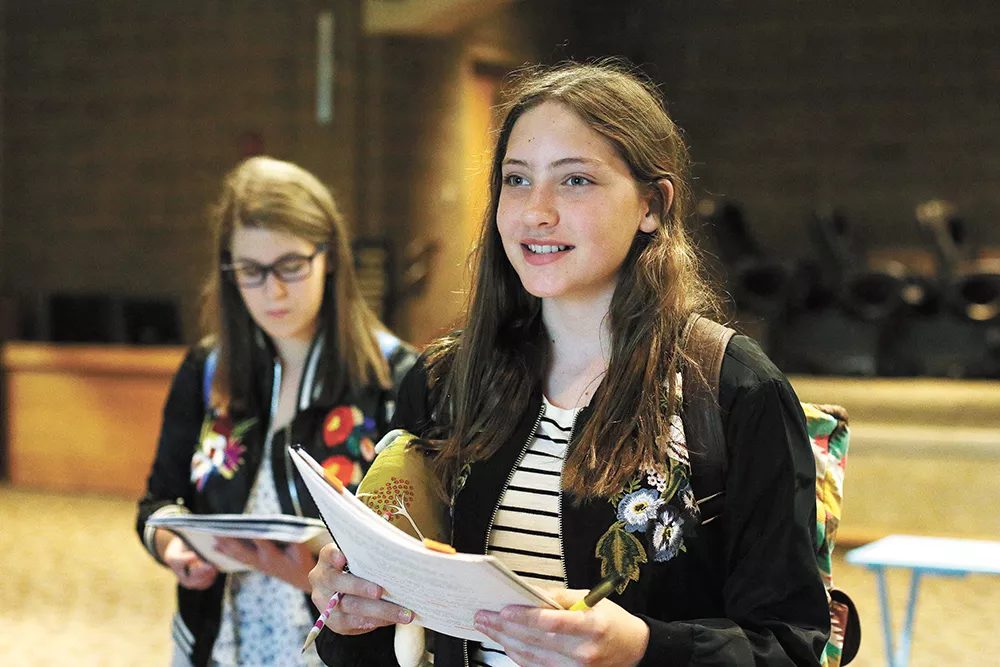 Daniels was shocked to see images of daily life in refugee camps, which Bassett presented to cast members prior to learning the scene. "Now I really see it," she exclaims.
The play is, above all, educational. Currently pursuing her master's degree in teaching, Bassett provides relevant statistics and facts as spoken dialogue in the play. She also includes downloadable video playlists and Common Core-aligned materials on the Girl, Awake! website.
In the refugee scene, for example, Gardenia (played by Gracie Messner) clarifies the difference between a refugee and an internally displaced person or asylum seeker. The character explains that "in 2015, 65.3 million people were forced to flee their homes," half of whom are under 18.
Each scene impacts each girl differently, say the girls.
The "perfect scene" deals with social pressure and body image. In it, the character of Tigridia (Becca McLachlan), a soon-to-be seventh grader, notes that "92 percent of teen girls want to change something about the way they look."
"Everyone relates to 'perfect,'" says Hunt, a junior, who in addition to playing Lantana this year was also in last year's play. Although she enjoys acting a little over-the-top in the scene — many scenes juxtapose humor and silliness against the weight of social issues — Hunt also appreciates how the play enables her to contribute to solutions.
"I want to know I did something" about problems in the world, says Hunt.
Incoming freshman Katie Rode felt the impact of the "bullying scene," she says. "What people are dealing with at home is a lot different" than what people realize, says Rode.
Elisabeth Edmonds, also entering ninth grade and the other returning cast member, felt the "education scene" keenly — both her parents are teachers — as well as the refugee and child marriage scenes.
In "child marriage," the character of Lantana explains that "thousands of children as young as 12 have been recently legally married in the U.S. "Idaho has the most married children on a per capita basis."
"The play is meant to get people thinking and we're not going to lighten things up," says Edmonds, who plays Dianthus.
Last year, says Edmonds, her character opened the play. "My job was to wake everyone up." This year, explains Bassett, the opening scene was restructured to be more modular, so the girls collectively open the play by building the set through props, action and dialogue.
"There's no fourth wall in our world," says Bassett, who is planning on producing Girl, Awake! for five years and hopes to turn it into a nonprofit under the umbrella of her Luminary Initiative Project.
Making sure each scene can stand alone, says Bassett, allows her to trim the production as needed, from its full two hours down to about an hour, depending on the audience, which has included area schools, the Human Rights Education Institute and civic organizations.
Although they're gearing towards middle to high school ages, says Bassett, they'll go anywhere and are currently booking dates for the fall. The suggested donation is $300, although Bassett says she has a hard time asking for that from organizations that might benefit from the production.
That includes boys and girls, says Edmonds, as well as adults, who she hopes will take the time to discuss social issues with their kids.
"Once you know, you know," says Edmonds, of the opportunity to learn about and discuss the social issues presented in Girl, Awake!
"There is power in being awake... power to choose." ♦
For more information about Girl, Awake!, visit facebook.com/GirlAwakeProject.