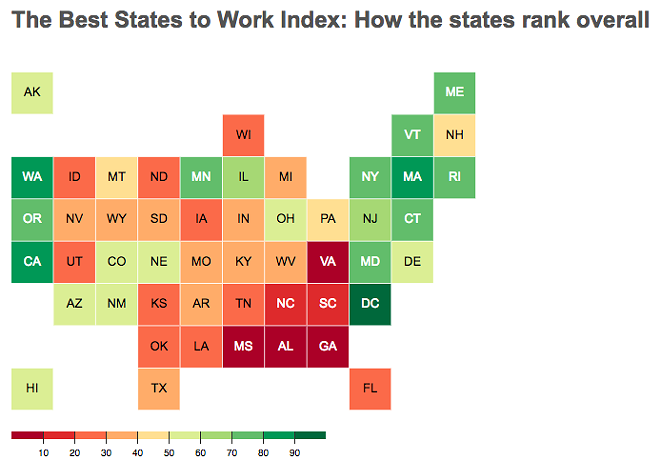 The Evergreen State is at the top of the charts when it comes to being best for workers, according to
a new report by Oxfam
, a global organization combatting poverty.
While the "other Washington" technically ranked number one, ours was the first
state
on the list, largely due to minimum wage and labor policies, as well as paid leave laws that have passed in recent years.
Washington is ranked No. 1 when when it comes to wage policies, according to the report. Other than D.C. (at $13.25/hour), Washington state has the highest minimum wage in the country, at $11.50 an hour, covering about 43 percent of the cost of living for a family of four. Washington also allows cities to set their own minimum wage.
Washington also shared the No. 1 rank with 20 other states when it came to the "right to organize," which, according to the report, was due to the fact that Washington:
"Does not have a so-called "Right-to-Work" law (which suppresses unions).

Does provide both collective bargaining and wage negotiations to teachers.

Does provide both collective bargaining and wage negotiations to police officers.

Does provide both collective bargaining and wage negotiations to firefighters.

Does fully legalize project labor agreements to ensure a fair wage to workers on contract."

The ranking was applauded by Gov. Jay Inslee, whose staff highlighted
in a post on Medium.com
that the recognition was due in part to a family and medical leave insurance policy that passed in 2017, allowing workers to take up to 12 paid weeks for medical leave and 12 paid weeks to care for a child or sick family member.
"Washington state is busting the myth that policymakers have to choose between promoting a strong economy or protecting and supporting our workers," Inslee said in the post. "We consistently rank as having one of the best economies in the nation, and that's because businesses thrive when we invest in our people and in making our state a beautiful and healthy place to live."
Things were less optimistic looking for neighboring Idaho, which ranked #45 on the list, due to sticking with the federal minimum wage of $7.25, which the report notes is a poverty wage, and poor rankings both in worker protections and the right to organize.
"In today's America, just a few miles make a huge difference in wages and labor protections," said Minor Sinclair, Oxfam America's US Domestic Program director, in a press release. "While legislators in some states are making moves to keep workers and their families out of poverty, legislators in other states seem content with a poor-to-middling status quo."
Based on the list of worker protections, both Idaho and Washington have some room for improvement, according to the report: