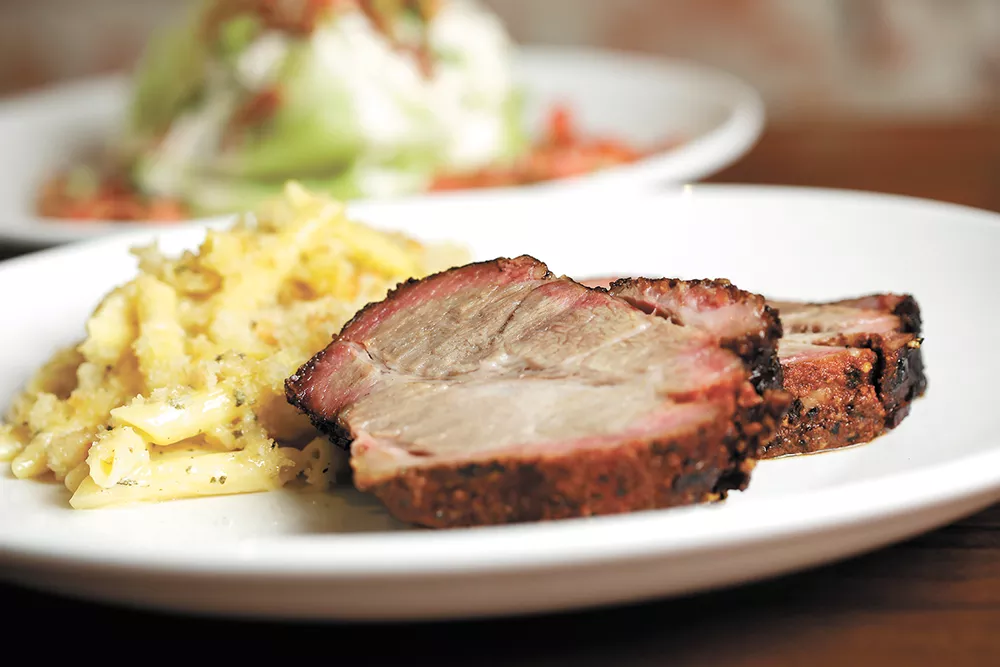 Chef Mike Jones now owns two restaurants in downtown Spokane, each with very distinct focuses. One is Mizuna, which has long been hailed for its vegetarian-friendly menu, with careful steps taken in the kitchen to avoid contamination from animal-based ingredients.
Jones' latest venture, however, is all about the meat. He opened Austin's Live Fire Barbecue in early September just a few blocks from Mizuna. The focus there is Texas-style dry-rubbed and house-smoked meats with all the fixin's.
Each day, Jones and his team brine (chicken and baby back ribs) or dry rub (pork shoulder coppa, pork belly, brisket) each cut of meat for a minimum of 24 hours in preparation for smoking, which begins at 4 am each morning. Austin's kitchen is outfitted with a custom built, three-pit smoker equipped with weighted lids.
Jones was inspired to open and name his restaurant after a trip to Austin, Texas, about three years ago, where he sampled and toured many of the city's esteemed barbecue smokehouses, also interning at Ruby's BBQ for two weeks.
"The Central Texas style is dry rubbed and smoked on a low heat, and you know, there is sauce but it's not super saucy barbecue like a lot of places," Jones explains. "You bite into a rib from a Texas-style place and you just eat the rib. You don't really need the sauce, that is kind of my goal."
Austin's Live Fire Barbecue makes its own tangy, smoky house sauce, which comes as a standard condiment with some meats (chicken and ribs) and is available by request for all other plates, Jones says.
On its lunch menu, Austin's offers each of its smoked meats in sandwich form ($14.95-$16.95), served with a choice of two sides: wedge salad, baked potato salad, sweet potato fries, seasoned fries, barbecue baked beans and smoked Gouda mac and cheese. Sandwiches include a pulled pork quesadilla with Gouda, roasted corn salsa and smoked jalapeno aioli and a brisket sandwich with grilled onions, tomato and roasted shallot aioli.
The dinner menu features a more traditional smokehouse plating, with generously portioned cuts of naked meat served with two sides (dinner adds the option of corn on the cob and braised greens to the sides list). Smaller plates for dinner include fried okra ($8.95), smoked pork belly tacos ($9.95) and a pulled pork quesadilla ($11.95). Desserts ($5.95-$6.95) include Jones' mother's recipe for pecan pie, an apple-berry crisp and banana-bourbon ice cream.
One smoked meat entree ($17.95-$19.95) with two sides easily offers enough leftovers for most to have another meal at home.
"At either of my restaurants, I've never been accused of sending people home hungry," Jones says, laughing.
While many customers familiar with Mizuna's separate plant-based menu may also expect that Austin's serves a few vegetarian-friendly barbecue dishes, Jones says that's not even a plan in the works.
"To me, doing vegetarian right is cooking on separate surfaces; keeping it isolated and not cooking it on the same area and with the same utensils," he says. "It's not really possible over here — every surface is used for the meat process. If I can't do it right, I won't do it at all."
As the smokehouse's daily pace settles out, Jones hopes to add grilled meats, including steak, to the lineup. Because of the time-intensive meat prep, he says the first month of operations have often been a trial-and-error process in terms of how much meat the kitchen needs to rub and smoke each day.
"There is no guarantee you're going to sell it all, but also no guarantee you'll have it when the rush starts," Jones says. "Last Friday, we hung a sign at 7:40 saying we're out of food." ♦
Austin's Live Fire Barbecue • 421 W. Main • Open Mon-Sat 11:30 am-9 pm • Facebook: Austin's Live Fire Barbecue • 290-5851