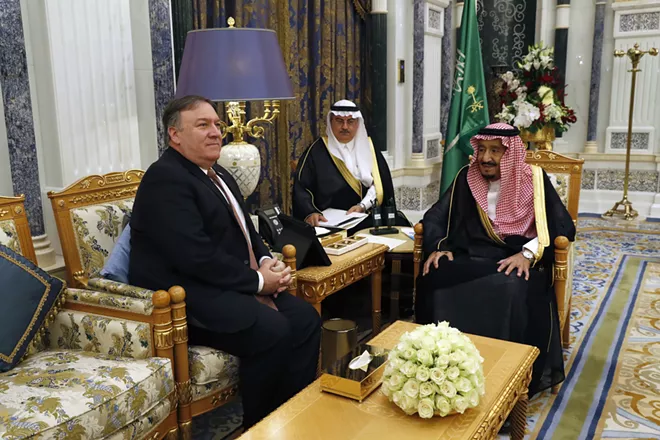 By Ben Hubbard and Daniel Victor
New York Times News Service
B
EIRUT —
President Donald Trump said on Tuesday that Saudi Arabia's crown prince had again denied any knowledge of the fate of a Saudi dissident journalist, but would expand an investigation into his disappearance and suspected killing two weeks ago.
"Answers will be forthcoming shortly," Trump said on Twitter, relaying that he had spoken with Crown Prince Mohammed bin Salman on a phone call that also included Secretary of State Mike Pompeo, who is meeting with the kingdom's rulers in Riyadh, the Saudi capital.
Salman, Trump said, "totally denied any knowledge of what took place in their Turkish Consulate."
The prince "has already started, and will rapidly expand, a full and complete investigation into this matter," the president said.
Pompeo met with King Salman of Saudi Arabia, the crown prince and other top officials in Riyadh to discuss the disappearance of Jamal Khashoggi, who Turkish officials say was killed and dismembered after entering the Saudi Consulate in Istanbul on Oct. 2.
Khashoggi, who wrote columns for The Washington Post, lived in the United States, and his 60th birthday was on Saturday. His disappearance has heightened tension between Saudi Arabia and both Turkey and the United States, while severely tarnishing the reputation of the kingdom and its powerful crown prince.
Turkey's president, Recep Tayyip Erdogan, told reporters in Ankara on Tuesday that investigators who searched the consulate on Monday and Tuesday were looking into "toxic materials, and those materials being removed by painting them over." Turkish news outlets, citing unnamed sources, have reported that Khashoggi was drugged, and that parts of the consulate and the nearby consul's residence were repainted after the journalist's disappearance.
Later in the day, the Saudi consul, Mohammed al-Otaibi, left the country, the Turkish Foreign Ministry said. Pompeo is expected to travel to Ankara, the Turkish capital, on Wednesday.
Trump has vowed "severe punishment" if a Saudi hand is confirmed in Khashoggi's killing, but has said he does not want the case to affect arms sales that create American jobs.
But on Monday, a person familiar with Saudi plans said the kingdom was likely to say that the killing was an accident committed by "rogue" Saudi agents, not an assassination ordered from Riyadh. The Saudi version of the story will probably be that officials intended to interrogate and abduct Khashoggi, spiriting him back to Saudi Arabia, but that they botched the job, killing him instead, the person said, speaking on the condition of anonymity because Saudi officials had yet to talk publicly about their plans.