While the four candidates for the two open Spokane County Commissioner seats this year have varying qualifications to take the job, none of the candidates have had much prior experience in criminal justice or public safety.
Al French has extensive political experience, first as a Spokane city councilman and now as a current Spokane County commissioner of eight years seeking re-election. While he's served on the Spokane County Regional Law and Justice Council, his prior work experience is in architecture and real estate. His opponent, Robbi Katherine Anthony, is a local business owner of Praxis Coworking and Firedove Technology.
Mary Kuney, who is running to keep the seat on the commission that she was appointed to when former commissioner Shelly O'Quinn resigned, was a state auditor and the Spokane County chief deputy auditor for more than two years. Her opponent in this year's election, Rob Chase, had a business background before serving as Spokane County treasurer for the last eight years (beating Mary Kuney for treasurer four years ago).
Yet, whoever ends up on the County Commission for the next four years will have to make vital decisions when it comes to criminal justice and public safety. Between the Sheriff's Office, detention services and the courts, public safety makes up 75 percent of the county budget's general fund expenditures. And the county commissioners oversee the Spokane County Jail, where eight people have died since summer of 2017 due to a variety of factors, including suicide or complications from drugs or alcohol.
Here, we break down where the candidates differ on issues related to public safety, including what can be done about the jail and if they'd pursue efforts to keep some nonviolent offenders out of it in the first place.
FRENCH VS. ANTHONY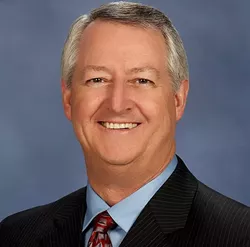 The Spokane County Jail is decades old and has been overcrowded for decades. It opened in 1986 with 463 single-bunk cells, but these days, Spokane County typically has at or above 900 inmates, including those at Geiger Corrections Center in Airway Heights.
So should the jail be replaced? Or should commissioners focus on diversionary programs to treat underlying issues of mental health and substance use instead?
Al French thinks both need to happen. He calls the jail "functionally obsolescent" and not designed for 24/7 supervision. He says the county is "starting to have a conversation" about what the capacity would be for a new jail; then the next step would be to put a price tag on it and fund it.
"It's difficult to supervise and quite frankly needs to be replaced," French says. "It consumes resources for the county that I would like to spend on programs."
Robbi Katherine Anthony disagrees that it should be replaced.
"We have more options before we go down that route," she says. "It's extraordinarily expensive, and since we're seeing an increase in our jail population, it's showing that our system that leads people to become incarcerated is fundamentally broken."
Replacing the jail to increase capacity, she says, would merely be "kicking the can down the road." If the conversation is about renovating the facility, Katherine Anthony says she'd be open to it. But she says the focus should still be on reducing the jail population overall.
She calls the recent jail deaths "our greatest moral failing as a county." For her, it emphasizes the need to reduce the jail population. The county received a $1.75 million grant from the MacArthur Foundation in 2016 to explore services that could lead to a reduction in the jail population. But it hasn't put a dent in the number of people incarcerated in Spokane County.
"The commissioners agree that we need to put greater focus on deterring people or deferring people from the system so they can get healthy treatment, but it's not happening," Katherine Anthony says.
She can't put her finger on exactly why it's not happening because she's not on the commission, but she says it shows inefficiency within the current leadership.
"We know what the right solution is," she says. "It is within our grasp. But we've failed to seize it."
Katherine Anthony argues that her inexperience in public office can actually be a strength when it comes to making policy decisions for issues like public safety.
"I think it's actually very advantageous because I'm not coming in saying, 'I know all the answers.' I'm coming in saying, 'I can be an effective conduit, I can take all the expertise in the room and funnel them in the right direction.'"
French, meanwhile, points to the progress made with the jail and diversionary efforts under his watch. The county secured a $2.4 million grant from the state earlier this year to build a mental health and chemical dependency treatment facility to help divert those needing treatment from the jail. And the county funded a program that sends defendants text reminders for upcoming court dates, hoping to reduce the number of bench warrants that can land people in jail.
"The last place I want somebody is in my jail. I want them in programs, treatment and training for a variety of reasons," French says. "I want them to have an opportunity for success, and that means I've got to provide the resources necessary to help them be successful."
Furthermore, the jail started offering a drug to help inmates with opioid withdrawal, and French says they've increased medical services to have a doctor on site 24/7. The county has also brought in national consultants from the National Institute of Corrections.
When it comes to so-called "smart justice" efforts, however, French says it's important that everyone in the county is on the same page.
"The challenge is I'm surrounded by judges and prosecutors that I don't have any control over," he says.
Commissioners can facilitate and provide resources, but he can't go to other elected officials and order them around. He says recently, everyone has started see the same vision.
"It really requires everybody at the table to have the same end goal," French says. "We can have differences about how we get there, but we have to have the same end goal."
KUNEY VS. CHASE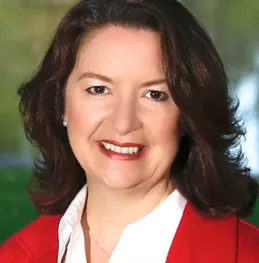 Both Mary Kuney and Rob Chase say public safety is a top priority if they're elected to the board of commissioners.
Kuney says she's still a relative outsider when it comes to public safety, which is why she hopes to join the Regional Law and Justice Council if elected. She argues her experience can easily apply to working with public safety. As a former state auditor, she says she has the analytical skills to find ways to improve a system.
"I do bring people together to find solutions," Kuney says.
She's endorsed by Sheriff Ozzie Knezovich, who Chase has clashed with in the past. And she points to examples of ways she's already improved public safety in her time on the County Commission. She, along with Knezovich and Freeman School District Superintendent Randy Russell, coordinated to place a full-time school resource officer in Freeman High School following the fatal school shooting there a year ago.
Chase, for his part, says he could get along with Knezovich if elected because "that's my duty."
"You deal with the things at hand," Chase says. "I do think public safety is the first priority. I just want to make sure things are spent correctly and expenses are justified."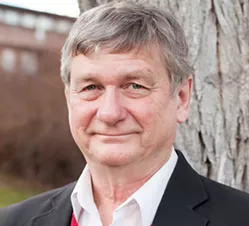 He supports diversionary programs to keep people out of jail. But when asked about how the county has handled the grant from MacArthur Foundation, a private foundation, he cautions against being dependent on grants for reform efforts in general. With the national debt ballooning, he worries whether grants will always be there.
"So I hate to be that dependent upon grants if we can do something ourselves," he says.
He says he can't comment on the particulars of the reform efforts. And he's not sure if the county needs a new jail, but he'd "prefer not because it's so expensive." Either way, he says "you have to make sure you've got good personnel" among the jail staff.
"I wouldn't want to have the job those guys have," Chase says. "You have to have good people and reduce the chance for error or accidents."
Kuney, like French, says it will take a collaborative approach to fix issues related to criminal justice.
"We've got to have people look at it collaboratively and not as individual groups," she says. "I think that's when we can make real change." ♦