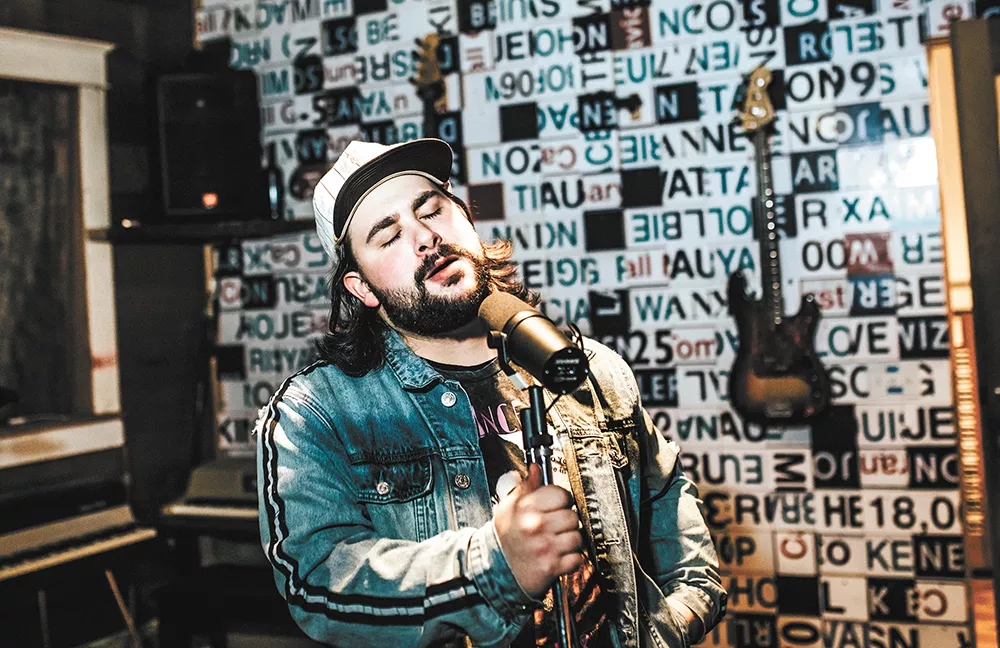 On a warm September evening, the Blake Braley Band is setting up gear and getting ready to record a test single in the studio.
Blake Braley sits in a 1970s camper on the roof of Lead Pencil Recording Studios, accompanied by tweed, Grateful Dead records and the smell of stale smoke. His namesake band is funky and indebted to the sounds of Motown, and while he has big plans for the group's future, he started from humble beginnings.
"Tristan Pierce, my guitar player and fellow co-writer of most of the songs, was one of the main reasons I started playing music," Braley says.
The two would jam together and post videos of acoustic covers when they were attending University High School in Spokane Valley. Pierce brings blues influences like Gary Clark Jr. to the table, while Braley finds inspiration in the classic R&B of Stevie Wonder and Donny Hathaway.
But it was Chewelah native Allen Stone who found the two musicians meeting in the creative middle: Pierce introduced Braley to Stone's 2011 song "Unaware," and their band has taken much of its sweetness and groove from that.
"Once I found Allen Stone, and I listened to him, I really dove into his influences," Braley says. "[He] was the first guy that I was like, whoa."
Since that encounter, Braley has actually had the opportunity to perform alongside Stone on the stage at Zola, where Braley's band has a weekly slot.
"Allen is an amazing guy," Braley says. "Both he and his wife Tara are some of the most generous and loving people I've met in my short 22 years of life. It's really cool to call them friends. Allen was the first musician who really sparked my interest in music. His music also got me through some really tough times.
"Being on the same stage, playing tunes and passing around the smiles with one of my biggest musical inspirations was quite the trip. An honor to say the least."
Braley didn't always know he had the ability to move people's emotions with his voice. But when he made a video singing a John Mayer cover that got 5,000 views on Facebook, he realized there might be a future in music. Now he's committed to it full time, and he's still working on new material.
"One of us has an idea," Braley says of his writing process with guitarist Pierce. "Tristan or I will come up with chords, a hook, melody, lyrics and a framework. Then we jam with it, and then we bring the whole band in."
The rest of Braley's band consists of some of the most recognized players in the Inland Northwest. Bassist Eddie Ramirez, a versatile musician who plays exclusively by ear, cut his teeth performing at church and grew up with a Latin influence.
"He plays everything," Braley says. "He has one of the best ears of any musician I've ever heard in my whole life."
Drummer Juan Paris (Braley refers to him as "mysterious island man") is a familiar face from Zola's live music lineup, as he plays drums there most nights. He grew up learning how to play on buckets and trash cans, a story he enjoys telling. Paris also records and produces artists out of Lead Pencil with real estate developer Dan Spalding, who dabbles in bass, keys, saxophone and harp.
Since each member keeps himself busy, finding time to bring all the members together to record has been one of the bigger challenges the group has faced. They've spent most of this past year on an EP of original songs that will showcase the same groovy live sound you might get from a night at Zola. Pierce will soon be touring for a month in Europe with another project, but they plan to put on all the finishing touches when he gets back.
"[They're] the hardest working musicians in Spokane," Braley says of his band. "They rarely have days off."
On an early fall night at Zola, the Blake Braley Band rips through a set of danceable cover tunes that span decades, while incorporating some of their originals. The room buzzes with energy. An elderly couple, dressed to the nines, dances across the floor. The bassline thumps insistently as Pierce breaks out of the melody, his guitar dancing solos around the groove. Braley complements him with soulful, soaring vocals.
As the evening continues, they play tunes about love and dancing and all the good things that lift the spirit. They get to an original called "Darlin'" that has the crowd singing along to its relatable refrain: "The days just aren't the same without you / And I just can't go on without you, darlin'."
The verses explain the struggle of missing someone who you are still in love with, and Braley sings them with so much conviction and soulful energy that it seems to speak personally to every ear in the room.
It's just a typical Thursday night for them.
"The goal is to do this for as long as I possibly can until I can't physically do it anymore," Braley says. "I'm hopeful for the friendships to be made and grateful for the ones I have made. I'm excited for my tunes to be out in the universe." ♦
The Blake Braley Band • Thursdays at 9 pm • 21+ • Zola • 22 W. Main • zolainspokane.com • 624-2416