ON INLANDER.COM

NEWS:
The Internal Revenue Service will
issue tax refunds
despite the ongoing shutdown of the federal government at the direction of the Trump administration. However, critics argue that the move may violate existing law.
(New York Times)


SPORTS:
Gonzaga's Bulldogs have made it into the West Coast Conference with a spring in their step and healthy egos. However, they face some
scrappy contenders ahead
who may give them a run for their money.
IN OTHER NEWS...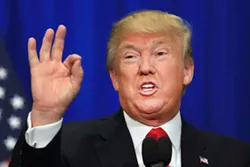 A pitch to the nation

As the federal shutdown — stemming from a standoff between U.S. President Donald Trump and congressional Democrats over his demand for $5.7 billion wall along the southern border — moves into day 18, Trump is holding a
prime-time address today and traveling to the border
later on in the week to convince the public that there is an illegal immigration "humanitarian and security crisis." Democratic Speaker of the House Nancy Pelosi has demanded equal air time for Democrats to respond, arguing that the president's address will be "full of malice and misinformation."
(New York Times)
Empty pantry

As a result of the lengthy ongoing shutdown, numerous vital federal programs — and benefactors of said programs — are on unstable footing, including Supplemental Nutrition Assistance Program (SNAP), commonly known as food stamps. The U.S. Department of Agriculture
won't say how much longer it can keep financing SNAP
for the roughly 39 million Americans who depend on it for food each month.
(Politico)


Violent self-defense

After spending 15 years in prison, Cyntoia Brown, an alleged sex-trafficking victim who was serving a life sentence for murdering a man who picked her up and took her to his home when she was 16, was
granted clemency by Tennessee Gov. Bill Haslam
(R). (Brown argued that the killing was an act of self-defense.) Under her previous life sentence, Brown wouldn't have been eligible for parole until she was in her 60s.
(Washington Post)


Building up and up

In an effort to boost the city's housing supply, the Spokane City Council may soon
allow developers to build taller buildings
in select parts of the city as well as limit the amount of parking new projects are legally required to include. Council President Ben Stuckart hopes that the regulatory changes will boost development across the city.
(Spokesman-Review)