MICHAELA SCULLY
The obvious, destruction of Earth. But I think that the inability now for a large number of people to realize that we can help slow down climate change and that it's already pretty bad now. And people don't really realize that. So I think my fear is that it'll get bad and then humans will understand too late how bad it really is.
---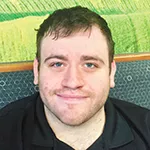 TRAVIS THOMPSON
Honestly, the fact that we're all going to be underwater.
How should we prevent that from happening as a society?
Stop using fossil fuels. That's a big one.
Do you think that enough people are aware of the validity of climate change?
A lot of them know about it, but just don't care.
---
JOE SIREN
As a resident of Alaska I see examples of good policies... And I see a lot of other policies do a lot of damage, and while they may save the environment, they oftentimes hurt the little people and let the big people off the hook.
---
SARA SIVALON
I would be really sad if all the polar bears went away. I heard about the wildlife, if climate change was to impact them to where we would have a lot more extinct or even more endangered species that would be really sad because they hold a lot of value for nature and for society.
---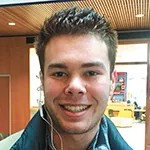 SEAN MCCURDY
I just have no idea what's going to happen. I just watched Blue Planet two days ago and they were talking about how in the past decade 40 percent of the polar ice caps melted. In the past decade. Which I knew that was happening, but I didn't know it was that severe.



---
INTERVIEWS BY ARCELIA MARTIN
1/17/19, GONZAGA UNIVERSITY