KATIE WEBB
Man, I don't know about the secrets. I've only lived here for three years.
That's still a good amount of time.
I think one of Spokane's best features is the contrast between rugged raw beauty and city. I love it. I absolutely love Riverfront Park. I come down every chance I get.
---
CIARA FITZPATRICK
I think people [here] are so unbelievably nice. I'm from San Francisco. It's a big city. Some people are nice and some people aren't. But here everybody is exceptionally nice.



---
ARTURO GAVILANES
There's just so much to do around here outdoors-wise. There's these pocket cities but also great backpacking destinations, great climbing destinations, great mountains.
Where's your favorite place?
The Goat Rocks Wilderness. Three hours west of here. It's a great view. And it's on the Pacific Crest Trail. Probably the best spot.
---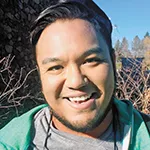 STEVEN HEREVIA
I found the best burger here. So that's been kind of cool.
Where's that?
Wisconsinburger. It's down on lower South Hill. It's kind of in between Perry and Manito Park.
---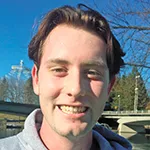 MATTHEW ROGERS
I would say Spokane itself. I'd for sure say the restaurants and all the outside space because I'm from Los Angeles and we don't have a river. It's just cool to be exposed to such beautiful scenery all the time.




---
INTERVIEWS BY JOSH KELETY
3/18/2019, RIVERFRONT PARK