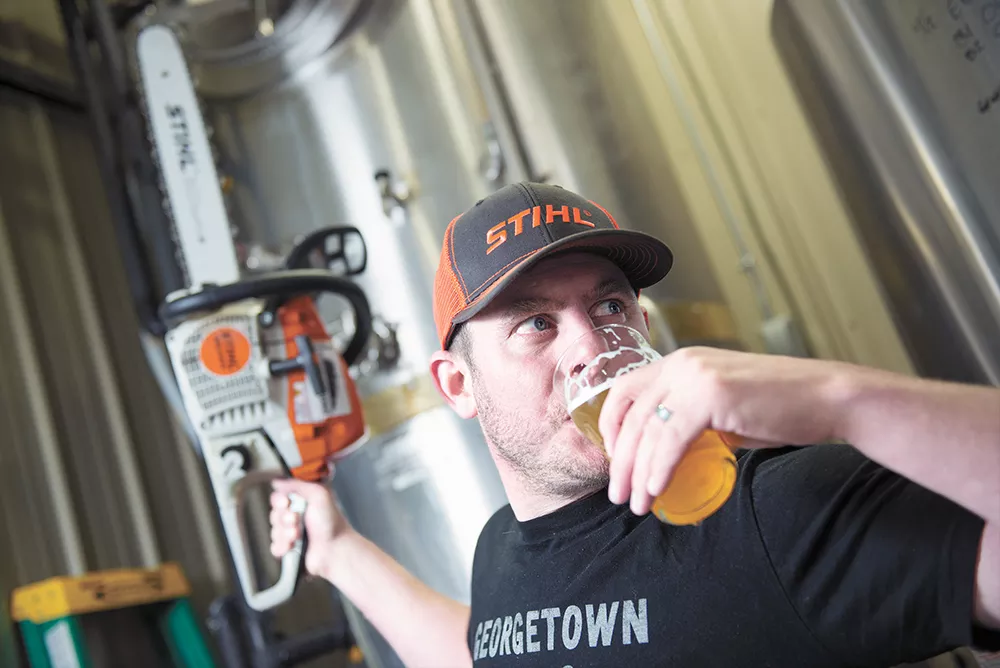 Mike DeTar is devoted to craft beer. One year after opening the Hidden Mother Brewery, DeTar is moving his business from Liberty Lake to Spokane, where he'll boost production and open his first taproom. At the same time, he tells the Inlander, he'll be merging with Post Falls' Selkirk Abbey to form Devotion Brewing.
DeTar's journey through the industry began as an obsessive hobbyist, brewing 60 gallons of beer every week. He was working as a bread baker at the time, and became fascinated with yeast cultivation. Living in a cul-de-sac in East Oakland, he set up kegerators at friends' houses to keep up with his recreational production of beer. He called himself Mad Max Brewing, named for his first son Maximillion, whose initials are MAD.
"At that point, I just had to make a move and open up a brewery because 60 gallons a week was kind of obsessive," he recalls.
In 2015, he landed his first commercial brewing job as head brewer for Paradise Creek Brewery in Pullman. But he lived in Spokane, meaning he had to figure out how to simultaneously work in both cities. He bought a 1984 Ford camper van and stayed in it three nights a week. He still sleeps in the same E-250 at beer events and festivals.
The Hidden Mother Brewery was also simultaneously in the works. DeTar sold his house in early 2014 and started planning in a way that he now says was somewhat compulsive. Rather than going the typical route of purchasing equipment, he began building his own five-barrel brewhouse with a friend who's a sanitary stainless welder.
Even the business name and branding stems from countless late nights. The Hidden Mother is a reference to a term Saint Louis and Saint Theresa once used for the Blessed Virgin Mary. While he admits he's no expert, DeTar used out-of-the-box methods to develop his marketing.
"I probably overthought a lot of this," he laughs. "I'd take 800 [beer] labels, stick them on the wall and then stare at them trying to figure out what exactly stuck out on each one."
The production-only brewery eventually opened in March 2018 when DeTar made his first sale. His first brew day happened to coincide with the Gaelic feast day celebrating Saint Brigid, so he used an Irish yeast.
"It just worked out because she's the patron saint of brewing and it just happened to be the first day we were operational," he recalls.
In one whirlwind year, Hidden Mother made a name for itself not just in the local beer scene, but nationally.
The brewery took gold and silver in the experimental category at the Washington Beer Awards after only two months of operation. Eight of the nine submissions from DeTar made it to the medal round, resulting with his Pine Tree Peppercorn Saison and Morel Mushroom Red at the top.
"That put us on the map," he says.
DeTar predicted everything was going to quickly take off from there, and recruited help. He hired Remington Oatman last July to assist with brewing.
The Hidden Mother's schedule quickly became packed with collaborations between highly reputable breweries throughout the West. Oatman and DeTar flew to the Bay Area, where they worked with craft beer giants Drake's Brewing Company and Heretic Brewing Company. Shortly after, they made a trip to Denver to collaborate with two more breweries. More recently, Jamie Floyd, the founder of Oregon's Ninkasi Brewing, travelled to the Inland Northwest to brew on DeTar's custom-built system.
The gold-winning Pine Tree Peppercorn Saison — and other Hidden Mother beers made with the same technique — helped land the brewery features in various industry publications and a sponsorship with Stihl chainsaws.
The recipe adapted from colonial times was developed by DeTar during his homebrewing days.
He starts with a small pine tree, hollowing it out with a chainsaw. After the boiling stages of the soon-to-be beer, he uses the tree as a chute from one of the brewing tanks. Gravity forces the wort down the log into another hose connected to a pump that pushes it back into the upper tank. He continues to recycle the hot liquid through this system for about 45 minutes.
"We're having a lot of fun."
The Hidden Mother continues to grow at a rapid rate.
In the midst of moving the brewery from its former 12-by-48-foot space attached to DeTar's parents' garage in Liberty Lake to a 3,700-square-foot building at Washington and Sharp, near the Spokane Arena, DeTar announced a merger with Selkirk Abbey owner Jeff Whitman.
The two brewery owners are teaming up to form Devotion Brewing. Each brand will continue to operate under their original names, but the parent company will be jointly owned by DeTar, Whitman and their other business partners.
"This isn't like a sell out. This is a partnership," DeTar explains. "It's like we have two badass boats that we both can drive now."
Whitman says Selkirk Abbey is remaining focused on Belgian-style beers it's made a name for itself with, but the 24-barrel brewhouse attached to Selkirk's Post Falls taproom will also act as the production brewery for Devotion. The new location in Spokane will serve as a smaller "pilot" brewery. Hidden Mother brewer Oatman and Selkirk brewer Jordan Luikens are working with DeTar.
"I have a taproom that's in a difficult location that doesn't have food, and isn't producing what it could," Selkirk Abbey's Whitman explains. "But, I've got a massive production facility with tons of capacity that's unused.
"[DeTar] is going to have a taproom that is huge — it's virtually four times the size of my taproom in a great location that he's going to be able to pack," Whitman continues. "But, he doesn't have the capacity to get all the beers. There's the taproom. Here's the production facility. It just makes sense."
DeTar is aiming for a June 1 opening for Hidden Mother's Spokane location. Both he and Whitman hope the brewery merger will also be complete by then.
Meanwhile, DeTar is looking forward to spending more time brewing and less time worrying about the business end of things. His next wild dream is diving into the world of spontaneously fermented, oak-aged sour ales.
"If I can just disappear into a barrel room the rest of my life," he says, "I don't think I'd want to leave." ♦
The Hidden Mother Brewery • 1311 N. Washington • Projected opening: June 2019 • thehiddenmotherbrewery.com