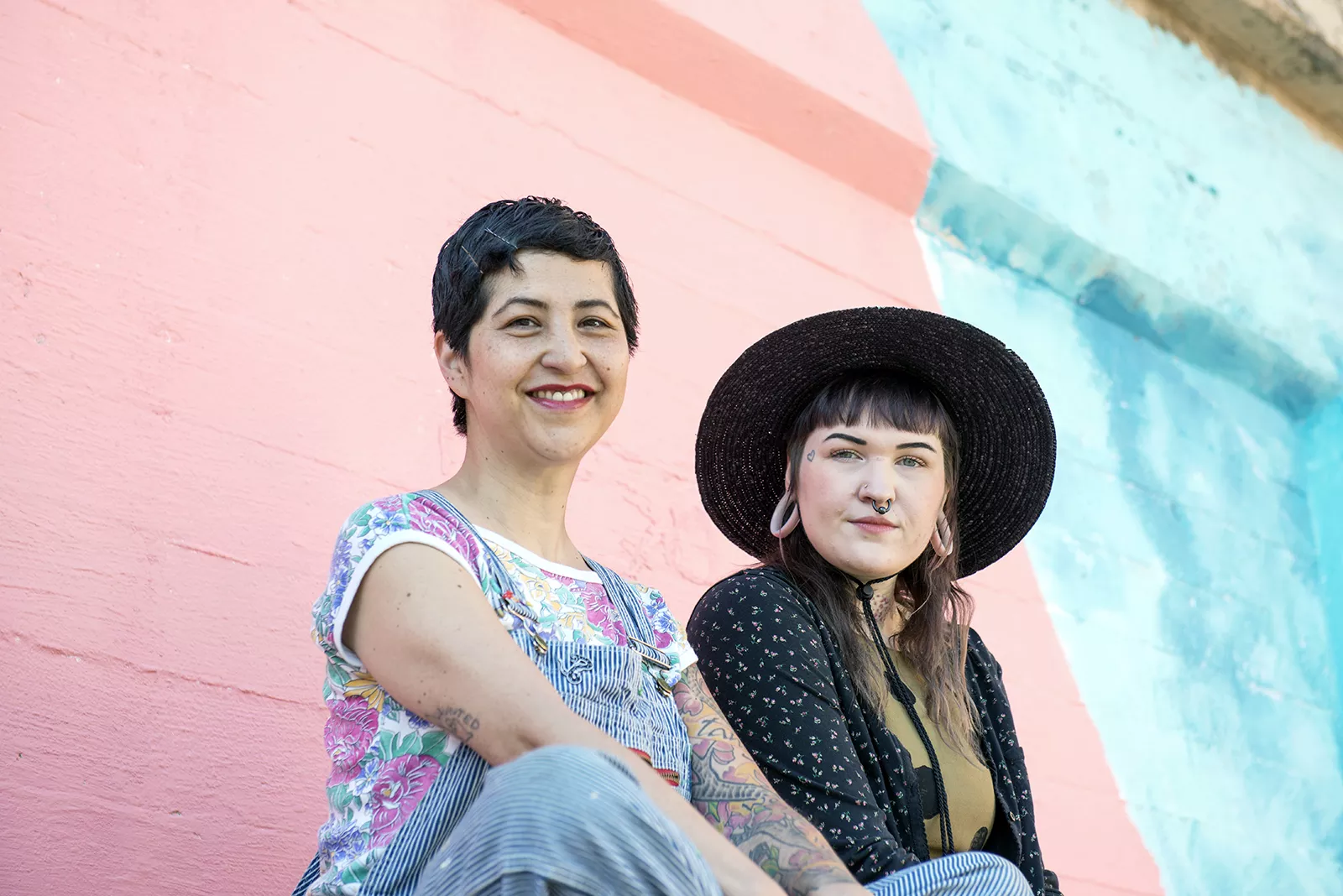 For anyone who has travelled through downtown on Stevens in the last month, the 160-foot-long mural going up on the north-facing BNSF Railway wall between First and Second can be hard to miss.
Local artists Shelby Allison and Susan Webber are working on the mural funded by Spokane Arts, Washington Trust Bank, and DMC Properties. The pair met through art and first partnered for a draw-off at Eastern Washington University. They also covered the windows of the Convention Center with their art for Tinnabulation Music Festival in 2017.
While they've known each other for a couple of years now, they both say this is by far the biggest project they've done together.
INLANDER: What's it like collaborating with another artist on a large project?
WEBBER: It's awesome because what we create together couldn't be done individually. We really like working together and bouncing off each other's styles. That's exciting to work with another person and be inspired by them.
ALLISON: Usually, I hate it. It's hard to work with other people sometimes because I'm very specific in what I want to do. It's been nice working with Susan, because we're both really fast, and we're both willing to alter things if we need to. It's also cool to learn her process, and that helps me grow as an artist.
What was your pitch to Spokane Arts for this mural?
WEBBER: The whole idea is kind of a feminine look — I don't think we see a lot of that on the walls of Spokane — and really putting a focus on women.
ALLISON: In the end, it's going to be two ladies. They're kind of loosely representing Mother Nature. They're going to be covered in Spokane landmarks and plants that are natural to this area. So you see the pavilion, the clock tower, waterfalls.
Why is your mural important for Spokane?
WEBBER: There is some under representation of women in the art scene — especially when it comes to the large walls. I know Melissa Cole has done some really amazing work, but we wanted it to be, very obviously, a woman's piece. And not that men can't paint women, but we wanted to put a lot of female attitude into it.
ALLISON: It's a lot different than the other murals, and most of the muralists in Spokane are men. So I think it's important that women are part of the art scene. We have a lot of female art friends who don't even see applying for a giant mural as an option when they totally could.
There were some criticisms online about the mural initially, with people complaining about one of the women looking naked. What was that about?
WEBBER: Well, it was funny because the first day we worked was just five or six hours — it was just the outline of the bodies. Then we had heard there was some controversy about people complaining. There were no nipples. There was nothing. I just think it's ridiculous to be offended, even if it was a mural of naked bodies. We wouldn't do that, and that's not what we were hired to do — our mural is much more complicated and interesting than that. I finished breast cancer treatment last year. Do you want to talk about offensive breasts? I got stories for you. The kind that I was offended at were trying to kill me. You're offended at a line drawn line on the wall? That doesn't make sense to me.
Do you think there's gonna be any complaints with the final piece?
ALLISON: When it's all done, I feel whoever complained is gonna be like, "Oh, maybe I should have waited."
WEBBER: Totally. Maybe even it will teach them a little lesson — just have some patience, please. I feel like they read a few pages of a book and decided they knew what it was about, and that never works.
When you're all finished, what do you want the average passerby to take away from this mural?
ALLISON: I just want them to enjoy it. We don't expect anything more than that.
WEBBER: Exactly. ♦
This interview has been lightly edited for length and clarity.