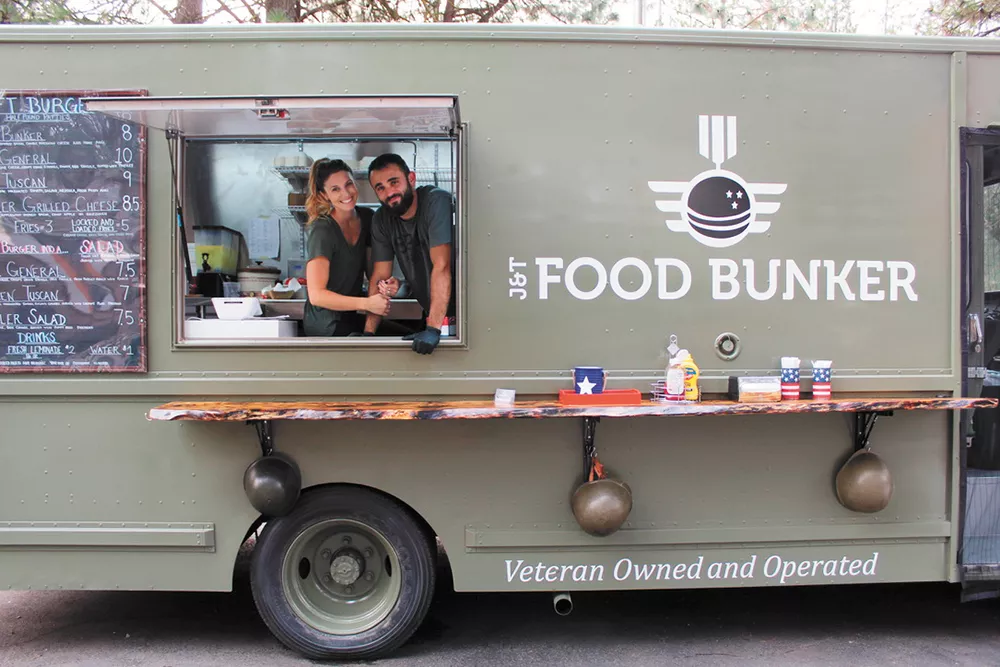 Jammie Jannisse dreamed of opening a food venue, while her partner Trace Miller supplied the theme: the U.S. military. His great grandfather was a fighter pilot in World War II, and both grandfathers served (Marine Corps and Navy) while he, like his father, was in the Army. After a stint in the Middle East, he was discharged stateside, eventually joining the Reserves and meeting Janisse.
Together the couple created J&T Food Bunker, which started as a food truck in Coeur d'Alene last summer, offering craft burgers and a heaping plate of respect for military, police, firefighters and related service personnel. The business is now two-fold: The Bunker Bar, in the former Enoteca location in Post Falls, and the khaki green food truck parked outside.
A portion of sales from both are donated to Newby-Ginnings, a local nonprofit providing household essentials and other support to military personnel and their families. Military also get a special place inside the bar to place their patches, pins and other ephemera from service, including a few from Miller's forebears.
"We have a patch wall which has become the highlight of our bar," she says. "I have literally seen a woman be brought to tears while watching a hero pin up his patches and received a message from an active soldier, thanking us for providing a place where he truly felt relaxed for the first time in years."
The beer menu highlights local and regional beverages, including from nearby Post Falls Brewing and Coeur d'Alene's Mad Bomber, while the food menu is clever names and hearty classics. Try the Sniper Sticks, fried mozzarella and marinara ($5.75), or Sand Bag Poppers ($6), jalapeno poppers stuffed with applewood smoked bacon and a creamy cheese blend.
J&T does four standard burgers, with options to customize by adding extra meat ($4), a fried egg ($1.50), cheese or grilled onions ($0.75), etc. Try the General ($9.50) topped with pulled pork, bacon, cheddar cheese, crispy onion strings, ranch dressing, barbecue sauce and fresh parsley.
In addition to providing a welcoming place and hearty pub food, J&T's donates a portion of proceeds to veteran's suicide prevention.
"Suicide has been very close to Trace's heart since coming home from deployment" in 2017, Jannisse says. "Many people don't know that suicide is actually the No. 1 killer in the military. More men are lost to suicide than combat." ♦
J&T Food Bunker / the Bunker Bar • 702 N. Spokane St., Post Falls • Food truck open Tue-Fri 11 am-2 pm and 5-8 pm, Sat noon-2 pm and 5-8 pm; bar open Tue-Thu 10 noon-10 pm; Fri-Sat until midnight • Facebook: JandTFoodBunker • 775-225-9902