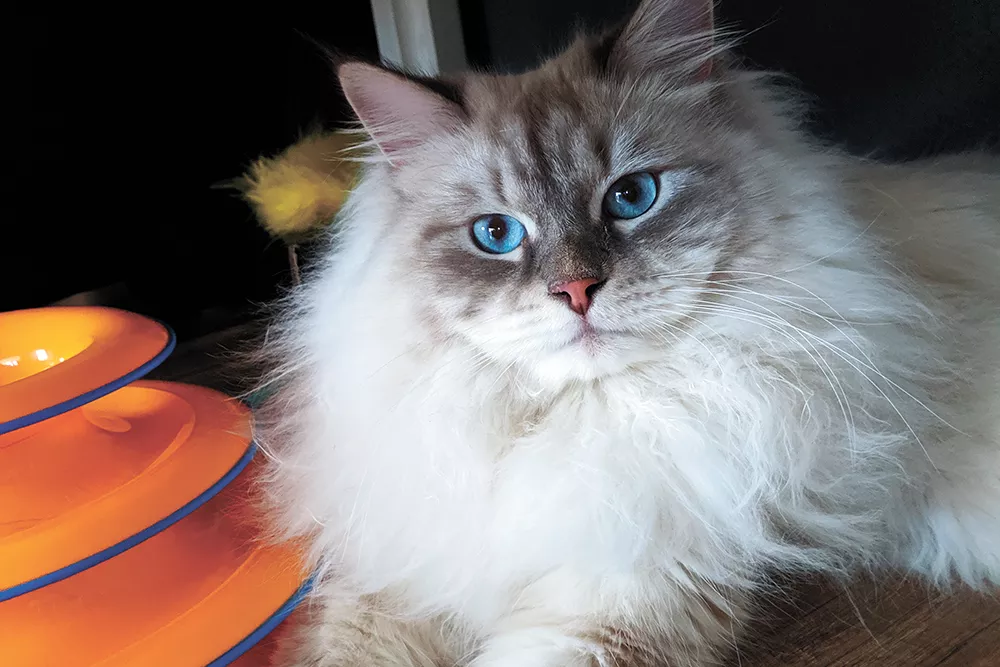 From Kazan, Russia, Newt Scamander, a Siberian cat with eyes the color of a sunny summer sky and a creamy cotton candy-like coat, arrived to his new home in Spokane on January 19, 2019.
Months later on a sunny July day, the docile, 15-pound feline sprawls out on the hardwood in all his fluffy glory inside his owner's northeast Spokane home to try and stay cool. Born from a championship line of Russian-bred cats, Newt is about to turn 1 year old, and just this month became the father of five little snowball-sized offspring. This weekend, his owners hope he'll carry on his feline forebears' championship reputation at the second all-breed cat show to come to Spokane in three years.
Newt is one of a handful of locally based cats entered to compete in the Western Washington-based Maine Event cat club's three-day event, held Aug. 2-4 in downtown Spokane, and specially highlighting his breed, the Siberian, as well as other "Cats of the Forest": Maine Coon, Norwegian Forest Cat, Kurilian Bobtail and Pixiebob.
"The breeds eligible are natural hybrids that developed in certain areas on their own, and we're showcasing them on Friday," says show manager Elaine Weitz.
Other registered purebred cats are allowed to compete in judging, as well as non-pedigreed domestic cats in a household pets category.
Weitz says the show is expected to feature 150 cats and kittens, about as many cats as were registered for Spokane's last cat show in early 2016, and, at the time, the first held here in nearly two decades. That event's success is largely why the Maine Event chose Spokane, Weitz adds.
The show, titled "Hot August... Cool Cats," is open to the public, who can watch breed judging, meet cats and their owners and see a cat agility course, which Weitz says is similar to a dog version, but "cat-sized." There's also a feline reproduction symposium on Friday night ($30) and a cat-related vendor fair open during show hours.
Lifelong cat lover Kristen Cousins and her mother Katherine Johnson attended the 2016 cat show as spectators, and knew right away that showing cats was something they wanted to do. They specifically purchased their purebred Siberian Newt with knowledge of Spokane's next cat show. After this weekend's event, they hope to travel to many more cat shows in the Pacific Northwest.
"I signed up for as many rings as we could," Cousins says of Newt's first show experience. "There is a forest cat parade that he can go into, and then he'll be in the spectator area."
In the week leading up to the show, Newt's been practicing his bathing routine so he's extra clean and fluffy by showtime.
"Having it be our first experience with an actual show, we plan to soak it all up so we know exactly what to look for in a future show, and how to better train him and groom him," Johnson adds. "We're very excited it's here in Spokane and we can participate."
When the mother-daughter duo purchased Newt from a Siberian cattery in Russia — the large, fluffy breed naturally developed there — they also picked out a female, Bella, from another breeder and recently celebrated their first litter of kittens, born in early July. They're calling their fledgling cattery Sunder's Siberians after Cousins' 3-year-old daughter, Sunder.
"We hope to instill an interest in her at a very young age with the cats, and this will be something that she can participate in as she grows up, and really learn about animals and help out," Johnson says. ♦
Hot August... Cool Cats All-Breed Cat Show • Fri, Aug. 2 from 4-8 pm; Sat, Aug. 3 and Sun, Aug. 4 from 9 am-5 pm • $5-$10/day; family and weekend passes available • DoubleTree by Hilton • 322 N. Spokane Falls Ct. • maineevent.org